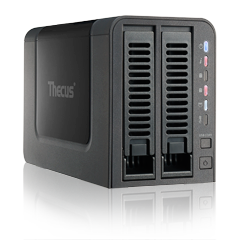 N2310
Best-in-Class Value
Awards/Reviews
Features
5 Minute Complete Installation
The N2310 is designed with ease in mind; it is easy enough for anyone to set up. Overlook the several steps which usually are associated with setting up NAS appliances. Simply plug the power supply, insert the Ethernet cable, boot up the N2310 and set up will be completed within 5 minutes. This breakthrough feature truly makes this a plug-and-play NAS.

Self-RAID Creation
All Thecus NAS include an innovative Self-RAID Creation tool that analyzes installed drives and, once the user has selected their preferred balance of performance and protection, automatically builds their customized RAID volume.

T-OnTheGo™ Mobile App
We're a mobile society, and our NAS solutions are keeping up! Incorporated into the N2310 is support for Thecus's® T-OnTheGo™ smartphone app. Now supporting both iOS and Android, this NAS management software enables users to access, copy, stream, and edit any data between their NAS and mobile device. Your own personal cloud, from anywhere with internet access.

DDNS
Have easy access to your NAS via Dynamic DNS (DDNS), this allows users to allocate and access their NAS files via the internet remotely. Since IP digits are often difficult to remember, domain names are utilized to make NAS management much more convenient. When the IP address is changed, the DDNS server will automatically adjust the IP address to make sure that remote access is always available. In short, DDNS provides convenient remote internet access to your Thecus® N2310 by utilizing domain names instead of IP digits.

PLEX Media Center
The Plex Media Server is both the heart and brains for any digital media system. The free server is a module available on the Thecus® App Center that allows you to set up and manage your media. With the Plex Media Server installed on your Thecus® NAS, various devices on your network (such as your Xbox 360 and mobile devices) can connect to and stream your local and online media.

Native BitTorrent Support
Included in ThecusOS™ 6 is Transmission, a powerful BitTorrent client. Easily add torrent seed files to Transmission and sit back and relax as your NAS does the rest, independent of your computer. Once downloaded, your files will be automatically stored in your NAS P2P folder where you'll be able to access them across your network or through the internet. Set and forget torrenting that's accessible anywhere, that's the N2310's native BitTorrent support.

Data Guard
Data Guard backup solution is the ultimate software as it provides both local and remote parts. Currently, data is backed up across RAID volumes, external USB drives, and eSATA. In addition, Data Guard uses innovative technology to sync data across the network to other NAS and servers. More importantly, Thecus® Data Guard is the total backup solution which makes managing NAS user-friendly and convenient.

Data Burn
NAS data can now be burned directly to CD, DVD, and Blu-ray discs with Data Burn, this hassle-free module makes burning data to a disk effortless. In addition, burning ISO image file is also supported. Whether you're managing audio, media or essential files; Data Burn copies information fast while significantly reducing waiting time. The process of burning file to disk is now easy and smooth with Data Burn module.

USB 3.0 Connectivity
The next generation of connectivity is here with speeds 10x faster than USB 2.0. Whether connecting digital cameras and smart phones, backing up large external hard drives, or extending the capacity of your NAS, USB 3.0 will make sure it's done in no time at up to 5 Gbit/s. Backwards compatibility adds the connectivity of a world full of USB 2.0 and USB 1.1 devices to get the best combination of speed and universal access.

User Quota
Divide the massive storage of a Thecus NAS among multiple users. Whether there are two users or 100, User Quota make it easy to divvy up and manage disk space.

Overview
Just in time for Christmas, Thecus® is announcing the release of its latest home and SOHO NAS, the N2310. Equipped with an Advanced Micro Circuits Corporation (AMCC) 800MHz SoC processor and 512MB of DDR3 RAM, this latest 2-bay device is a great choice for those seeking solid storage solutions on a budget.
My little black number
Though not as powerful as the N2560 and N4560 released earlier this quarter, the N2310 still packs in a lot of the features of its pricier siblings:
-RAID support (0, 1, and JBOD)
-Web-based file access
-Built-in FTP server
-BitTorrent client
-Plex Media support
-Mobile control and media streaming via T-OnTheGo™ (for Android and iOS)
-5 minute complete installation
-Self-RAID creation
-Energy Efficient: 5W
Well equipped for a connected life, the N2310 not only offers users access and control of their files over the Internet, but is also able to stream stored media to Android and iOS mobile devices. And if you're one for sharing and downloading files online, just drop the seed files into the N2310's BitTorrent client and watch as this little NAS does the rest.
But what about the setup? That's where our Intelligent NAS utility comes in. Once you've connected your N2310 to your home network, simply download and run Intelligent NAS. It'll automatically find your NAS and allow you to easily set up your RAID or JBOD volume. Once up and running, Intelligent NAS will also allow you to effortlessly connect to the N2310's operating system, ThecusOS™ 6, where you can monitor, configure, and update your NAS and modules.
So besides the comprehensive features and great usability, what else makes the N2310 great for home and SOHO users? Well, when we mentioned that it was a budget friendly NAS, we weren't only referring to its cost price. The N2310's AMCC processor and advanced design allow for such a degree of energy efficiency that its day-to-day running costs are near negligible.
"Not only does the N2310 pack in a lot of the capabilities of larger and more expensive units, but it does so with style," noted Florence Shih, General Manager at Thecus®, proudly. "This dashing little black box can store up to 8TB of data with an unprecedented level of energy efficiency. In fact, we calculated it, and powering the N2310 for an entire year, say in the US, would only cost you $5.03."
Featuring the new Plex Media Server, Transmission BitTorrent client, T-OnTheGo™ mobile support, and impressive performance (over 100/80MB/s read/write), the Thecus® N2310 is the perfect choice for home and SOHO stockings this December.
Specs
1. Hardware Platform
Item
Spec
Processor
AMCC APM 86491 800Mhz
System Memory
512MB DDR3
Memory expandable up to
N/A
LAN Interface (PCI-e)
RJ-45x1: 10/100/1000 BASE-TX Auto MDI/MDI-X
USB Interface
USB 2.0 host port x1 (back x1)
USB 3.0 host port x1 (back x1)
Disk Interface
2 x SATA for internal, support SATA II / SATA III hard disk
Power Supply
40W external power adaptor
Buttons
Power button
USB copy button
Reset button
Environment
Temperature: 5°C to 40°C
Humidity: 0 ~ 80 % R.H. (Non-condensing)
Chassis
2bays Tower
Dimensions (HxWxD)
135 x 97 x 207 (mm)/5.33 x 3.83 x 8.14 (in)
Weight
0.8(Kgs) / 1.8(lb)(NAS only)
Certificates
CE/FCC/C-Tick/VCCI/BSMI
RoHS
WEEE
2. Software Functions
RAID
RAID Modes
RAID 0, 1 and JBOD (Support multiple RAID volumes, each volume support up to 16TB)
Auto-rebuild
Supported
Hot-swap
Supported
Disk
Bad Block Scanning
Supported
SMART Info
Supported
SMART Test
Supported
Disk Roaming
Supports volume-based roaming to other N2310
Network
Configuration
Fixed IP address, dynamic IP address
Transport Protocols
TCP/IP, AppleTalk
File Protocols
SMB/CIFS, HTTP/HTTPS, FTP, AFP, NFS
TCP/IP
IPV6 & IPV4
System status
Syslog Management
Send syslog to assigned location
Act as syslog server to receive log info from other systems
Data Access
Client OS Support
Windows XP and after
Windows Server 2003 and after
Mac OS X
Linux
FTP
Built-in FTP server with bandwidth control
Secure FTP
Built-in secure FTP server with bandwidth control
Download Manager
BT Transmission
Printer Server (IPP)
Supports USB printers
Supports a wide range of IPP printers
Client can manage print tasks (list/delete) via web user interface
Data Backup
Client Incremental Data Backup
Thecus Backup Utility
Data Burn
Create files to ISO image and burn to optical disc
Create files to ISO image
Read ISO image from optical disc and write to NAS
Mac OS X Time Machine
Supported
Data Guard
Remote Backup/Local Backup
Power Management
Scheduled Power On/Off
Supported
Volume Management
File System
EXT4
Multimedia Support
iTunes Server
Supports AAC, MP3 w/ID3 tag and WAV
Piczza!™ Photo Server (via module)
Supports GIF, JPG (JPEG), BMP and PNG
Supports EXIF display
Supports slide shows
Media Server
Supports uPnP AV streaming protocol
User Authentication
Local User
Supports built-in user accounts
Local Group
Supports built-in user groups
File System
Type
Journaling File System
Language Support
Unicode Support
Authorization (ACL)
"Read", "write", or "deny" privileges to individual users or groups in folders and sub-folders
User Quota
Supported
Administration
User Interface
Web-based user interface supports English, Traditional Chinese, Simplified Chinese, Japanese, Korean, French, German, Italian, Spanish, Russian, Polish and Portuguese.
Utility Program (Intelligent NAS)
MS Windows Setup Wizard
Supports Windows XP and after
Windows Server 2003 and after
Mac OS X Setup Wizard
Email Notifications
Sends system messages via email to the system administrator
DDNS**
Support one free DDNS registration (ex. xxx.thecuslink.com) (How-to)
UPnP and Port forwarding
Support auto setting in Intranet environment
Intelligent NAS
Go through defined URL for auto install (install.thecus.com)
Mobile Applications (iOS/Android)
T-Dashboard™
Mobile monitoring and administration
T-OnTheGo™
Upload, download and stream multimedia
Others
Recycle Bin
Supported
Web Disk
Supported
**Thecus ID & DDNS setup requirements: An ADSL or Cable modem and router (that supports configurable UPnP port forwarding or IGD).
Package Contents
Accessory Bag
Ethernet Cable
Power Cord
Power Adaptor
Universal CD
QIG
Warranty Card
HDD Compatibility List Card
All in one DVD
How To