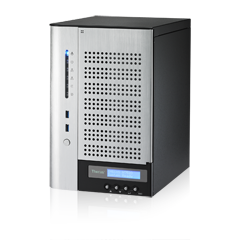 N7510
The World's 1st High-Value 7-bay NAS
Awards/Reviews
Features
Data Guard
Data Guard backup solution is the ultimate software as it provides both local and remote parts. Currently, data is backed up across RAID volumes, external USB drives, and eSATA. In addition, Data Guard uses innovative technology to sync data across the network to other NAS and servers. More importantly, Thecus® Data Guard is the total backup solution which makes managing NAS user-friendly and convenient.

Data Burn
NAS data can now be burned directly to CD, DVD, and Blu-ray discs with Data Burn, this hassle-free module makes burning data to a disk effortless. In addition, burning ISO image file is also supported. Whether you're managing audio, media or essential files; Data Burn copies information fast while significantly reducing waiting time. The process of burning file to disk is now easy and smooth with Data Burn module.

Link Aggregation
Link aggregation can sustain multiple network connections and provide redundancy in case one of the links fails. Thecus NAS supports 7 modes which provide Load Balance, Failover, 802.3ad, Balance-XOR, Balance-TLB, and Balance-ALB, Broadcast.

Cloud Backup
The private and public clouds meet with Thecus' new DropBox, Amazon S3 and ElephantDrive cloud backup functionality! Guard your data with RAID at home and an additional level of protection in the Cloud. Just drag and drop files into the folder on your NAS and access them on any computer or mobile device with DropBox, Amazon S3 or ElephantDrive.

HDMI Output
Make your NAS into the ultimate multimedia hub! The N7510's HDMI output allows you to connect your NAS directly to your TV for device management.


USB 3.0 Connectivity
The next generation of connectivity is here with speeds 10x faster than USB 2.0. Whether connecting digital cameras and smart phones, backing up large external hard drives, or extending the capacity of your NAS, USB 3.0 will make sure it's done in no time at up to 5 Gbit/s. Backwards compatibility adds the connectivity of a world full of USB 2.0 and USB 1.1 devices to get the best combination of speed and universal access.

Acronis True Image
Thecus brings the best to the table with Acronis's advanced backup software. Back up all your data with One-click Protection or pick and choose only your most important files. Acronis sports a slick interface, user-friendly design, and comprehensive features to keep your data safe.

Multiple RAID
When it comes to data management, Thecus NAS truly let you have it your way. Create multiple RAID volumes each supporting different RAID modes including RAID 0, 1, 5, 6, 10, 50 and JBOD for your own balance of performance and data protection. Should a hard drive malfunction occur, changing one is simple thanks to online RAID migration and expansion, hot spare, and auto rebuild.

Multiple File Systems
Support for multiple file systems including EXT3, EXT4, Btrfs and XFS, gives Thecus NAS flexibility to handle many different types of environments. Users can simultaneously use different file systems across multiple RAID volumes to get the best of each one.


iSCSI Thin-Provisioning
Get the most out of your storage space with the extreme speed of iSCSI and the efficiency of iSCSI thin provisioning. Connect through iSCSI for the fastest data transfer speeds available and make wasted disk space a thing of the past with thin provisioning's flexible storage functionality.

iOS/Android Connectivity
In the modern world, nothing is as important as reaching your data from anywhere. With T-OnTheGo and the T-Dashboard, you can manage your NAS, and upload to and download/stream from your NAS using an iOS or Android device on the go.

Rsync
Backing up your data is very necessary, and everyone has specific needs when it comes to storage. Thecus's Rsync functionality gives users great flexibility with remote backup capability, a flexible scheduler, and the stability of Linux-based transfer.

User Quota
Divide the massive storage of a Thecus NAS among multiple users. Whether there are two users or 100, User Quota make it easy to divvy up and manage disk space.

Overview
Great news NAS lovers, a new high-value 7-bay NAS is now available on the market! Thecus® put their hands together and added a new tower to the Vision series. Equipped with an Intel® Atom™ processor, 2GB of DDR3 RAM, HDMI output , this NAS will offer lots of power and lots of storage capacity without spending lots of money. With the 2-bay N2800, 4-bay N4800 and N4510U and the 5-bay N5550, the 7-bay N7510 completes the Vision series of Intel® Atom™ NAS from Thecus®.
N7510
- HDMI Output
- Increased Performance
- Data Burn
- Rock-Solid Security
- Featuring SuperSpeed USB 3.0
- Running on ThecusOS™ 5.0
- 2 LAN with Link Aggregation Support
- Fanless Motherboard & System Fan Redundancy
- VMware®, Citrix®, Microsoft® Hyper-V® Compliance
Intel® Atom™ CPU: silent power and energy saving
As it is already been prove with the N5550 and N4800, the Intel® Atom™ CPU performs like a real Olympian athlete! As they are more energy efficient and are design to work without a fan, their energy consumption and associated cost are greatly reduced for the benefits of the user. This will dramatically reduce NAS noise and power consumption, making it a bit more ecofriendly.
With the Intel® Atom™ processor, multi-tasking is something you won't have to worry about. Multi-users environment (+64), web hosting, intense backup, data encryption, application serving, heavy RAID computations (mode 0, 1, 5, 6, 10, 50, JBOD and up to3 multiple RAID mode supported), and HD multimedia streaming, this processor can take it!
ThecusOS™ 5.0
The N7510 will have the newly ThecusOS™ 5.0 preinstalled. The new ThecusOS™ 5.0 is the key piece that will unlock the most efficient and advanced NAS on the market. This means that users will be able to access more innovative functions with their Thecus® NAS. Two of these functions are Data Burn and Data Guard. With Data Burn, the users have the possibility to back-up their critical data by burning them onto a CD, DVD or Blu-ray disk. By plugging a disk burner to their NAS thru the available USB ports and managing the burning process.
But your back-up options don't stop there. Also included in the new ThecusOS™ 5.0 is the total backup solution, Data Guard. This backup solution is the ultimate software as it provides both local and remote backup. Currently, data is backed up across RAID volumes, external USB drives, and eSATA. In addition, Data Guard uses innovative technology to sync data across the network to other NAS and servers. More importantly, Thecus® Data Guard is the total backup solution which makes managing NAS user-friendly and convenient.
Additionally, Thecus® users will also be able to take advantage of the cloud for their back-up solution. With support of the Amazon S3 cloud back-up services, the users will have one more option to keep their data safe and away from harm!
Multimedia playback and direct NAS access with HDMI
Handling multimedia and accessing your NAS has become a much more direct and simple process! With the HDMI output located in the back of the N7510, you can directly connect to an HD TV screen and start monitoring your NAS without the use of a computer. Using the local display module, a keyboard and a mouse plugged through the many USB ports, the user has the power to simply access the NAS UI, play HD video, display pictures or listen to their music, all of this with the display comfort of a big TV screen. Ideal for small installations and/or mobile users, these features are designed to lower the total cost of ownership of your network architecture.
Specifications: N7510 for High Value Storage
- Intel® Atom™ Processor
- 2GB of DDR3
- SATAII/III interface
- USB 3.0 x2
- LCM Display
- eSATA port
- 7-bay 3.5"/2.5" HDD compatible
- HDMI output
- RAID O, 1, 5, 6, 10, 50, JBOD (up to 3 multiple RAID modes)
 

"Powered by an Intel® Atom processor, the N7510 has the highest value for a 7-Bay NAS on the market today" said Florence Shih, Thecus® Technology General Manager. "Let's just say that if there was an Olympic for NAS, the N7510 would most certainly come back with gold"
Specs
1.Plataforma de hardware
Item
Especificações
Processador
Intel® Atom™ Processador D2701(2.13GHz Dual Core)
Memória do sistema
DDR3 de 2GB
Memória expansível até
4GB Memory Compatibility List
Interface LAN (PCI-e)
RJ-45x2: 10/100/1000 BASE-TX, MDI/MDI-X Automático
Suporta WOL
Interface USB
Porta USB 2.0 anfitrião x4 (traseira x4)
Porta USB 3.0 anfitrião x2 (frente x2)
LCM
Ecrã LCM
4 botões (ENTER, ESC, CIMA, BAIXO)
SATA DOM
1GB
Saída HDMI
Porta HDMI (traseira x1)
Saída VGA
Porta VGA (traseira x1)
Audio
Entrada de microfone, entrada de linha, saída de áudio
Interface de disco
7 x SATA para interno
1 x eSATA para externo
Fonte de alimentação
Fonte de alimentação 300W
Controlo de refrigeração
Sensor térmico no sistema e processador
Velocidade do ventilador do sistema controlada de acordo com a temperatura
Relógio do sistema
Relógio do sistema alimentado a bateria
Gestão de energia
Liga automaticamente após encerramento devido a corte de energia
Aviso sonoro
Alerta com frequência ajustável
Botões
Botão de alimentação
Botão LCM
Ambiente
Temperatura: 5°C a 40°C
Humidade: 0 ~ 80 % H.R. (Não-condensada)
Chassis
Base Tower
Dimensão (AxLxP)
320 x 210 x 270 (mm)/ 12.59 x8.27 x 10.62 (in)
Peso
8.4(kgs)/18.51(lb)(NAS only)
Certificates
CE/FCC/C-Tick/VCCI/BSMI
RoHS
WEEE
VMware, Citrix
2. Funções de software
RAID
Modos RAID
RAID 0, 1, 5, 6, 10, 50 e JBOD
Reconstrução automática
Suportado
Hot-swap
Suportado
Hot Spare
Suportado
Migração de nível RAID
Suportado
Expansão de nível RAID
Suportado
Encriptação de volume RAID
AES256bit
Disco
Gestão de energia
Definição de diminuição das rotações quando inactivo disponível
Pesquisa de blocos danificados
Suportado
Info SMART
Suportado
Teste SMART
Suportado
Roaming de disco
Suporte para roaming com base em volume para outros dispositivos NAS da Thecus (Require ThecusOS 5 64 bit )
Rede
Configuração
Endereço IP fixo, endereço IP dinâmico
Protocolos de transporte
TCP/IP/AppleTalk
Protocolos de ficheiro
SMB/CIFS, HTTP/HTTPS, FTP, NFS v4, AFP
Agregação de ligações
Load balance, Failover, 802.3ad, Balance-XOR, Balance-TLB, Balance-ALB
TCP/IP
IPV6 & IPV4
DDNS
Suportado
SSH
Suportado
UPnP
Suportado
Encaminhamento de portas UPnP
Suportado
Estado do sistema
Monitor do sistema
Monitorização de CPU, memória, utilização e protocolos de rede e contagem de acesso de utilizadores
Gestão do registo do sistema
Envio do registo do sistema para uma localização predefinida
Funcionamento como servidor de registo do sistema para receber informações de registo de outros sistemas
Acesso a dados
SO suportados
Windows XP e posterior
Windows Server 2003 e posterior
UNIX/Linux
Mac OS X
FTP
Servidor FTP incorporado com controlo de largura de banda
FTP seguro
Servidor FTP seguro incorporado com controlo de largura de banda
TFTP
Os utilizadores podem descarregar e carregar ficheiros usando programas TFTP
Gestor de transferências
Transferência BT (via módulo de transmissão)
Transferência NZB (via módulo NZB)
Servidor de impressão (IPP)
Suporta impressoras USB
Suporta várias impressoras IPP
O cliente pode gerir as tarefas de impressão (listar/eliminar) através da interface Web de utilizador
Cópia de segurança de dados
Cópia de segurança incremental dos dados do cliente
Acronis True image(versão OEM)
Recuperação de desastres do sistema cliente
Acronis True image(versão OEM)
Software de cópia de segurança no lado do cliente
Utilitário de cópia de segurança da Thecus (Windows/Mac OS X)
Data Burn
Conversão de ficheiros em imagem ISO e gravação em disco óptico
Conversão de ficheiros em imagem ISO
Leitura a partir de disco óptico para o NAS
Mac OS X Time Machine
Suportado
Data Guard
Cópia de segurança remota/Cópia de segurança local
Acesso a nível de bloqueio
Destino/Iniciador iSCSI
Suporta iniciador Microsoft/Mac OS X/Linux e destinos Thecus NAS
Aprovisionamento dinâmico iSCSI
Suportado
iSCSI VAAI
Suportado
MPIO
Suportado
MCS
Suportado
Clustering
Suportado
PGR SCSI3
Suportado
Gestão de energia
Agendamento de início/encerramento
Suportado
Gestão de volume
RAID múltiplo
Suportado
Possibilidade de selecção de múltiplos sistemas de ficheiros
EXT3/EXT4/XFS/Btrfs
Suporte multimédia
Servidor iTunes
Suporte para formatos AAC, MP3 w/ID3 tag e WAV
Servidor web Piczza!™ (via módulo)
Suporte para formatos GIF, JPG (JPEG), BMP, PNG
Suporte para visualização em formato EXIF
Suporte para apresentação de diapositivos
Servidor multimédia
Suporta protocolo de transmissão uPnP AV (via módulo)
Autenticação de utilizador
Utilizador local
Suporta contas de utilizadores incorporadas
Grupo local
Suporta grupos de utilizadores incorporados
Windows ADS
Suportado
LDAP
Suportado
Access Guard
Suporta Filtro IP/Lista Negra e Branca
Cópia de segurança na nuvem
DropBox
Suportado (via módulo)
ElephantDriver
Suportado (via módulo)
Amazon S3
Suportado
Sistema de ficheiros
Tipo
Sistema de ficheiros de registo em diário
Idiomas suportados
Suporte unicode
Autorização (ACL)
Opções de "leitura", "gravação" ou "rejeição" em utilizadores individuais ou grupos para as pastas e sub pastas
Quota de utilizador
Suportado
Snapshot
Suportado
Gestão
Interface de utilizador
A interface do utilizador baseada na Web suporta Inglês, Chinês tradicional, Chinês simplificado, Japonês, Coreano, Francês, Alemão, Italiano, Espanhol, Russo, Polaco e Português.
Utilitário
Assistente de configuração MS Windows
Windows XP e posterior
Assistente de configuração para Mac OS X
Notificação por email
Envia mensagens de sistema por email ao administrador do sistema
Trap SNMP
Envio de informação do sistema
Aplicações móveis (iOS/Android)
T-Dashboard™
Monitorização e administração móvel (via módulo)
T-OnTheGo™
Carregamento, descarregamento e streaming de conteúdo multimédia
Segurança de dados
Verificação de vírus
Suporta Verificação de vírus (via módulo)
Expansão da capacidade
Empilhamento
Permite a utilização de 5 volumes iSCSI adicionais de outro NAS da Thecus
Outras
Reciclagem
Suportado
Disco web
Suportado (via módulo)
Servidor Web
Suportado (via módulo)
Montar ficheiros ISO
Suportado
Vigilância por câmara IP
Suporta até 10 câmaras IP (via módulo)
Instalação automática do módulo
O servidor do módulo Thecus fornece automaticamente os mais recentes módulos e actualizações através da interface do utilizador
Visualização local
X-Window via saída HDMI
Package Contents
| | | | |
| --- | --- | --- | --- |
| | | | |
| Accessory Bag(with key) | Ethernet Cable | Power Cord | Acronis True Image DVD |
| | | | |
| Universal CD | QIG | Warranty Card | HDD Compatibility List Card |
Thecus TV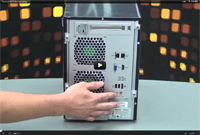 Thecus N7510 Unboxing
The unboxing video expresses what the N7510 offers out of the box. Some specs include Intel® processor, 2GB of DDR3 RAM, HDMI, superspeed USB 3.0 and runs on the latest ThecusOSTM 5.0 firmware. Other key points include multiple LAN ports for link aggregation and fanless motherboard & system fan redundancy.
The N7510 is truly one of a kind, no other NAS company provides a 7-bay, and now with the value of Intel® AtomTM under its hood, the Thecus® N7510 sets new standards once again.
Discover iSCSI and how to use it with a Thecus NAS
This tutorial is separated in three parts. The first part will teach you what's iSCSI and how it can be used. The second and third part would be practical demonstration on iSCSI Target/Initiator. Only the second part requires a Thecus NAS!