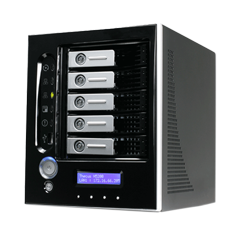 N5200
High Performance NAS Server with Intel® Celeron® M Processor
Awards/Reviews
Features
Five-bay hot swappable network attached storage.
Enhanced system performance with Ultra-Low voltage Intel® Celeron® M
Processor for storage computing with 30% energy saving.
RAID 0, 1, 5, 6, 10 and JBOD support.
RAID Migration, RAID Expansion.
Multi-lingual support.
Built-in 4 port Gigabit switch with IP sharing (N5200 RouStor

TM

).
802.3ad based load balancing and failover (N5200).


Overview
6/30/2006 – Since its introduction, the 4-bay N4100 NAS device from Thecus has been winning numerous recommendations from such renowned media as Hardware Zone, Hexus, and Tom's Hardware Guide. Today, Thecus Technology, a leading provider of digital storage solutions, is proud to launch its RouStor™ series. Thecus' RouStor™ series combines Thecus' award-winning NAS technology with routing capabilities into a single device. The result is an all-in-one solution that handles both networking and network storage for the home or office.
 Despite its small 230mm x 190mm x 230mm dimensions, the N5200 packs a lot of punch. Under the hood lies an Intel® Celeron® M processor running at 600MHz and 256MB of DDR memory for powerful data-processing capabilities. The N5200 has the capacity for five 3.5" SATA hard disks for over 3TB of storage! To keep data secure, the N5200 features various RAID modes, including RAID 0, 1, 5, 6, 10 and JBOD. Managing your RAID array is easy with the N5200's built-in RAID management features, including auto rebuild, hot swap, hot spare, disk roaming, and more. To backup your data, the N5200 comes with the Thecus Backup Application, as well as a feature called Nsync. With Nsync, users can have the N5200 automatically upload files to an external storage device via FTP at a designated time. What's more, if the external device is another N5200, the connection is made via a secure connection. Designed for SMBs to enhance data security, Nsync takes the guesswork out of data backup.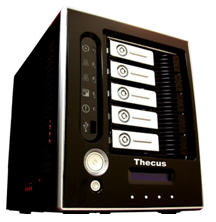 With an intuitive multilingual web-based interface and Windows, Apple OS X, and Linux compatibility, file sharing between networked PCs with the N5200 is more convenient than ever. A speedy eSATA connector is included for future external expansion possibilities. Part of Thecus' innovative RouStor™ series, the N5200 includes 3 USB ports, a Gigabit Ethernet port, and a 4-port Gigabit switch for excellent connectivity options. Users can even install a USB 802.11 b/g dongle for Wi-Fi capability. In addition, the N5200 comes with a robust software suite, including a print server, and FTP server, WebDisk capability, and Windows Active Directory support. 
"Powerful, flexible, and secure, the N5200 is a godsend for SMBs looking for an effective way to secure and share their data across a company network," notes Thecus CEO Edwin Lin. "With the N5200, we've once again raised the bar for what people expect from a NAS." 
N5200B

2 x Gigabit RJ-45 Connector, Load Balance, Failover

N5200BR

1 x Gigabit RJ-45 Connector, 4 port Gigabit switch (Routor)

N5200B 5TB

With 5x 1TB

 

HDD

 

(only available in USA)

N5200B 2.5TB

With 5x 500GB HDD

 

(only available in USA)
Specs
HDDs

5 x 3.5" SATA II HDD, Hot-swappable

eSATA port

1 x eSATA connector for capacity expansion

USB ports

2 x USB A type (Host mode)

1 x USB B type (Client mode)

Ethernet ports

N5200 : 2 x Gigabit RJ-45 Connector

N5200 RouStorTM : 1 x Gigabit RJ-45 Connector
4 port Gigabit switch

LCD Control Panel

For basic configurations and status display

Network File Protocols

Microsoft Networks (CIFS/SMB)

Apple Filing Protocol (AFP 3)

Network File System (NFS v3)

File Transfer Protocol (FTP)

Hyper Text Transfer Protocol (HTTP)

Secure Hyper Text Transfer Protocol (HTTPs)

Authentication

Microsoft NT Domain Controller (PDC)*

Microsoft Active Directory Authentication (AD)*

Network Client Type

Microsoft Windows NT/2000/XP/2003

Unix/Linux/BSD

MAC OS X, OS 9, OS 8.6

Network Configuration

Fixed IP Address

Dynamic IP Address

Disk Management

Power Management (Disk idle spin-down)

Disk Status Monitoring (S.M.A.R.T.)

RAID

RAID 0, 1, 5, 6, 10, and JBOD

Auto Rebuild

Hot Swappable

Hot Spare

Disk Roaming

RAID Level Migration

RAID Expansion

Disk Capacity Supported :

80/120/160/200/250/300/400/500/750/1000 GB

Folder Management

Share Folder Level Permission

File Level Permission

Public Folder

Quota Management

Share Folder Quota Control

Backup

Thecus Backup Utility (Microsoft Windows XP/2000 /MAC OS X)

Thecus Nsync

System Management

Web GUI

Multilingual Support (English, French, German, Italian, Traditional Chinese, Simplified Chinese, Japanese, Korean, Spanish)

Event Notification

Email Notification

Buzzer Notification

LCD

Supported USB Devices

USB Printer

External HDD/Flash disk

USB IEEE 802.11 b/g dongle w/ AP mode support **

Setup Utility

Windows 2000 / XP / 2003

MAC OS X

Safety and Environment

CE, FCC, BSMI, C-Tick, RoHS Compliant

Dimension

230 x 190 x 230 mm (H x W x D)

Media server

* Supports uPnP AV streaming protocol
* Works with DLNA-certified players

Physical

Lockable Disk Tray

Operating Environment

0℃ - 40 ℃

20 – 85﹪Relative Humidity (non-condensing)

Power Supply

Server-rated AC Power Supply

100/220VAC, 50/60 Hz, Auto detect

Power Consumption

Standby mode: 87W
Full Loading: 194W with 1.5TB Seagate * 5 HDD installed

Sound Pressure Level

Without HDD: 37.8 dB(A)
With HDD: 38.7 dB (A) with 1.5TB Seagate * 5 HDD installed
*PDC/AD support: Works as a client member in an Microsoft NT 4.0 domain/Active Directory domain, allowing the N5200 to utilize the domain users and groups setting for authentication to the system and authorization to the share folders.
**For supported USB dongles, please contact sales@thecus.com