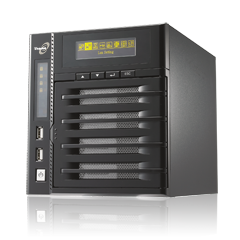 N4200PRO
The Turbo-Charged Zero-Crash NAS
Awards/Reviews
Features
Vastly Improved Performance
By coupling the power of an Intel® Atom™ D525 Processor with the speed of next-generation DDR3 memory, the N4200PRO delivers wicked performance. Files transfer faster, commands are executed quicker, and more clients can connect to the N4200PRO than ever before.

Dual DOM Protection
It's always good to have a backup, and that goes double for system software. If something should go wrong, your data and your entire system could be at risk. Put your mind at ease with Dual DOM OS Redundancy, which gives you a secondary DOM that can reprogram the primary DOM automatically in case of a malfunction for maximum reliability and uptime.

Built-In Mini-UPS
With the N4200PRO's built-in Mini-UPS, not even a power outage can slow you down. The Mini-UPS provides power to allow the N4200PRO to write unwritten data to the hard disks and safely shutdown, ensuring the integrity of your data and preserving your memories.

Dual Display Convenience
Wondering how your NAS is doing? Just check out the LCD display on the N4200PRO for convenient status information including HDD activity, LAN activity and USB Copy status. The sharp OLED display even allows you to change various system settings without having to be near a computer.

Rock-Solid Security
The N4200PRO safeguards your data with a number of selectable RAID modes, including RAID 0, 1, 5, 6, 10, JBOD. Changing damaged hard disks is also a breeze with its built-in hot-swap, hot-spare, online RAID migration and expansion, as well as auto-rebuild capabilities. And if you need even more protection, there also AES 256bit RAID volume encryption available.

Multiple Backup Options
Backup your data your way with the N4200PRO's multiple backup options. Included with the device are the Thecus® Backup Utility, Nsync remote replication, snapshot support, and even Acronis® OEM Backup Software, giving you a wide variety of ways to backup your precious data.
Overview
The original N4200 made huge waves in the hardware community with its innovative features and functionality. Today, Thecus® Technology, the Creator in Storage, is proud to announce its successor: the N4200PRO. Packing an all-new Intel® Atom™ processor and DDR3 memory, the N4200PRO takes the original Zero-Crash NAS and puts performance into overdrive.
Performance freaks are going to love the new N4200PRO. Plentiful storage management options including RAID 0, 1, 5, 6,10, JBOD are present, as are convenient features such as hot-swap, hot-spare, online RAID migration and expansion, as well as auto-rebuild.
Of course, the N4200PRO brings over the most popular features from its predecessor. Dual DOM OS Redundancy protects your system's critical software with a secondary DOM that reprograms the primary DOM should it fail for any reason. A Mini-UPS protects the N4200PRO from sudden power outages, allowing the system to store unwritten data to the hard disks and safely shut down. The N4200PRO also retains the dual displays of the N4200, sporting an LCD display for system information, and a colorful OLED display that allows you to change a variety of system settings without having to boot a single computer. Finally, a full suite of useful features including an iTunes Server, Photo Web Server, Media Server, FTP Server, Print Server, Download Manger and more are included with the N4200PRO, making it not only one of the most powerful, but also the most robust storage devices available today.
"Upgraded with a next-generation Intel Atom processor and DDR3 memory, we've taken the original Zero-Crash NAS and made it even better," said Florence Shih, Thecus® Technology general manager. "Packing the latest technology and signature Thecus® features and friendliness, the N4200PRO is by far the most powerful, feature-packed, and secure four-bay NAS we've ever devised."
The N4200PRO is paired with Intel® Atom™ D525 processor coupled with 1GB of high-speed DDR3 memory. This combination of one of the latest Intel Atom processors and next-generation DDR3 memory delivers vastly increased file transfer performance, more concurrent connections, and an overall smoother operating experience. This boosted processing power will come into play when managing the N4200PRO's four SATA bays' worth of storage, which enables a maximum of 8TB of storage space. 
"Many small businesses are deploying network attached storage appliances as their first company solution," said David Tuhy, general manager, Intel Storage Group. "Our newest Intel Atom processor with integrated RAID storage features enables companies like Thecus to deliver the energy efficiency, performance and data protection required to meet the needs of its customers."
Specs
1.Hardware Platform
Item

Spec

Processor

Intel® Atom™ Processor D525

System Memory

1 GB DDR-3 SDRAM

LAN Interface

RJ-45x2 : 10/100/1000 BASE-TX Auto MDI/MDI-X

LCD indicator

HDD Power, Activity (Yellow) / Fail (Red)
LAN_WAN Activity (Green)
USB_COPY_Busy (Blue)
USB_COPY_ Fail (Red)

OLED Module

2.8" OLED display
4 buttons (ENTER, ESC, UP, DOWN)
Multi-lingual supported

Power Supply

External power adapter 19V input (support 2TB and above HDDx4 )

Disk Interface

SATA x4 for internal, 2x eSATA for external

Expansion Slot

PCI-e x1

USB Interface

USB 2.0 host port x6(Front x2, Back x4) (A Type)

Thermal/Fan control

Thermal sensor on system and processor
System fan speed controlled according to temperature

Real-time clock

Battery backup system clock

Buttons

Power button
Reset to factory default button

Chassis

Metal chassis

Lithium-ion Battery

Built-in battery backup module (Mini-UPS)

Environment

Temperature : 5°C to 40°C
Humidity : 0 ~ 80 % R.H. (Non-condensing)

2. Software Functions
RAID

RAID Modes

RAID 0, 1, 5, 6,10, JBOD

Auto-Rebuild

Supported

Hot-Swap

Supported

Hot Spare

Supported

Online RAID Migration

Supported

Online RAID Expansion

Supported

SMART Info

Supported

SMART Test

Supported

RAID Volume Encryption

AES 256bit

Disk

Power Management

Configurable automatic drive spin down

Roaming

Supports roaming to other N4200PRO NAS

Bad Block Scan

Supported

Volume Management

Multiple RAID

Supported

Selectable File Systems

Ext3/ XFS/ZFS

Network

Configuration

Fixed IP address, dynamic IP address

IP sharing mode

Can be enabled/disabled

Link Aggregation

802.3ad, load balance, failover, Balance-XOR, Balance-TLB, Balance-ALB

Transport Protocols

TCP/IP, AppleTalk

File Protocols

SMB/CIFS, HTTP/HTTPS, FTP, NFS
v3, AFP

Data Access

Client OS support

Windows XP and after
Windows Server 2003 and after
UNIX/Linux
Mac OS X

WebDisk

Web-based file access

FTP

Built-in FTP server with bandwidth
control

Secure FTP

Built-in Secure FTP server with bandwidth control

Download Manager (module)

HTTP / FTP / BT / eMule / NZB

Printer Server (IPP)

Supports USB printers
Supports IPP various printers
Client can manage print tasks (list/delete) via web user interface

TFTP Server

Users can download and upload files with TFTP programs.

Data Backup

USB copy via OLED operation

Copy USB mass storage device contents to specified locations on NAS

NAS data backup to external USB disk (module)

Incremental with schedule supported

Client schedule incremental

Acronis True Image (OEM version)

Client system Disaster Recovery

Acronis True Image (OEM version)

Battery Backup Module (Mini-UPS)

Contingency Battery Power Supply

NAS Remote Replication

Via Thecus proprietary Nsync

NAS Remote Replication (module)

Via Rsync to replicate data between two systems.

Snapshot

Supported

Mac Time Machine

Supported

Bi-directional USB Copy (Module)

Supported

Block Level Access

iSCSI Target

Supports Microsoft/Mac/Linux Initiator

iSCSI initiator

For stackable with N4200/ N4200Eco/N4200PRO/ N5200PRO/1U4600/N5500/N7700 series/N8800 series

iSCSI Thin Provisioning

Virtual size adjustable up to 16TB

Multimedia Support

iTunes Server

Supported file types: AAC, MP3 w/ ID3 tag, WAV

Photo Web Server

Supported file types: GIF, JPG (JPEG), BMP, PNG
Supports EXIF display
Supports slide show

Media server

Supports uPnP AV streaming protocol

User Authentication

Local User

Supports built-in user accounts

Local Group

Supports built-in user groups

Windows NT/ADS

Supported

File System

Type

Journaling file system

Capacity

Multi-terabyte

Language Support

Unicode Support

Authorization

Read, Write or Deny options on individual users or groups

Authorization (ACL)

Read, Write or Deny options on individual users or groups for shared and sub-folders

Administration

Multi-Lingual Web-based Administration

Web-based server management interface supports English, Traditional Chinese, Simplified Chinese, Japanese, Korean, French, German, Italian, Spanish, Russian, Polish and Portuguese.

Utility Program

MS Windows / Mac OS X Setup Wizard,
Supports multilingual
Supports Windows 2000/7/XP/2003/Vista, Mac OS X backup utility

Email notification

Sends system messages via email to system administrator

SNMP Management

Supported

Power management

Scheduled On/Off

Supported

Wake-On-LAN (WOL)

Supported

Auto Power On After Power Failure

Supported

Others

Recycle bin

Supported

Dual DOM

Supported

Web Server + MySQL (module)

Supported

ISO Mount

Supported

Web Disk

Supported with remote access

Auto Module Installation

If Thecus IP storage is capable of connecting to the Internet, then it will automatically link to Thecus's official website and list available modules.

IP CAM Surveillance Server
(module)

Supports up to 5 IP CAM

Supported Web Browsers

Internet Explorer 7 or higher
Firefox 3 or higher
Package Contents
Accessory Bag(with key)
Ethernet Cable
Power Cord
Power Adaptor
Lithium-ion Battery
Acronis True Image DVD
Universal CD
QIG
Warranty Card
HDD Compatibility List Card
How To
Thecus TV
Discover iSCSI and how to use it with a Thecus NAS
This tutorial is separated in three parts. The first part will teach you what's iSCSI and how it can be used. The second and third part would be practical demonstration on iSCSI Target/Initiator. Only the second part requires a Thecus NAS!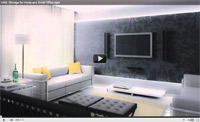 NAS: Storage for Home and Small Office
This video shows how a Network Attached Storage (NAS) solution with Intel® processors can help save time and increase productivity for small business and help organize, share and back-up your data at home. Simply dumping data onto external drives is no longer considered a good practice. Network Attached Storage (NAS) is surprisingly affordable and allows people to actually manage the data they store.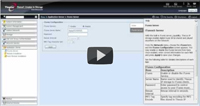 The basics of Thecus Firmware V5
Learn more about the brand new Firmware V5 for Thecus NAS. This video focus on UI improvements, user-friendliness features, and the new AMI (Auto Module Installation) which allows you to customize your NAS in a few clics. Live video starts at 2:18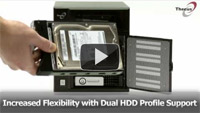 Thecus® N4200 - Zero-Crash™ with Dual Power NAS
In the digital age, people are creating and accessing digital content like never before. As such, they require a storage device that is powerful enough to store and serve this content, but friendly enough to manage quickly and effortlessly. Today, digital storage leader Thecus® Technology is proud to announce the Thecus® N4200. Fast, secure, and incredibly easy-to-use, the N4200 is the ideal home NAS for the digital lifestyle.