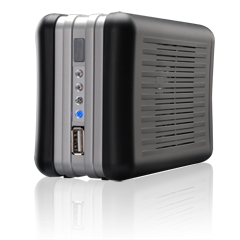 N0204 miniNAS
Pocket RAID Storage (Home NAS)
Awards/Reviews
Features
RAID Protection In Your Pocket
Don't let its small size fool you - the N0204 miniNAS comes with RAID 0, 1, and JBOD support, which means that you can optimize your storage for speed or security. Never before has there been a storage device so small, yet so flexible.

Save Power - Save The Planet
The N0204 miniNAS features a hyper-efficient design, which consumes only 25-30% of the power compared to a regular two-bay NAS device, which means you'll not only save money - you'll be saving the environment at the same time.

Silent and Cool
Keep your environment quiet and temperatures low with the N0204's whisper-quiet cooling, which ensures silent operation and cool operating temperatures.

Hot-plug and Hot-swap
Need to change one of the hard disks? No problem. With both hot plug and hot swap capability, you'll be able to swap out a hard disk and plug in a new one without even powering off the unit!

Hassle-Free Setup
You want to get things up and running quickly, which is why the N0204 miniNAS is designed for hassle-free setup. Just use the included Windows utility, and get your N0204 miniNAS rolling in no time flat.

Full Multimedia Support
Most of all, the N0204 miniNAS knows how to have fun. Enjoy your iTunes music, digital photos, and digital video across your entire network with the N0204's robust multimedia support.
Overview
The N0204 miniNAS - the world's smallest fully-featured NAS device. Measuring a tiny 132 x 88 x 63 mm exterior, one could easily mistake the N0204 as a regular external hard drive. But look closer and you will see a very capable two-bay NAS device that fits right in the palm of your hand. The N0204 houses two 2.5" SATA hard disks, providing up to 1TB of storage. You can manage this storage with your choice of RAID 0, 1, and JBOD, making the N0204 the most robust pocketable storage device in existence. And because its drive bays are hot-swappable and feature auto-rebuild, you can change a hard disk without powering down the unit. The N0204 even comes with Thecus®' Nsync for remote replication as well as the Thecus® Backup Utility for total data security. With huge storage, RAID functionality, and advanced data safeguards packed into a tiny device, the N0204 is in a class all its own.
Tiny but mighty, the N0204 comes with many of the features and functionality possessed by its much larger cousins. For starters, the N0204 can function as a complete media hub with its built-in iTunes server, photo web server, and media server. With the built-in media server, you can watch your videos, pictures, and music in the N0204 by using any DLNA compliant media players. Plug in a USB web cam, and the N0204 turns into the world's tiniest home surveillance server, allowing you to preview, capture and schedule image snapshots up to 640 x 480. Add to that support for both Windows and MAC OS operating systems and a whole new user friendly Windows Utility to set up and link the N0204 with your PC easily, and you've got some serious storage that you can whip out of your pocket and plug into virtually any network.
The N0204 miniNAS is a marvel of engineering. With advanced energy-saving capabilities, the N0204 only uses between 25~30% of the power compared to traditional two-bay NAS devices. You can even schedule power on/off for better power management. The N0204 also features whisper-quiet cooling, which means low temperatures and even lower noise during daily operation. A convenient USB 2.0 port in the front and the one-touch copy allow you to copy the contents of a USB storage device to the N0204 with a single button press. You can also copy data from the N0204 to any USB disk for data exchange. The N0204 supports USB printers, external hard disks and USB web cam.
A complete NAS device in a form factor smaller than a paperback book, the N0204 miniNAS proves that great things do indeed come in tiny packages.
"When we tell people what the N0204 can do, the most common reaction is disbelief followed by awe," notes Thecus General Manager Florence Shih. "We've essentially created a fully-functional NAS device in a package that you can take anywhere. With the N0204, you can enjoy the power and convenience of NAS storage anywhere life takes you."
Specs
1.Hardware Platform
Item

Spec

WAN Interface

RJ-45x1 10/100/1000 BASE-TX Auto MDI/MDI-X

Wireless (optional)

802.11b/g AP mode Supported.

HDD Disk interface

2x 2.5" SATA HDD via backplane

USB External storage devices

USB 2.0 ports for easy storage expansion

USB Interface

USB 2.0 host port x1 (Front)
USB 1.1 host port x 1 (Rear)

LED indicator

Power ON:Blue
HDD1 (Failed/Activity):Red/Orange
HDD2 (Failed/Activity):Red/Orange
LAN (Link/Activity) : Green
USB Copy( Success/Fail) : Blue/Red

Thermal monitor

System temperature status

Buttons

Power button
USB copy button

External Adapter

External power adapter,
Input: AC 100 ~ 240 Volt, 50/60 Hz
Output: DC 5V/3A

Dimension

88 x 63 x 133 mm (H x W x D)

Security

Kensington Lock

Chassis

Plastic and aluminum chassis

Environment

Temperature : 5°C to 40°C
Humidity : 0 ~ 80 % R.H. (Non-condensing)
2. Software Functions
RAID

RAID modes

RAID 0, 1 and JBOD

Auto-rebuild

Supported

Hot-swap

Supported

Network

Configuration

Fixed IP Address, Dynamic IP Address,

Transport Protocols

TCP/IP, Appletalk, UPnP

File Protocols

SMB/CIFS, HTTP/HTTPS, FTP,AFP

Data Access

Client OS support

Windows NT/2000/XP/2003/Vista/7
UNIX/Linux
Mac OS 9 / X

WebDisk

Web-based file access

FTP

File transmission protocol

Download Manager

HTTP / FTP / BT /eMule (Module)

Printer Server (IPP)

Support USB printers
Support IPP various printers
Client can manage print job queue on WEB interface

Data Backup

USB copy

Copy USB Mass storage device contents to specified location to NAS
Copy NAS data to external USB disk

NAS Remote Replication

Via Thecus proprietary Nsync

Client data backup

Acronis True image(OEM version)

Client system Disaster Recovery

Acronis True image(OEM version)

Multimedia Support

iTunes Server

Supported File Types: AAC, MP3 w/ ID3 tag, WAV

Photo Web Server

Supported File Types: GIF, JPG (JPEG), BMP, PNG
Support EXIF display
Support slide show

Media server

Support uPnP AV streaming protocol

Web cam

Support Capture, preview, schedule
Support image size : 160 x 120, 320 x 240, 640 x 480

User Authentication

Local User

Supports built-in user accounts

Local Group

Supports built-in user groups

File System

Type

Journaling File System

Language Support

Unicode Support

Authorization

Read, Write or Deny options on individual users or groups

Power Management

Disk Spin down

Supported

System On/Off schedule

Supported

Administration

Multi-Lingual Web-based administration

Web-based server management Interface Supports English, Traditional Chinese, Simplified Chinese, Japanese, Korean, French, German, Italian, Spanish, Russia and Polish

Utility Program

MS Windows Setup Wizard, Support Windows 7/2000/XP/2003/Vista
Mac setup Wizard (OSX only)

Email notification

Send the system messages via Email to the system administrator

Others

ISO mount

Supported

Recycled Bin

Supported
Package Contents
Fan
Accessory Bag
Ethernet Cable
Power Cord
Power Adaptor
Warranty Card
All in one DVD
How To