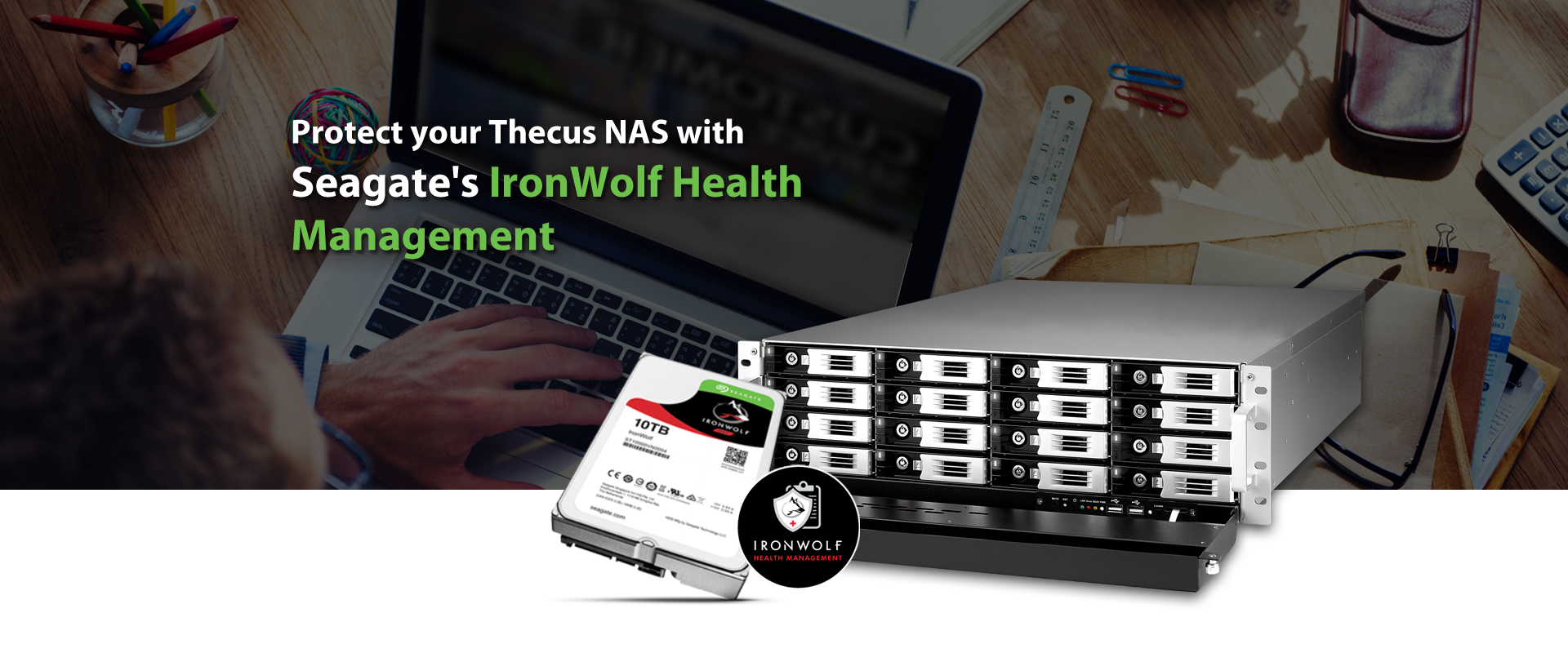 Seagate IronWolf Health Management (IHM)
Boost Your Thecus NAS Health
Thecus NAS that operate on the latest version of ThecusOS 7.0 allow for extra security with Seagate IronWolf Health Management (IHM). When Seagate IronWolf class HDDs are used in a Thecus NAS, this health management system allows for a comprehensive diagnostic analysis of drive health and security of your data. IHM delivers three key capabilities — prevention, intervention and recovery.

Prevention
By monitoring hundreds of parameters, signs of possible data loss can be quickly detected. When this occurs it will send a recommendation to back up your data to prevent losing it.

Intervention
This diagnostic tool collects information of certain critical items like temperature, connection or vibration of the hard drives. Analysis of this is then utilized to recommend preventative action users can take to avoid having issues arise, helping to ensure performance, longevity and data protection.

Recovery
When disaster does strike, such as a flood, fire or accidental damage, data rescue can occur with no delay. Seagate's in-house data recovery services enjoy a 90% recovery rate. Rescue is complimentary for two years on IronWolf Pro drives, and can be added as an option on IronWolf drives.
Seagate IronWolf Health Management (IHM)
How to access IHM
Step1

Simply navigate through the following. [CONTROL PANEL] -> [DISK & RAID] -> [DISK] -> Choose a HDD which supports the IHM function -> [IHM].
Step2

The IHM [IronWolf Health Management] window will appear. Here you can check the status of and scan the selected HDD. Upon completion of the scan, the results will be shown either as "healthy" or a numerical output code that will highlight a concern. These concerns may include abnormally high operating temperature, excessive vibration or host resets. Each notification will provide a suggested course of action.
Seagate IronWolf Health Management (IHM)
Supported Models
The Seagate IronWolf and IronWolf Pro series are available with 12, 10, 8, 6, 4, 3, 2 and 1 TByte capacities and the IHM can be used on every Thecus NAS with ThecusOS 7.0. Here's the full list of current Thecus NAS supporting Seagate IHM when using ThecusOS 7.0 and IronWolf or IronWolf Pro hard drives.

You can also check the HDD compatibility lists to find out if your Thecus NAS is supporting the Seagate IronWolf and IronWolf Pro hard drives with or even without the benefit of IHM.

Compatibility List