For sales inquiries,
please contact us at:


sales@thecus.com
For marketing inquiries, please contact us at:


marketing@thecus.com
2009-10-09
"Undoubtedly the fastest SMB NAS appliance we've seen so far"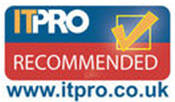 10/09/2009 – For ultimate performance, you just can't beat the Thecus® N8800SAS 2U Rackmount NAS Storage Server. IT PRO recently found this to be true in their recent review, saying it was "undoubtedly the fastest SMB NAS appliance we've seen so far." It was so well received, in fact, that they gave it 5 out of 6 stars and their ITPRO Recommended Award!
Reliability is paramount in business, and the N8800SAS offers it in spades: "Fault tolerance is good as along with plenty of RAID array choices you have two hot-plug power supplies and the pair of Gigabit ports can be linked into load balanced or failover teams. You also get the benefit of Thecus' dual-DOM, which we first saw in our review of the N5500."
The N8800SAS is also very easy to use and administrate: "Installation won't take long as the bundled Setup Wizard searches the network for the appliance and provides quick access to the main web interface...The new Ajax-based web interface is a big improvement and Thecus offers plenty of RAID array choices."
Those looking for performance will not be disappointed: "For performance testing we called up a Dell PowerEdge R410 server equipped with dual 2.13GHz L5506 Xeons, 6GB of DDR3 memory and running Windows Server 2008. Dragging and dropping copies of a 2.52GB video clip delivered superb results, with the appliance returning read and write speeds of 99MB/sec and 92MB/sec. FTP transfers were even better with the FileZilla utility reporting speeds of 103MB/sec and 95MB/sec with the same test file."

Here's the conclusion from IT PRO editors: "The N8800 SAS is undoubtedly the fastest SMB NAS appliance we've seen so far and delivers extremely good results for file sharing activities. Fault tolerance is in abundance and with eight hot-swap drives to play with the appliance offers a high storage capacity."
For the full review, check out:
http://www.itpro.co.uk/615589/thecus-n8800-sas-review
For more information on the N8800SAS, check out:
http://www.thecus.com/products_over.php?cid=11&pid=177
---
About Thecus
®
Thecus® Technology Corp. specializes in IP Storage Server solutions, including Network Attached Storage (
NAS
) , DAS, External Storage and Wireless Media
NAS
(Bank ) products. The company was established in 2004 with the mission to make technology as transparent and easy-to-use as possible, and to make products that are not only the best on the market, but are accessible to experts and novices alike. With a best-in-class R&D team highly experienced in storage hardware and Linux software and with a keen customer focus, Thecus® stays close to the market to develop high-quality products to fulfill the storage Server needs of today's world.
For sales inquiries, please contact us via email:
sales@thecus.com
For marketing inquiries, please contact us via email:
marketing@thecus.com