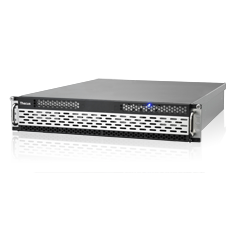 W8900
The Definitive Windows Storage Server
Intel® Core™ i3-2120 3.30GHz Processor
Ultra-Fast SATA III and SAS 6G
HDMI Connectivity
Single-Instance Storage (Dedup)
No Windows Server CALs Required

*The MS license needs to be purchased separately

Features
Single-Instance Storage (Dedup)
When data is sent to multiple users, single-instance storage allocates data to be stored once, eliminating the need to duplicate data storage. This results to reduced data storage and improved data backups. Single-instance storage is most functional when transferring data to large distribution directories by improved delivery efficiency.

No Windows Server CALs Required
No CALs required benefits users the ability to access the services of the server without a permit. With this, business users will not have to go through the trouble of obtaining authorization of per-user or per-device. With no CALs required, users are able to access data on demand, without the troubles of CALs.

PCI-e Gen2
The evolved PCI-e Gen2 offers innovative technology that saves cost with an efficient narrow configuration. While doubling the transfer rate of the previous PCI-e, the PCI-e Gen2 provides the same bandwidth as the PCI-e but with only half its lanes. The target is to save on cost and provide an improved PCI-e for users. The Gen2 provides a significant improvement on system performance over the PCI-e; users can now enjoy faster transfer speeds and connectivity.

HDMI Output
Make your NAS into the ultimate multimedia hub! The W8900's HDMI output allows you to connect your NAS directly to your TV for device management.



10GbE Ready
High-end data centers often need a level of speed that today's average Internet cannot provide. This Thecus NAS is 10Gb Ethernet ready to satisfy the toughest needs of today and tomorrow.



USB 3.0 Connectivity
The next generation of connectivity is here with speeds 10x faster than USB 2.0. Whether connecting digital cameras and smart phones, backing up large external hard drives, or extending the capacity of your NAS, USB 3.0 will make sure it's done in no time at up to 5 Gbit/s. Backwards compatibility adds the connectivity of a world full of USB 2.0 and USB 1.1 devices to get the best combination of speed and universal access.
Overview
Thecus has received hundreds of awards during its history for its innovative and reliable hardware, helping countless people all over the world to share our new digital-era treasure: data. Thecus believes in diversity. That's why they are releasing a new Windows Storage Server-powered NAS product line to help you share your files using Windows Storage Server 2012: the W Series. Three models will be available: 8-bay W8900, 12-bay W12000 and 16-bay W16000.
"The release of the W Series is the start of a very fruitful relationship with Microsoft that will help us achieve our main goal: to satisfy more and more Thecus users with high-quality network appliances," says Florence Shih, General Manager of Thecus Technology.
Explore the reliable and powerful Thecus NAS appliance powered by Window Storage Server 2012. This appliance offers new tools to manage and fulfill business needs. The appliance provides a network platform that allows users to access computers that are running Windows Server 2012. With the latest Windows Storage Server Service Pack 1 (SP1), RemoteFX and Dynamic Memory are two additions that increase user flexibility and control.
"We are pleased to see Thecus utilizing Microsoft Windows Storage Server 2012 to deliver a cost effective, reliable, and scalable solution," said Thomas Pfenning, General Manager, File Server Foundation, at Microsoft. "This will help customers address challenges of managing and providing access to the growing amount of data that businesses rely on."
Besides easy integration within a Microsoft infrastructure and finer optimization for Windows transfer protocols, users who are familiar with Windows Server will now have more familiar interface for managing and protecting their essential business data. In addition, Microsoft updates its product to maintain the security level of its appliances. And finally, the whole Windows ecosystem and community are available to help. Enabling functions such as replication, anti-virus, data backup and so forth has never been so simple and well documented.
Key benefits of a Windows-powered NAS include enhanced power, data and server management capabilities. Paired with Thecus' W series, the possibilities are endless.
Windows Storage Server 2012, Standard Edition
Windows® Storage Server 2012 is the Windows Server® 2012 platform of choice for network-attached storage (NAS) appliances offered by Microsoft partners.
As part of a network-attached storage appliance, Windows Storage Server 2012 can help reduce the storage costs associated with building modern datacenters and private clouds. It enhances the traditional file serving capabilities and extends file based storage for application workloads like Hyper-V, SQL and Internet information Services (IIS). Windows Storage Server 2012 delivers excellent economics for a shared storage solution by leveraging industry standard hardware matched with robust storage capabilities. It delivers continuous availability that is designed to protect from a range of failures and prevent downtime in a scalable and reliable manner.
Microsoft partners offer specialized hardware and additional software components to create NAS appliances based on Windows Storage Server 2012.
Windows Storage Server 2012 based NAS appliances are best suited for you if you are seeking to deploy a dedicated turnkey solution for highly reliable, high-performance shared storage, for example your database needs. If you are a customer who wants to deploy a converged private cloud infrastructure which also includes the ability to run physical or virtual workloads including line-of-business applications, you should consider Windows Server 2012 for your needs.
Thecus Hardware: reducing costs but not quality
Thecus is a company entirely dedicated to storage and network sharing. The main advantage of reaching the high level of excellence is that Thecus helps customers optimize costs and quality. The hardware used for the W series has been tested and approved by media and users all around the world. And you can also benefits from Thecus prices, which give you the best value because of the experience and optimization delivered by our R&D teams.
Thecus products are always delivered using the best quality available on the market. For instance, take high-speed transfers: Thecus NAS appliances are delivered with USB 3.0 (10x faster than USB 2.0).
The following table summarizes the key specs of the W series:
W8900
W12000
W16000
Description
8-bay 2U Rackmount
12-bay 2U Rackmount
16-bay 3U Rackmount
CPU
Intel® Core™ i3-2120 Dual Core@3.30GHz
Intel® Xeon® E3-1225 Quad Core@3.1GHz
Intel® Xeon® E3-1225 Quad Core@3.1GHz
RAM
8GB DDR3 (Up to 32GB)
Storage (for Pre-installed OS)
2.5" SATA
250GB 5400rpm/7200rpm above
Disk interface
SATA III & SAS 6G (8/12/16)
USB 2.0
Front x2 Back x4
USB 3.0
Back x2
eSATA
Back x1
HDMI
Back x1
Specs
1.Hardware Platform
Item
Spec
Processor
Intel® Core™ i3-2120 3.30GHz Processor
System Memory
8GB DDR3 SDRAM
Storage (for Pre-installed OS)
2.5" SATA
250GB 5400rpm/7200rpm above
LAN Interface (PCI-e)
RJ-45x3: Intel 82574L 10/100/1000 BASE-TX Auto MDI/MDI-X
WOL supported
USB Interface
USB 2.0 host port x6 (front x2, back x4) (Type A)
USB 3.0 host port x2 (back x2)
LED Indicator
Power: (blue)
HDD 1-8 Activity/Fail (green/red)
HDMI Output
HDMI port (back x1)
Audio
MIC input, Line input, Audio output
SAS/SATA controller (HBA), PCI-e (8-lane)
LSI 2008 HBA card supports 6G SAS/SATA (x8)
Disk Interface
8 x SATA for internal
1 x eSATA for external
Power Supply
Redundant power supply 350W or more
PCI-e Slots
8-lane (x3), One is used by SAS HBA
4-lane (x1)
1-lane (x1) used by CU30N (USB 3.0)
Thermal/Fan Control
Thermal sensor on processor temperature
CPU fan control
System fan control
System Fan
Hot swappable (x2)
Buttons
Power button (Front, shutdown controlled by user interface)
System reset button
Locator button
RS232
1 (For UPS)
Environment
Temperature: 5°C to 40°C
Humidity: 0 ~ 80 % R.H. (Non-condensing)
Chassis
2U Rack mount
Dimensions (HxWxD)
87 x 438 x 595 (mm)
Weight
15.8Kgs

2. Software Functions (Optional, Windows Storage Server 2012 Standard Version)
Windows Storage Server 2012 Standard is a robust and reliable foundation on which to develop, deliver, and manage rich user experiences and applications. Windows Storage Server 2012 Standard provides a secure network infrastructure and reduces costs while increasing technological flexibility and value within your organization.
Key Features
File sharing (SMB & NFS)
DFS-Replication
File Classification Infrastructure (FCI)
File Server Resource Manager (FSRM)
Domain Join
Shared block storage (iSCSI Target + Boot)
OEM Customizable Out of Box Experience
Storage Spaces
Deduplication
BranchCache
Virtualization(Host + 2 VM*)
Clustering
Simplified Cluster Setup
Networking Infra (DHCP, DNS & WINS)
Features
Offloaded Data Transfer (ODX)
Yes
Thin Provisioning
Yes
Storage Spaces
Yes
SMB
SMB 3.0
SMB Transparent Failover
Yes
Failover Clustering
Yes
Cluster-Aware Updating
Yes
Online CHKDSK scanning
Yes
Scale-out active-active/continuously available file server
Yes
SMB Multichannel
Yes
SMB Direct (RDMA)
Yes
SMB performance DAS equivalence
Yes (97% of DAS transaction performance)
Hyper-V VHD files & SQL Server database files on SMB shared folders
Yes
Online Backup to Cloud
Yes
Hyper-V Replica
Yes
NIC teaming
Yes
Hyper-V share-nothing live storage migration
Yes
Hyper-V Virtual Fiber Channel
Yes
ReFS
Yes
Native 4K Disk Support
Yes
Virtual Disk Format
VHDX up to 64 TB
Shared block storage (iSCSI Target + Diskless Boot)
Yes
BranchCache
Yes
Virtualization (Hyper-V host or guest support)
Yes
Simplified Cluster Setup
Yes
Networking Infra (Print, DHCP, DNS & WINS)
Yes
NFS file sharing
NFS v4.1
Deduplication
Yes
OEM Customizable Out of Box Experience
Yes
DFS-Namespace and Replication
Yes
File Classification Infrastructure (FCI)
Yes
File Server Resource Manager (FSRM)
Yes
Domain Join
Yes
Active Directory Lightweight Directory Services
Yes
Windows Server Backup
Yes
BitLocker
Yes
Package Contents
| | | | |
| --- | --- | --- | --- |
| | | | |
| Accessory Bag(with key) | Ethernet Cable | Power Cord | WSS 2012 Recovery CD |
| | | | |
| QIG | Warranty Card | HDD Compatibility List Card | Sliding Shelves |