N2200EVO
Evolve Your Digital Home
Features
DLNA-Compliant Media Server
Thecus NAS make an excellent media server and can easily store huge libraries of songs, pictures, and movies. The DLNA-Compliant Media Server allows you to stream all of your multimedia on your TV, stereo, or mobile device.



Acronis True Image
Thecus brings the best to the table with Acronis's advanced backup software. Back up all your data with One-click Protection or pick and choose only your most important files. Acronis sports a slick interface, user-friendly design, and comprehensive features to keep your data safe.

Rsync
Backing up your data is very necessary, and everyone has specific needs when it comes to storage. Thecus's Rsync functionality gives users great flexibility with remote backup capability, a flexible scheduler, and the stability of Linux-based transfer.

Energy Saving
The power needed to keep your NAS up and running can greatly add to its overall cost. Lower your Total Cost of Ownership with the N2200EVO's advanced power saving features. With scheduled power on/off, you can tell your N2200EVO to only turn on during certain times during the day. And with auto disk spindown and an enhanced power saving design, the N2200EVO is a veritable energy miser.

AJAX
Getting your N2200EVO up and running shouldn't be a hassle, which is why it comes equipped with a Simple Setup Wizard to guide you through the entire setup process. Once you're up and running, the new AJAX-based user interface makes using the N2200EVO simple and hassle-free.
Overview
Building on the success of the popular N2200PLUS, Thecus is releasing a new 2-bay model aimed for home use. The N2200EVO provides users good speed and great value, with transfer rates over 50MB/s and a host of backup. Thus, multimedia functions makes it easy to keep data safe while creating movies, music, and photo hub for your home.
The N2200EVO's dual-core Cavium processor is powerful enough to handle large backups, web hosting, photo serving, multiple users, and even streaming HD video. Although it is ideally suited for home use, with a maximum capacity of 6TB it can also easily fit into a small business environment to act as a central cloud storage or backup server among many other things. To cut down its carbon footprint as well as save on electric bills, the dual-core Cavium has extremely low power usage and with scheduled power on/off, the N2200EVO will only be on when it needs to be.
- Thecus Firmware includes support for all the newest advances: XFS, 3TB HDD, SATAIII HDD, an open source module system, and more.
- The powerful Acronis Backup software makes backups easy and keeps your data safe!
- A wide array of free modules are available from www.thecus.com or the Thecus UI, including:
a. A download manager for BitTorrent, eMule and HTTP. You don't even need to switch on your computer!
b. The brand new Piczza! photo server, which allows you to share your pictures with friends and family in a smart and easy-to-use interface.
c. A Web Disk module to upload and download data simply and easily to and from your NAS.
"Home users are educating themselves and learning of the importance of data backup and also the fun of a home media center. The N2200EVO fulfills these specs among many others extremely well and does it all at a great value," said Florence Shih, Thecus Technology General Manager. "The dual-core Cavium also makes sure you get good performance without testing your electricity budget."
"Cavium is delighted to be working with Thecus in introducing the revolutionary 2-Bay NAS product to the market," says Douglas Cheung, Director of Marketing for Consumer and Home Networking at Cavium. "Our ECONA family of dual-core System-On-Chips (SoCs) deliver best–in-class NAS performance with the lowest power consumption. N2200EVO leverages these attributes of ECONA SoC to deliver an energy efficient 2-bay solution without compromising the performance or cost targets."
Specs
1.Hardware Platform
Item
Spec
Processor
Dual-core Cavium SoC Processor
System Memory
256MB DDR2
LAN Interface
RJ-45x2: 10/100/1000 BASE-TX Auto MDI/MDI-X
USB Interface
USB 2.0 host port x1 (back x1)
USB 2.0 target port x1 (front x1)
Disk Interface
2 x SATA for internal
Power Supply
External power adapter
Thermal Control
System temperature control
Buttons
Power button
Reset to factory default button
USB copy button
Environment
Temperature: 5°C to 40°C
Humidity: 0 ~ 80 % R.H. (Non-condensing)
Chassis
Metal chassis
Dimensions (HxWxD)
213.59 x 115.17 x 139.2 (mm)
Weight
2.7Kgs

2. Software Functions
RAID
RAID Modes
RAID 0, 1, JBOD
Auto-rebuild
Supported
Hot-swap
Supported
Disk
Power Management
Available spin-down while idle setting
Bad Block Scan
Supported
SMART Info
Supported
SMART Test
Supported
Network
Configuration
Fixed IP address, dynamic IP address
Transport Protocols
TCP/IP/Appletalk
File Protocols
SMB/CIFS, HTTP/HTTPS, FTP, NFS, AFP
Data Access
Client OS Support
Windows XP and after
Windows Server 2003 and after
UNIX/Linux
Mac OS X
FTP
Built-in FTP server with bandwidth control
Secure FTP
Built-in secure FTP server with bandwidth control
TFTP
Users can download and upload files with TFTP programs.
Download Manager
HTTP/FTP/BT/eMule (via DLM module)
NZB download (via NZB module)
Printer Server (IPP)
Support USB printers
Supports a wide range of IPP printers
Client can manage print tasks (restart/remove) via web user interface
Data Backup
Client Incremental Data Backup
Acronis True Image (OEM version)
Client System Disaster Recovery
Acronis True Image (OEM version)
USB Copy
Copies USB device contents to the NAS (via USB Copy module)
NAS Data Backup to External USB Device
Supported (via USB Backup module)
Bi-directional USB Copy
Supported (via USB Copy module)
Client Side Backup Software
Thecus Backup Utility (Windows/Mac OS X)
Rsync Backup
Rsync replicates data between two systems (via Rsync module)
Mac OS X Time Machine
Supported
Power Management
Scheduled Power On/Off
Supported
Volume Management
File System
XFS
Multimedia Support
iTunes Server
Supports AAC, MP3 w/ ID3 tag, WAV
Piczza!™ Web Server (via module)
Supports GIF, JPG (JPEG), BMP, PNG
Support EXIF display
Support slide show
Media Server
Supports uPnP AV streaming protocol (via Twonkymedia module)
User Authentication
Local User
Supports built-in user accounts
Local Group
Supports built-in user groups
File System
Type
Journaling File System
Language Support
Unicode Support
Authorization
"Read", "write", or "deny" privileges to individual users or groups in folders and sub-folders
Administration
User Interface
Web-based user interface supports English, Traditional Chinese, Simplified Chinese, Japanese, Korean, French, German, Italian, Spanish, Russian and Polish
Utility Program
MS Windows Setup Wizard
Supports Windows 2000/XP/2003/Vista/7
Mac OS X Setup Wizard
Email Notifications
Sends system messages via email to the system administrator
Others
Recycled Bin
Supported
Web Disk
Supported
ISO Mount
Supported
User module
Supported
Simple surveillance
Support USB Web cameras/IP cameras for scheduled recording (via simple surveillance module)
Auto Module Installation
Thecus's module server automatically provides the latest modules and updates through the user interface
Package Contents
| | | | |
| --- | --- | --- | --- |
| | | | |
| Accessory Bag | Ethernet Cable | Power Cord | Power Adaptor |
| | | | |
| Acronis True Image DVD | Universal CD | QIG | Warranty Card |
Thecus TV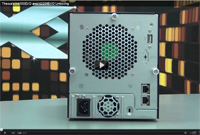 Thecus's N4100EVO and N2200EVO Unboxing
Thecus is well known in the market for always putting innovative hardware and state of the art technology on the table for a fair price in order to guarantee our customers the best value. Thecus's new N4100EVO NAS offer a broad range of advanced features and differentiate themselves with low-energy hardware for those who place strong value on cutting down their electricity costs and carbon footprint. This cost-effective hardware is the first four-bay NAS on the market to feature the speedy and efficient dual-core Cavium CPU to get the quick transfer speeds necessary for large backups and heavy use. The N4100EVO is designed to change the way you run your office, at home or at work.