Linux NAS | Large Business - Rackmount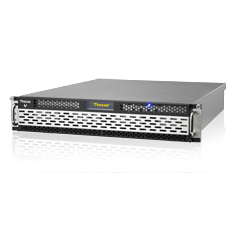 N8900V
High-value 8-bay NAS
Features
10GbE Ready
High-end data centers often need a level of speed that today's average Internet cannot provide. This Thecus NAS is 10Gb Ethernet ready to satisfy the toughest needs of today and tomorrow.


USB 3.0 Connectivity
The next generation of connectivity is here with speeds 10x faster than USB 2.0. Whether connecting digital cameras and smart phones, backing up large external hard drives, or extending the capacity of your NAS, USB 3.0 will make sure it's done in no time at up to 5 Gbit/s. Backwards compatibility adds the connectivity of a world full of USB 2.0 and USB 1.1 devices to get the best combination of speed and universal access.

Acronis True Image
Thecus brings the best to the table with Acronis's advanced backup software. Back up all your data with One-click Protection or pick and choose only your most important files. Acronis sports a slick interface, user-friendly design, and comprehensive features to keep your data safe.

Dual DOM
A Disk On Module (DOM) contains all of the system's critical software. If it stops working for any reason, your system firmware could be inaccessible - or worse. With Thecus®' unique Dual DOM (OS Redundancy) design, a secondary DOM automatically reprograms the primary DOM if it fails, meaning your data is always safe and accessible.

Multiple RAID
When it comes to data management, Thecus NAS truly let you have it your way. Create multiple RAID volumes each supporting different RAID modes including RAID 0, 1, 5, 6, 10,50, 60 and JBOD for your own balance of performance and data protection. Should a hard drive malfunction occur, changing one is simple thanks to online RAID migration and expansion, hot spare, and auto rebuild.

Multiple File Systems
Support for multiple file systems including Ext3, EXT4, and XFS, gives Thecus NAS flexibility to handle many different types of environments. Users can simultaneously use different file systems across multiple RAID volumes to get the best of each one.


iSCSI Thin-Provisioning
Get the most out of your storage space with the extreme speed of iSCSI and the efficiency of iSCSI thin provisioning. Connect through iSCSI for the fastest data transfer speeds available and make wasted disk space a thing of the past with thin provisioning's flexible storage functionality.

iOS/Android Connectivity
In the modern world, nothing is as important as reaching your data from anywhere. With T-OnTheGo and the T-Dashboard, you can manage your NAS, and upload to and download/stream from your NAS using an iOS or Android device on the go.

Rsync
Backing up your data is very necessary, and everyone has specific needs when it comes to storage. Thecus's Rsync functionality gives users great flexibility with remote backup capability, a flexible scheduler, and the stability of Linux-based transfer.

User Quota
Divide the massive storage of a Thecus NAS among multiple users. Whether there are two users or 100, user quotas make it easy to divvy up and manage disk space.


PCI-e slot
Thecus NAS products are ready for a number of emerging technologies. Through the built in PCI-e slot, business users can add a 10G Ethernet Adaptor for lighting fast transfer speeds, or a USB 3.0 Adaptor Card to enjoy next-generation connectivity.
Overview
Thecus is releasing a new line of network attached storage that takes on a quickly growing part of the market: high-capacity, high-value storage. The value, or "V", line, supplement Thecus's existing full lineup of NAS, by giving users a choice between more value and more power. These new NAS combine the newest line of powerful Intel® processors and Thecus's potent software to provide a solution that can accommodate a broad spectrum of business and personal storage and computing needs while staying within your budget.
Built for Enterprise Tasks
The N8900V is the unification of power and price, functionality and frugality. The new Intel® Pentium™ G620 running at 2.6GHz keeps user requests screaming along and allows the N8900V to multitask smoothly, balancing such activities as data transfer, web serving, and RAID building without any delays or slowdowns in service.
The N8900V adds an important choice for consumers in need of an 8-bay NAS at a great value and is the unchallenged highest performance and function for price option on the market. It promises to set new standards in an environment increasingly leaning towards cost-saving measures that still guarantee data integrity and professional functionality.
Powerful Versatility
The N8900V is the best option for a small or medium businesses on the rise. Its 24TB can be used as a shared data hub, iSCSI connectivity offers flexible thin-provisioned storage or simple virtualized environment integration, USB 3.0 allows for high-speed local transfers, and 10 gigabit Ethernet readiness prepares your setup for the new standard in data center connectivity, among a wide range of other functions. It even supports 10GBASE-T, the protocol that allows high-speed 10 gigabit transfers over low-cost Ethernet cables, the standard Ethernet cables that everyone has around the house! The N8900V has every function a professional NAS should offer and even a few more up its sleeve.
A large number of Thecus-exclusive functions set the N8900V apart from the crowd. It comes with three PCI-e slots to add expansion cards such as high-speed 10 gigabit Ethernet and more USB 3.0 connections, it has an HDMI output for local display without a computer and unlimited expansion via Thecus and third-party apps, and it joins other Thecus enterprise NAS in making Thecus the only NAS brand that supports high-end SAS drives along with the standard SATA HDD's. Also packed into the box, Acronis True Image gives users a well-designed, professional software backup solution to simplify storage and backup tasks.
"While IT budgets are tightening, the need for quality high-capacity NAS has, paradoxically, never been so strong within professional environments. Combining Thecus quality standards, innovations and high-value hardware, the V series is designed to bring customers alternative solutions and help them to manage their critical resources without crippling their budget" says Florence Shih, General Manager of Thecus Technology Corp.
Specs
1.Hardware Platform
Item
Spec
Processor
Intel® Pentium® Processor G620 @ 2.6GHz
System Memory
2GB DDR3 SDRAM
LAN Interface (PCI-e)
RJ-45x3: Intel 82574L 10/100/1000 BASE-TX Auto MDI/MDI-X
WOL supported
USB Interface
USB 2.0 host port x6 (front x2, back x4) (Type A)
USB 3.0 host port x2 (back x2)
LED Indicator
Power: (blue)
System Busy: (yellow)
System Alert: Redundant power or system fan failure (red)
HDD 1-8 Activity/Fail (green/red)
OLED
Displays system status and information (Multilingual)
HDMI Output
HDMI port (back x1)
Audio
MIC input, Line input, Audio output
SAS/SATA controller (HBA), PCI-e (8-lane)
LSI 2008 HBA card supports 6G SAS/SATA (x8)
Disk Interface
8 x SATA/SAS for internal, support SATA II / SATA III hard disk
1 x eSATA for external
Power Supply
Redundant power supply 350W or more
PCI-e Slots
8-lane (x3), One is used by SAS HBA
4-lane (x1)
1-lane (x1) used by CU30N (USB 3.0)
Thermal/Fan Control
Thermal sensor on processor temperature
CPU fan control
System Fan
Hot swappable (x2)
Buttons
Power button (Front, shutdown controlled by user interface)
LCM button (ENT, ESC, UP, DOWN)
System reset button
Locator button
RS232
1 (For UPS)
Environment
Temperature: 5°C to 40°C
Humidity: 0 ~ 80 % R.H. (Non-condensing)
Chassis
2U Rack mount
Dimensions (HxWxD)
87 x 438 x 595 (mm)
2. Software Functions
RAID
RAID Modes
RAID 0, 1, 5, 6, 10, 50, 60 and JBOD
Auto-rebuild
Supported
Hot-swap
Supported
Dedicated Hot Spare
Supported
Global Hot Spare
Supported
Online RAID Migration
Supported
Online RAID Expansion
Supported
RAID Volume Encryption
AES256bit
Disk
Power Management
Available spin-down while idle setting
Bad Block Scanning
Supported
SMART Info
Supported
SMART Test
Supported
Disk Roaming
Supports volume-based roaming to other Thecus NAS with matching Firmware line and the same or higher version number
Network
Configuration
Fixed IP address, dynamic IP address
IP Sharing Mode
Can be enabled/disabled
Transport Protocols
TCP/IP/AppleTalk
File Protocols
SMB/CIFS, HTTP/HTTPS, FTP, NFS v4, AFP
Link Aggregation
Load balance, Failover, 802.3ad, Balance-XOR, Balance-TLB, Balance-ALB
TCP/IP
IPV6 & IPV4
Data Access
Client OS Support
Windows XP and after
Windows Server 2003 and after
UNIX/Linux
Mac OS X
FTP
Built-in FTP server with bandwidth control
Secure FTP
Built-in secure FTP server with bandwidth control
TFTP
Users can download and upload files with TFTP programs
Download Manager
BT download (via Transmission module)
NZB download (via NZB module)
Printer Server (IPP)
Supports USB printers
Supports a wide range of IPP printers
Client can manage print tasks (list/delete) via web user interface
Data Backup
Client Incremental Data Backup
Acronis True image (OEM version)
Client System Disaster Recovery
Acronis True image (OEM version)
Client Side Backup Software
Thecus Backup Utility (Windows/Mac OS X)
Rsync Backup
Rsync replicates data between two systems (via Rsync module)
Mac OS X Time Machine
Supported
Block Level Access
iSCSI Target/Initiator
Supports Microsoft/Mac OS X/Linux initiators and Thecus NAS targets
iSCSI Thin Provisioning
Supported
MPIO
Supported
MCS
Supported
Clustering
Supported
SCSI3 persistent group reservation
Supported
Power Management
Scheduled Power On/Off
Supported
Volume Management
Multiple RAID
Supported
Multiple File System Selectable
EXT3/EXT4/XFS
Multimedia Support
iTunes Server
Supports AAC, MP3 w/ ID3 tag and WAV
Piczza!™ Web Server (via module)
Supports GIF, JPG (JPEG), BMP, PNG
Support EXIF display
Support slide show
Media Server
Support uPnP AV streaming protocol (via Twonkymedia module)
User Authentication
Local User
Supports built-in user accounts
Local Group
Supports built-in user groups
Windows ADS/LDAP
Supported
File System
Type
Journaling File System
Language Support
Unicode Support
Authorization (ACL)
"Read", "write", or "deny" privileges to individual users or groups in folders and sub-folders
User Quota
Supported
Administration
User Interface
Web-based user interface supports English, Traditional Chinese, Simplified Chinese, Japanese, Korean, French, German, Italian, Spanish, Russian, Polish and Portuguese
Utility Program
MS Windows Setup Wizard,
Supports Windows 2000/XP/2003/Vista/7
Mac OS X Setup Wizard
Email Notifications
Sends system messages via email to the system administrator
SNMP Trap
System information trap out
SSH
Supported
Mobile Applications (iOS/Android)
Thecus Dashboard
Mobile monitoring and administration (via module)
ThecusShare™
Uploading, downloading, and streaming multimedia
Others
Dual DOM
Supported
Recycle Bin
Supported
Web Disk
Supported (via module)
Web Server
Supported (via module)
ISO Mount
Supported
User/System Module
Supported
IP Cam Surveillance
Supports up to 10 IP cameras (via module)
Auto Module Installation
Thecus's module server automatically provides the latest modules and updates through the user interface
Window Manager
X-Window by HDMI output
Package Contents
| | | | |
| --- | --- | --- | --- |
| | | | |
| Accessory Bag(with key) | Acronis True Image DVD | HDD Compatibility List Card | Sliding Shelves |
Thecus TV