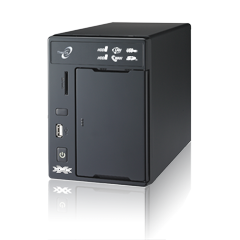 Features
1. Thecus® VisoGuard NVR Standard Features
Linux Embedded System
No more doubts about hacker and virus threat, overall less operating expenses for an effective NVR solution.



All-in-One System Solution & Quick Installation in Less than 30 Mins
Combine storage center, (video capture card,) network server, and software all in the one unit. Thecus® VisoGuard NVR are ready-to-go right out of the box: just create RAID, install NVR plug-in, and your NVR is up and running in less than 30 minutes. Camera Setup Cloning lets you save more time by using the same settings for different cameras with one click of a button.


RAID Functions
Single RAID functions allow users to set up their NVR for specific assignments. Whether it's improved performance or redundancy, RAID Functions allow different features for different needs. (adjustable and default 30% HDD capacity for NAS; supports xfs format, samba/FTP server: WebDisk, Piczza! photo server, USB/eSATA backup, transmission and NZBGet, etc.)

Multi Recording Video Formats
It support H.264, MPEG-4, MJPEG and Motion-PEG formats. "Dual-Stream Video Analytics" will auto record the videos in a most suitable format.

Export in Multi Format Video
Supports AVI, JPEG or SAFE file format for exporting. SAFE file is a non-manipulable file which includes a player: Video + Player = SAFE. And this player includes e.g. known features from the online monitor or archive player such as digital PTZ, displaying iCAT visuals,… And furthermore, multiple camera streams can be exported into one SAFE file.

Live Viewing in Multi-Screen Operation
"Dynamic Viewport" offers viewing everything at once with drag and drop functionality across multiple screens. Each screen is capable of displaying multiple camera views, full screen, or both.

Multi-Streaming Support
Supports multiple MJPEG streams + 1ch. H.264 stream or 1ch. MPEG-4 stream from the same camera to VisoGuard. (e.g. online viewing and recording can be done in different size and frame rates.)



Motion Detection
Motion detection functionality gives you the ability to select a time frame during which motion detection will be activated. You can also limit motion detection to a portion of the viewing field in order to monitor specific items or areas, and record their surroundings when selected areas are activated.It supports multi Motion Detection per camera.


PTZ
Remote PTZ (pan/tilt/zoom) control allows you to adjust a camera's view angle and zoom, from monitoring stations anywhere around the world. Also, get more control of your cameras with adjustable aspect ratios, HDTV support, stretching and cropping of video, and advanced port control.


Event Management System
‧Information Messages ‧System Malfunction Message ‧Camera Status Changee ‧Camera Specific Message
‧Video Annotation ‧Status Change Events ‧Video Analytics (iCAT) ‧External Event Handlers
Event alarms and detailed records work with motion detection and video analytics to keep you aware of everything that is happening. Alarms and records are easily configured, accessed, and navigated through an easy-to-use Event Management System. Video streams can be marked with advanced time stamps for powerful searching and analysis. Events can be prioritized to make your surveillance system react only to specific actions, creating fewer false alarms. It supports 3rd party integrated system via SNAP, I/O contacts and the new URL Command API, etc.


5 Megapixel
Supports 5 megapixel resolutions from each camera or higher



Playback
Video playback offers a convenient way to analysis recorded data. It allows 4 videos playing back at the same time.



Browser & Remote Access
Ability to access the internet and implement remote access.



10x10 viewports
Supports up to 10X10 viewports in one view of a screen


2. Optional Features available in VisoGuard Core/ Basic/ Extended/ Enterprise Edition
Mobile Client Viewing
iPhone Client: supports MJPEG live monitoring



ABS
The unique ABS (Adaptive Balanced Streaming) technology is capable of supporting megapixel cameras serving in limited bandwidth environments. The advanced technology produces high quality images even if bandwidth is low.



Smart Tripwire©
The unique Smart Tripwire© technology prevents the duplicate and incorrect counting of objects. A Smart Tripwire© is directional and only counts objects that have been detected in the source area first and then moves across. The benefit is reducing error ratio of complex customer frequency monitoring from 20% to 5% compared to former systems despite complex shop architecture. It can be used as a Perimeter Protection in the meantime.


Visual Statistics©
iCAT has the ability to collect statistics for object counts, speeds and sizes, stopped objects and objects' stopping time. The following statistics can be visualized by intricate color overlays or normal video stream, via online monitor system and users can replay captured data.


Object Detection and Tracking
For each camera, a tracking region that is either in full camera view or part view - form of a polygon or rectangle can be defined. Object detection and tracking can also be restricted by object size, speed, and X/Y size ratio.

Removed and Abandoned Object Counting
iCAT could be programmed to detect removed and abandoned objects with possible constraints for stay duration and object sizes.



LNT
Layout Navigation Tool (LNT) offers sophisticated navigation features for large systems. It is easy to set up hierarchical layouts as well as close integration with Thecus surveillance, therefore making it an ideal solution for larger installations.

POS
POS Monitor is an intelligent Windows based module for video monitoring of POS transactions. It enables the system to detect and reduce cashier-related mistakes, misunderstandings and even fraud. Flexible archive search tags like "discount," "staff name" and video stream ensure a clear picture of the event.


SNAP
SNAP XML provides flexible basis for integrating all kinds of external systems and applications. Much integration is already available, new integrations can be carried out with minimal effort and cost.



Privacy Mask
The ability to fully conceal sections of the screen.



Camera Sabotage Detection
Detect misconduct if cameras are tampered with.



Lighting Change Detection
Spot lighting change within camera view.



Active Directory
Differentiate between system administrator or normal user.



Camera Connection Encryption
Fully secure camera connection.



Control Center Module Video Wall
Handle up to 10x10 monitors and flexibly control views and layouts or maximize individual camera streams in any of them from a single client PC. It is also possible to work with multiple control consoles in parallel. The application is accessible via the URL http://server-ip-address/videowall in standard web browsers.


*iCAT video analytics is effective and works with all cameras. It provides user friendly set up and powerful object detection, tracking mechanisms and statistics module with integration to the event management system. iCAT offers a wide range of flexibility, grants usage in difficult situations with various camera perspectives. Utilities include: object and people tracking/counting, detection of removed and abandoned objects and more. Distinct from traditional video analytic solutions, Thecus® VisoGuard® NVR all-in-one solution offers flawless surveillance and demonstrates outstanding results in its sector.
Overview
Today, Thecus® Technology, a leader in digital storage solutions, is proud to announce a completely new lineup of Thecus® Networked Video Recording (NVR) systems. Engineered to deliver lightning-quick performance, robust features and massive storage capacity, Thecus® NVR systems are the number one choice for users who require a powerful yet flexible video recording and surveillance solution.
Thecus® NVR solutions are actually multiple devices in one: a network video recorder, a real-time monitoring system, and a networked storage unit. Available in desktop and rackmount form factors, businesses have the flexibility to choose the configuration they require to meet their specific needs. Each Thecus® NVR device has the ability to work with multiple cameras at once, enabling organizations to monitor multiple locations with a single system. In addition to this, Thecus®' new NVR solutions feature real-time monitoring and recording as well as support for multiple video file formats, ensuring maximum security and surveillance effectiveness.
Being of Thecus® pedigree, the storage capabilities of Thecus® NVR solutions are naturally second-to-none. All units are equipped with multiple SATA hard disk bays, granting massive storage capacity to handle hours upon hours of professional-quality video footage. Selective RAID modes come standard, and help to safeguard stored video content at all times. And to provide users with the absolute best software interface available, Thecus® NVR solutions will come bundled with NETAVIS Observer surveillance software for an unbeatable combination of best-of-breed hardware and state-of-the-art software.
"With some of the most advanced network storage solutions already on the market, many customers have expressed their desire for a Thecus NVR solution to appear," said Florence Shih, Thecus® Technology General Manager. "With today's announcement, users now have an entire lineup of NVR devices engineered with Thecus® performance, quality and functionality."
Specs
1.Hardware Platform
Item
Spec
Processor
Intel® Atom™ Processor
System Memory
1GB DDR3 SDRAM
LAN Interface (PCI-e)
RJ-45x2: 10/100/1000 BASE-TX Auto MDI/MDI-X
USB Interface
USB 2.0 host port x3 (front x1, back x2) (Type A)
LED Indicator
Power: (blue)
HDD1-2 Activity/Fail (blink white/red)
WAN (Link: solid white; Activity: blink white)
LAN (Link: solid white; Activity: blink white)
USB (Copy LED: blink white)
Card Reader (Copy LED: blink white)
Disk Interface
2 x SATA for internal
1 x eSATA for external
Power Supply
External power adapter
PCI-e x1 Slot
1
Thermal/Fan Control
Thermal sensor on processor temperature
CPU fan control
System fan control
Card Reader
Support SD/SDHC/MMC
Buttons
Power button
USB copy button
Environment
Temperature: 5°C to 40°C
Humidity: 0 ~ 80 % R.H. (Non-condensing)
Chassis
Tower base
Dimensions (HxWxD)
163.8 x 115.4 x 217.6 (mm)

2. Software Functions (Depending on users' needs)
| | |
| --- | --- |
| Model Name | Definition |
| NVR22-C(N) | Core Edition with N camera licenses (N=2, 4, 8) |
| NVR22-B(N) | Basic Edition with N camera licenses (N=4, 8) |
| NVR22-T(N) | Extended Edition with N camera licenses (N=4, 8, 12) |
| NVR22-E(N) | Enterprise Edition with N camera licenses (N=4, 8, 12) |
| NVR22N | without software license |
| | | | | | |
| --- | --- | --- | --- | --- | --- |
| Functionality | Core | Basic | Extended | Enterprise | N |
| Max. nr. of Interconnected Servers | 1 | 1 | 3 | Unlimited | n/a |
| Max. nr. of Users per installation | 3 | 10 | 20 | Unlimited | n/a |
| Video formats (MJPEG, MPEG-4, MxPEG, H.264) | Yes | Yes | Yes | Yes | n/a |
| Export (AVI, JPEG, SAFE) | Yes | Yes | Yes | Yes | n/a |
| Multi Monitor | Yes | Yes | Yes | Yes | n/a |
| Remote access | Yes | Yes | Yes | Yes | n/a |
| Browser access | Yes | Yes | Yes | Yes | n/a |
| Event Management System (EMS) | Yes | Yes | Yes | Yes | n/a |
| PTZ control | Yes | Yes | Yes | Yes | n/a |
| Notification (Email, Alarmbild) | Yes | Yes | Yes | Yes | n/a |
| Motion Detection | Yes | Yes | Yes | Yes | n/a |
| Smart Phone Client (iPhone) - per user | Optional | Optional | Optional | Optional | n/a |
| LNT (Layout Navigation Tool) - per user | n/a | Optional | Optional | Optional | n/a |
| Sabotage Detection - per camera | n/a | Optional | Optional | Yes | n/a |
| ABS (Adaptive Balanced Streaming) - per camera | n/a | Optional | Optional | Yes | n/a |
| Encryption - per camera | n/a | n/a | Optional | Optional | n/a |
| iCAT (Video Analytics) - per camera | n/a | Optional | Optional | Optional | n/a |
| Retail POS monitor - per pos | n/a | n/a | Optional | Optional | n/a |
| Active Directory - per server | n/a | n/a | Optional | Yes | n/a |
| Archive Encryption - per server | n/a | n/a | Optional | Optional | n/a |
| Number Plate recognition CarReader - per NPR camera | n/a | n/a | Optional | Optional | n/a |
| SNAP XML interface - per application | n/a | n/a | Optional | Optional | n/a |
| Retail Pegasus convention rate monitor - per project | n/a | n/a | Optional | Optional | n/a |
| Control center module VideoWall - per project | n/a | n/a | Optional | Optional | n/a |
* Note: Actual VisoGuard NVR function and performance are limited by hardware specifications. Higher hardware specifications on NVRs and Client PC's will result in improved performance.
Thecus TV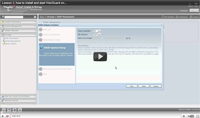 Lesson 1: how to install and start VisoGuard on your Thecus NVR?
This lesson will teach you the basics of your NVR in 5 minutes: setting up the network configuration, the admin password, creating your first RAID volume and finally launch Thecus VisoGuard solution. The RAID creation time (which can varies depending on RAID levels, amount of disks and NVR model) have been cut for the video. No specific knowledge is required but you'll need a Thecus VisoGuard NVR plugged into your local network and a computer with Thecus Wizard, Java and an Internet Browser installed.