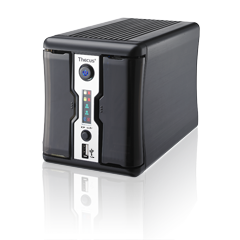 N2200PLUS
The Ideal Home NAS Redefined
Awards/Reviews
2012-01-23
Media: HWT.dk | Country: Denmark

"It is on the firmware side that Thecus gets the most points. There are a lot of similar Linux based NAS devices on the market with browser interface and all that, but I think Thecus' version is one of the better."

more...
Features
Status At-a-Glance
How is your NAS doing today? With its colorful liquid crystaldisplay, you can monitor your Thecus N2200PLUS Home NAS at all times simply by looking at the intuitive status icons.

Easy to Set Up, Easy to Use
High tech shouldn't mean high difficulty. The N2200PLUS Home NAS can be set up and installed in a snap and even features Thecus' brand-new AJAX-based web interface for complete ease-of-use.

Solid Data Protection
With RAID 0, 1, and JBOD, you can choose the level of speed and protection you want from the N2200PLUS. And with auto-rebuild and hot swapping, changing hard disks couldn't be easier. To backup your data, Thecus' backup utility and Nsync remote replication are also included.

Friendly Features
Designed for home use, the N2200PLUS Home NAS packs some useful features under the hood, including an iTunes server, a photo web server, a media server, and a download manager. You can even use the N2200PLUS Home NAS as a simple surveillance server by plugging in a compatible USB web cam!

Quietly Saving Money
With fans that automatically spin down when the system is idle, the N2200PLUS Home NAS is a quiet worker. What's more, its intelligent power-saving design means lower overall operating costs.

Greatly Increased Performance
The N2200PLUS Home NAS features a new dual-core processor, 256MB of DDR2 memory, and even Dual Gigabit Ethernet. The result is greatly boosted data performance compared to its predecessor for wicked fast file transfers, smoother streaming video, and snappier system response.

SATA II for Ultra-Fast Transfer Speed
The N2200PLUS Home NAS features support for internal hard drives with SATA II. This top-of-the-line connection transfers at speeds up to an amazing 3Gbit/s. It is also backwards-compatible with SATA I, so your old disks can be swapped in and out without
a hitch.

NAS & DAS all in one
The N2200PLUS is more than just a NAS device; it can be configured as DAS by connecting via it's front USB A type port, making it the most flexible storage device around.
Overview
Users who primarily need a network storage device for the home want a device that is not only fully featured, but is also powerful and easy-to-use and install. For users like these, storage leader Thecus® Technology is proud to introduce the N2200PLUS. Featuring a powerful dual-core processor, solid data protection features, and robust yet friendly functionality, the N2200PLUS Home NAS is ideally suited for home use.
The N2200PLUS Home NAS is filled to the brim with features designed to make things easy. Adorning the front of the device is a colorful liquid crystal display, which allows users to conveniently monitor the status of their NAS at-a-glance. The completely revamped user interface is extremely friendly, making managing the N2200PLUS a breeze. On top of that, the N2200PLUS comes with a full array of useful features for the home, including an iTunes server, photo web server, media server, download manager, simple surveillance server and more, making it a perfect home media companion.
Don't need network access? The N2200PLUS Home NAS can also be configured as a direct-attached storage (DAS) device for excellent flexibility, not to mention two SATA hard disk bays that can accommodate either 2.5" or 3.5" disks. What's more, with the intelligent power-saving design, you can be sure that the N2200PLUS Home NAS isn't going to be taxing your electricity bill.
To power all of this goodness, the N2200PLUS is equipped with dual-core processor and 256MB of DDR2 memory. These, along with dual Gigabit Ethernet ports, mean that movies play smoother, files transfer faster, and more users can smoothly access the N2200PLUS. To protect all of your data and digital media, you can choose between RAID 0, 1 and JBOD. For bulletproof backup of all your data, the N2200PLUS comes with multiple backup options, including Thecus' Backup Utility, Rsync, and Acronis OEM Backup Software. The N2200PLUS even supports Mac Time Machine, making it ideal for Mac users. And if one of your hard disks malfunctions, you can easily swap it out with a new one thanks to both hot swapping and auto-rebuild.
"The power, flexibility and ease-of-use of the N2200PLUS make it ideal for home users to experience the convenience of having a centralized storage device," said Florence Shih, Thecus® Technology General Manager. "Once you see how easy it is to enjoy your digital media throughout your home with a Thecus® NAS device, you'll wonder how you got along without one!"
Specs
1.Hardware Platform
Item
Spec
Processor
Cavium SOC(Dual-Core series) Processor
System Memory
256MB DDR2
LAN Interface
RJ-45x2 : 10/100/1000 BASE-TX Auto MDI/MDI-X
LCD Display indicator
(Color icon)
HDD1 Power, Activity/Fail
HDD2 Power, Activity/Fail
WAN/LAN1 (Activity)
LAN2 (Activity)
USB COPY (Busy)
USB COPY (Fail)
LED indicator
System power On LED (Blue)
Power adapter
External power adapter
(Supports 2TB and above HDDx2 )
Disk interface
SATA II 3.5 " HDD x2 or SATA 2.5" HDD x2
USB Interface
USB 2.0 target port(Front x1)
USB 2.0 host port(Back x1)
Thermal/Fan control
Temperature controlled system fan speed
Real-time clock
Battery powered backup system clock
Buttons
System power on button
Reset to factory default button
USB copy button
Buzzer
Adjust frequency
Chassis
Metal chassis
Front/Rear cover
Plastic cover
Environment
Temperature : 5°C to 40°C
Humidity : 0 ~ 80 % R.H. (Non-condensing)

2. Software Functions
RAID
RAID modes
RAID 0, 1, JBOD
Auto-rebuild
Supported
Hot-swap
Supported
S.M.A.R.T Info
Supported
S.M.A.R.T Test
Supported
Disk
Power management
Configurable automatic drive spin down
Bad Block Scan
Supported
Network
Configuration
Fixed or dynamic IP address
Transport Protocols
TCP/IP/Appletalk
File Protocols
SMB/CIFS, HTTP/HTTPS, FTP, NFS v3, AFP
Data Access
Client OS support
Windows 2000/XP/2003/Vista/7
UNIX/Linux
Mac OS 9/X or above
WebDisk
Web-based file access
FTP
Built-in file transmission protocol
Secure FTP
Built-in secure FTP server with bandwidth control
Download Manager
HTTP/ FTP/ BT/eMule (install DLM Module)
NZB download (install NZB Module)
Printer Server (IPP)
Supports USB printers
Supports various IPP printers
Client can manage print tasks (list/delete) via web user interface
Data Backup
USB Copy
Copies USB Mass storage device contents to specified location on the NAS
NAS data backup to external USB device
Supported
(install USB/eSATA Schedule Backup Module)
Client backup scheduler
Acronis True Image (OEM version)
Client system disaster Recovery
Acronis True Image (OEM version)
Mac Time Machine
Supported
Bi-Directional USB Copy
Supported (install module)
Client side backup software
Thecus Backup Utility (for Windows/Mac)
NAS Remote Replication
Via Thecus proprietary Nsync
NAS Remote Replication
Via Rsync to replicate data between two systems (install module)
Multimedia Support
iTunes Server
Supported File Types: AAC, MP3 w/ ID3 tag, WAV
Photo Web Server
Supported File Types: GIF, JPG (JPEG), BMP, PNG
Support EXIF display
Support slide show
Media server
Supports uPnP AV streaming protocol
User Authentication
Local User
Supports built-in user accounts
Local Group
Supports built-in user groups
File System
Type
Journaling File System
File system support
XFS
Capacity
6TB (Check HDD Compatibility List for details)
Language Support
Unicode Support
Authorization
Read, Write or Deny options on individual users or groups
Authorization (ACL)
Read, Write or Deny options on individual users or groups for shared and sub-folders.
Administration
Multi-Lingual Web-based administration
Web-based server management Interface Supports:
English, Traditional Chinese, Simplified Chinese, Japanese, Korean, French, German, Italian, Spanish, Russian,Polish .
Utility Program
MS Windows (Setup Wizard),
Supports multiple languages,
Supports Windows 2000/XP/2003/Vista/7,
Mac OS X (Setup Wizard)
Email notification
Send the system messages via email to the system administrator
Others
Recycling bin
Supported
Web Disk
Supported with remote access
User module
Supported
ISO Mount
Supported
Simple surveillance
Support USB Web CAM/IP CAM for scheduled recording
Package Contents
Accessory Bag
Ethernet Cable
Power Cord
Power Adaptor
Warranty Card
All in one DVD