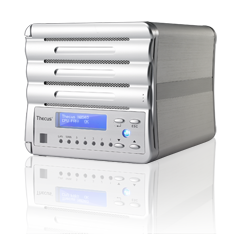 N0503 ComboNAS
1 NAS 2 Ways 3 cross 5
Awards/Reviews
Features
Incredibly Powerful Yet Easy to Use
The N0503 is powered by an Intel Atom processor for excellent system response and data throughput. Plus, the N0503 is extremely easy to manage thanks to an all-new web-based interface featuring AJAX technology.

Secure and Flexible Storage
Your data is secured with support for RAID 0, 1, 5, 6, and JBOD, in addition to multiple RAID volumes. The N0503 can also be outfitted with three 3.5" hard disks or five 2.5" hard disks for incredible flexibility.

A Multimedia Powerhouse
With support for iTunes, a built-in photo album, and uPnP AV streaming, the N0503 makes an excellent addition to the living room. And with very low noise output, it won't disturb you when you're watching your favorite movies or listening to some relaxing tunes.

Save Time and Money
Extremely low power consumption means the N0503 will save you money on your electric bill. Plus, with the included download manager, the N0503 can download your HTTP, FTP, BT, or eMule downloads during off peak hours, so you can save your bandwidth for when you need it most.
Overview
Ever the innovator, Thecus® Technology has racked up an impressive number of firsts. In 2005, Thecus® introduced the world's first DAS device with eSATA support, enabling file transfers of up to 3Gb/s. With the N3200 in 2007, Thecus® brought the security of RAID 5 to a home NAS. Today, Thecus® is pleased to reveal the world's first NAS device with the ability to accommodate both 2.5" and 3.5" hard disks – the N0503. 
One look at the N0503 tells you it's different. Using its special combo hard disk bays, the N0503 can actually support up to five 2.5" hard disks or three 3.5" hard disks. Fill the N0503 with three 3.5" hard disks and the N0503 is a high-performance three-bay NAS with up to 6TB of storage capacity. Equip the N0503 with five 2.5" hard disks, and you have a five-bay NAS unit that offers lower power consumption and noise. With dual form-factor hard disk support, users are given unparalleled flexibility with the N0503.
The N0503 also offers quick system response and file transfer capabilities with its powerful Intel® ATOM™ CPU and dual Gigabit Ethernet ports. Multiple RAID modes including RAID 0, 1, 5, 6, and JBOD are selectable, and auto volume rebuild, hot swap and hot spare capabilities mean maximum data reliability. The N0503 also comes with advanced data protection in the form of disk array roaming and Nsync – Thecus' remote replication utility. Speedy and secure, the N0503 makes a perfect place to house your digital data.
But storing and securing data is only part of the equation. The N0503 also comes with a slew of advanced features that really take NAS storage to the next level of usability and convenience. With support for an iTunes server, a photo web server, and uPnP AV streaming, the N0503 is an ideal media hub for the digital home. Connect the N0503 to your home network and stream music and movies throughout your house. With the built-in IP camera surveillance server, you can use the N0503 to keep tabs on your home or office for enhanced security, and with included download manager, you can download BT and eMule files during off-peak hours to maximize your available bandwidth and reserve peak hours for other more critical tasks. To top it all off, a slick LCD panel notifies you of critical system information at a glance and a completely revamped AJAX-based web GUI makes the N0503 easier to use than ever.
Equipped with dual hard disk support, advanced data security and strong performance, Thecus® has once again changed the rules of NAS storage with the N0503.
"We knew the N0503 would turn a lot of heads when we released it, and with good reason," notes Thecus General Manager Florence Shih. "By thinking outside the box, Thecus® has proven once again its spirit of creativity and innovation with the N0503 - the most flexible NAS storage device on the market."
Specs
1.Hardware Platform
Item

Spec

Processor

Intel® ATOM™ Technology

SATA device

3x3.5" or 5x2.5" SATA for internal, 1xeSATA for external

System Memory

1024MB DDR2 SODIMM SDRAM

LAN Interface (PCI-e)

RJ-45x2 : 10/100/1000 BASE-TX Auto MDI/MDI-X
WOL supported

USB Interface

USB 2.0 host port x2(Front x1, Back x1) (A Type)

LCM Module

2*16

LED indicator

Power(Blue)
HDD1-5 Activity/Fail(Green/Red)
WAN (Link : Green; Activity : Green)
LAN (Link : Green; Activity :Green)

PCI Slot

1

Power supply

96W External Power Adaptor

Disk interface

SATA via backplane

Thermal/Fan control

Thermal sensor on processor temperature
Temperature controlled system FAN speed
Buttons
Power button(Front, power down controlled by S/W)
Reset button
LCM button (ENT,ESC,UP, DOWN)

Environment

Temperature : 5°C to 40°C
Humidity : 0 ~ 80 % R.H. (Non-condensing)

Dimension

Tower Base

Sound Pressure Level

2. Software Functions
RAID

RAID modes

RAID 0, 1, 5,6,10,JBOD

Auto-rebuild

Supported

Hot-swap

Supported

Hot spare

Supported

SMART Info

Supported

SMART Test

Supported

On line RAID Migration

Supported

On line RAID Expansion

Supported

RAID Volume Encryption

AES256bit

Disk

Power management

Spin down while idle time setup

Bad Block Scan

Supported

Roaming

Support roaming to other N0503

Network

Configuration

Fixed IP Address, Dynamic IP Address,

IP sharing mode

Can be enabled/disabled

Transport Protocols

TCP/IP/Appletalk

File Protocols

SMB/CIFS, HTTP/HTTPS, FTP, NFS v3, AFP

Link Aggregation

802.3ad, load balance and fail over

Data Access

Client OS support

Windows XP and after
Windows Server 2003 and after
UNIX/Linux
Mac OS X

WebDisk

Web-based file access

FTP

File transmission protocol

Secure FTP

Secure File transmission protocol

Download Manager

HTTP / FTP / BT / eMule

Printer Server (IPP)

Support USB printers
Support IPP various printers
Client can manage(List/Delete) the print job queue on WEB interface

Data Backup

NAS Remote Replication

Via Thecus proprietary Nsync

USB device copy to N5500

Through LCM to control

Snapshot

Supported

Bi-directional USB Copy

Supported

Client data backup

Acronis True image(OEM version)

Client system Disaster Recovery

Acronis True image(OEM version)

Block Level Access

iSCSI Target

For stackable with N5200/1U4500/N7700

iSCSI initiator

Supports Microsoft/Mac/Linux Initiator

iSCSI Thin Provisioning

Supported

Power management

Schedule power on/off

Supported

Volume management

Multiple RAID

Supported

Multiple file system selectable

Ext3 / XFS / ZFS

Multimedia Support (Options for module upload)

iTunes Server

Supported File Types: AAC, MP3 w/ ID3 tag, WAV

Photo Web Server

Supported File Types: GIF, JPG (JPEG), BMP, PNG
Supports EXIF display
Supports slide show

Media server

Supports uPnP AV streaming protocol

User Authentication

Local User

Supports built-in user accounts

Local Group

Supports built-in user groups

Windows NT/ADS

Supported

File System

Type

Journaling File System

Capacity

6TB

Language Support

Unicode Support

Authorization (ACL)

Read, Write or Deny options on individual users or groups for share and sub-folders

Administration

Multi-Lingual Web-based administration (Default auto)

Web-based server management Interface Supports English, Traditional Chinese, Simplified Chinese, Japanese, Korean, French, German, Italian, Spanish, Russian and Polish

Utility Program

MS Windows Setup Wizard, Support Windows 7/2000/XP/2003/Vista
Mac setup Wizard (OSX only)

Email notification

Sends system messages via Email to the system administrator

SNMP trap

System information trap out

Others

Web Disk

Supported

Recycled bin

Supported

Web Server

Supported

ISO Mount

Supported

User module

Supported

IP CAM surveillance Server

Supported to 20 IP CAM device
Package Contents
Accessory Bag
Ethernet Cable
Power Cord
3 to 5 HDD Cage
Acronis True Image DVD
Universal CD
QIG
Warranty Card
HDD Compatibility List Card
Thecus TV