For sales inquiries,
please contact us at:


sales@thecus.com
For marketing inquiries, please contact us at:


marketing@thecus.com
2009-06-09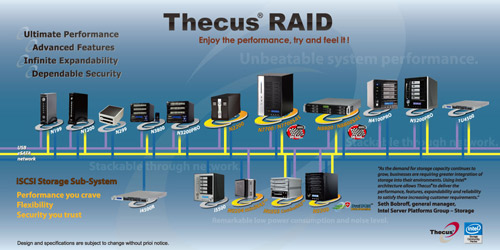 06/09/2009 - Computex 2009 has been another great success for Thecus®. Until the last minute, Thecus® booth was still packed with visitors and presses from around the globe, anxious to experience first hand the power and convenience Thecus® NAS has to offer.
In this year's exhibition, Thecus® showcased many of its "IT Friendly" NAS products as well as cutting-edge technology the world has never seen before. People who visited Thecus® booth were all fascinated and very impressed by the flexibility and functionality of Thecus® latest NAS devices.
Thecus® would like to take this opportunity and thank everyone who visited our booth this year at Computex, as well as the patronage and support from presses around the globe. Looking forward seeing you in Computex 2010.
For related news releases on Thecus® Computex 2009, please see below links:
Hexus 1
Hexus 2
tbreak.com
hardware.info 1
hardware.info 2
Digitimes
HardwareZone Singapore 1
HardwareZone Singapore 2
HardwareZone Malaysia
HardwareZone Philippines
HardwareZone Australia
kr.aving.net (Korea)
Gamine Nexus
motherboardpro.com
storagereviews.co.uk
current.com
Hardware Mash
revHardware
game.blogdig.net
combatsim.com
YouTube
Thecus® @ Computex 2009: http://www.thecus.com/computex
---
About Thecus
®
Thecus® Technology Corp. specializes in IP Storage Server solutions, including Network Attached Storage (
NAS
) , DAS, External Storage and Wireless Media
NAS
(Bank ) products. The company was established in 2004 with the mission to make technology as transparent and easy-to-use as possible, and to make products that are not only the best on the market, but are accessible to experts and novices alike. With a best-in-class R&D team highly experienced in storage hardware and Linux software and with a keen customer focus, Thecus® stays close to the market to develop high-quality products to fulfill the storage Server needs of today's world.
For sales inquiries, please contact us via email:
sales@thecus.com
For marketing inquiries, please contact us via email:
marketing@thecus.com