For sales inquiries,
please contact us at:


sales@thecus.com
For marketing inquiries, please contact us at:


marketing@thecus.com
2009-06-04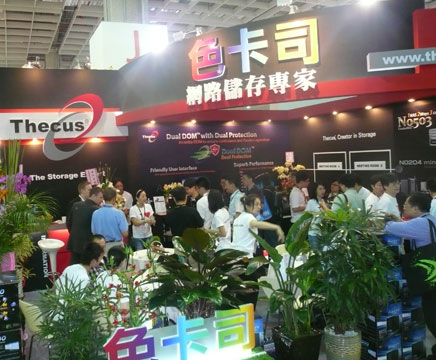 06/04/2009 - In this year's Computex, Thecus® booth is once again overwhelmed by visitors from around the global, making it the spotlight at Nangang Exhibition Hall. This year, besides showing off its most popular storage products, Thecus® is also demonstrating its latest "IT friendly" NAS devices as well as cutting edge technology the world has never seen before.
On the booth, Thecus® introduced N0204miniNAS™ amid for Home/SOHO users. From its diminutive exterior, one could easily mistake it as a regular external hard drive. But look closer and you will see a powerful two-bay NAS device that fits right in the palm of your hand. It supports two 2.5" SATA hard disks, providing up to 1TB of storage. You can manage this storage with your choice of RAID 0, 1, and JBOD. Without doubt, N0204miniNAS™ is the most robust "pocketable" storage device in existence.
Thecus® is also taking the opportunity to display to the public with its most flexible NAS device ever, the N0503 ComboNAS™. With its special combo hard disk bays, the ComboNAS™ can support three 3.5" hard disks or five 2.5" hard disks. Fill the ComboNAS™ with three 3.5" hard disks and it is a powerful three-bay NAS with multiple terabytes of storage capacity. Equip with five 2.5" hard disks and you have a flexible five-bay NAS unit that takes up the space of a three bay device.
Another Thecus® latest NAS product, the N5500, is also making its debut at computex2009. The N5500 is engineered to store your data and keep it safe. It supports a whopping 10TB of total storage capacity. To protect this data, the N5500 lets you choose from a wide selection of RAID modes, including RAID 0, 1, 5, 6, and JBOD. It also supports multiple file systems, including XFS, ext3 and ZFS. N5500 has caught many visitors' attention with its unique Dual DOM™ design; an extra DOM to ensure zero down-time due to unexpected system failure.
Visitors also get the chance to experience Thecus® most powerful NAS devices ever, the N7700SAS and N8800SAS for enterprise environment. Both unique devices feature Intel® Core 2 Duo 2 processor and 2GB of DDR2 memory, allowing for more concurrent connections and quicker system response. Unique features such as iSCSI and stackable brings flexible storage usage and convenient expansion mechanism. These advanced features combine to form a powerful yet cost-effective NAS solution that is perfect for medium-to-large organizations. N8800SAS offers massive storage capacity in a 2U rack mount form factor. Both N7700SAS and N8800SAS deliver gigantic storage, reliable protection and superb performance, exactly what office users are looking for in an ideal storage unit.
Computex2009 will take place until the 6th of June 2009. Visitors are welcomed to join us and experience firsthand the power Thecus®' NAS have to offer. For those who can not make it to Thecus® Booth this year, detail information will be available on
Thecus® @ Computex 2009: http://www.thecus.com/computex
---
About Thecus
®
Thecus® Technology Corp. specializes in IP Storage Server solutions, including Network Attached Storage (
NAS
) , DAS, External Storage and Wireless Media
NAS
(Bank ) products. The company was established in 2004 with the mission to make technology as transparent and easy-to-use as possible, and to make products that are not only the best on the market, but are accessible to experts and novices alike. With a best-in-class R&D team highly experienced in storage hardware and Linux software and with a keen customer focus, Thecus® stays close to the market to develop high-quality products to fulfill the storage Server needs of today's world.
For sales inquiries, please contact us via email:
sales@thecus.com
For marketing inquiries, please contact us via email:
marketing@thecus.com