For sales inquiries,
please contact us at:


sales@thecus.com
For marketing inquiries, please contact us at:


marketing@thecus.com
2009-06-01
Quality construction and advanced features snag PC Per's highest honor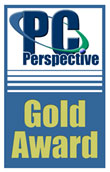 06/01/2009 – When it comes to protecting your precious data, you need a NAS device that is not only well built, but also comes with an array of features to allow you to secure and share your digital memories. Recently, PC Perspective put the Thecus® N5200 onto the test bench. After putting the N5200 through a bevy of tests, they came to the conclusion that it is indeed a great NAS device, awarding it with their Gold Award – their highest honor!
The N5200B is built to last: "The Thecus N5200 NAS measures about 9-in tall and deep and about 7.5-in wide and will likely be confused for a really small computer by the uninitiated. Without hard drives installed it still has some weight to it and it is built in a sturdy fashion. It should be able to take some abuse and live to tell about it. On the front of the unit you'll see the five removable hard drive trays, diagnostic LEDs, power and reset button, informational LED display and some buttons to navigate through the information."
Solidly built, but also filled to the brim with useful features: "The Thecus N5200B network attached storage device definitely has a lot of features that are appealing to both casual users and enterprise customers. Dual Gigabit Ethernet ports, an integrated printer server, eSATA and USB support and the ability to run RAID 5 and 6 really give the N5200 an edge over most other options on the market. And not many NAS devices offer the ability to use 5 hard drives; another plus for storage hungry users."
The final verdict: "The Thecus N5200B network attached storage device is a utility that many users will not be attracted to while others will fall in love with the features and advanced control that it offers over other cookie-cutter NAS units on the market. Support for two different Gigabit Networks and 5 3.5-in hard drive bays really give the N5200 a unique stance in the market and if you can swallow the somewhat surprising price this Thecus NAS could find a cozy spot on your network."
For the full review, check out:
http://www.pcper.com/article.php?aid=714
For more information on the Thecus N5200B, check out:
http://www.thecus.com/products_over.php?cid=10&pid=8
---
About Thecus
®
Thecus® Technology Corp. specializes in IP Storage Server solutions, including Network Attached Storage (
NAS
) , DAS, External Storage and Wireless Media
NAS
(Bank ) products. The company was established in 2004 with the mission to make technology as transparent and easy-to-use as possible, and to make products that are not only the best on the market, but are accessible to experts and novices alike. With a best-in-class R&D team highly experienced in storage hardware and Linux software and with a keen customer focus, Thecus® stays close to the market to develop high-quality products to fulfill the storage Server needs of today's world.
For sales inquiries, please contact us via email:
sales@thecus.com
For marketing inquiries, please contact us via email:
marketing@thecus.com