For sales inquiries,
please contact us at:


sales@thecus.com
For marketing inquiries, please contact us at:


marketing@thecus.com
2009-05-20
"IT Friendly" NAS Devices to Make Worldwide Debut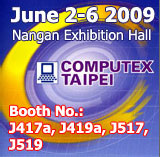 05/20/2009 –As technology advances, there is a tendency for electronics to become power-hungrier and more difficult to use. But at Thecus® Technology, we believe that advanced technology doesn't have to be complicated, which is why from June 2nd to 6th at Computex 2009, Thecus® will display its latest NAS products to the world. At Asia's largest technology trade show, showgoers will be able to see the latest advances in digital storage at the Thecus® booth, and witness just how "IT Friendly" NAS devices can benefit users at home and at the office.
Thecus® IT Friendly NAS Devices
Total ease-of-use has always been a focus for Thecus® products, and at this year's Computex, users will see just how Thecus' IT Friendly NAS Devices are a tremendous boon for both end-users and IT departments alike.
First and foremost, Thecus® will be displaying its new web-based user interface to the world. This completely redesigned interface uses AJAX technology to be more streamlined and easier to use than ever. This interface will make its debut on Thecus' latest NAS devices such as the N0503 and the N5500.
In addition to this, Thecus® IT Friendly products offer other niceties that make managing digital storage easier and cost-effective. Many Thecus® NAS Devices offer an LCD display that shows vital information such as IP addresses and system status at-a-glance. Also, all Thecus NAS devices are engineered to be incredibly power-efficient, which means lower total cost of ownership while helping to preserve the environment.
Visit Thecus® at Computex 2009 and discover the difference Thecus® IT Friendly products can make.
Pocket RAID Storage - N0204 miniNAS
No bigger than a paperback book, the N0204 miniNAS is a breakthrough in NAS engineering. From its diminutive exterior, one could easily mistake it as a regular external hard drive. But look closer and you will see a very capable two-bay NAS device that fits right in the palm of your hand. The N0204 miniNAS houses two 2.5" SATA hard disks, providing up to 1TB of storage, and even comes with SSD support. You can manage this storage with your choice of RAID 0, 1, and JBOD, making the N0204 miniNAS the most robust pocketable storage device in existence. And due to popular demand, Thecus is also releasing a white edition of the N0204 miniNAS! Come and see pocketable NAS power at Computex 2009.
Unparalleled Flexibility - N0503 ComboNAS
The N0503 ComboNAS will also make its debut at this year's Computex. Using its special combo hard disk bays, the N0503 can actually support up to five 2.5" hard disks or three 3.5" hard disks. Fill the N0503 with three 3.5" hard disks and the N0503 is a powerful three-bay NAS with multiple terabytes of storage capacity. Equip the N0503 with five 2.5" hard disks, and you have a flexible five-bay NAS unit that takes up the space of a three bay device. With dual hard disk support, users are given unparalleled flexibility with the N0503.
Unrivaled Efficiency and Data Security - N5500
The N5500 is engineered to store your data and keep it safe. The N5500 is equipped with five hot-swappable SATA 3.5" hard disk bays for a whopping 10TB of total storage capacity. To protect this data, the N5500 lets you choose from a wide selection of RAID modes, including RAID 0, 1, 5, 6, and JBOD. The N5500 shines terms of flexibility with support for multiple file systems, including XFS, ext3 and ZFS, and with its unique dual-DOM design, users do not need to worry about down-time due to unexpected system failure. Witness the N5500 in action at Thecus' Computex booth.
The Ultimate Business NAS - N7700SAS and N8800SAS
For those looking for ultimate NAS storage, the N7700SAS and N8800SAS will make their debut at Computex 2009, representing the most powerful and flexible NAS devices on the market today.
The N7700SAS brings the latest technologies to the table, including seven SATA/SAS hard disk bays that accommodate multiple terabytes of storage, and support for ext3, ZFS, and XFS file systems. To manipulate all of this data, an Intel® Core 2 Duo 2.16GHz processor and 2GB of DDR2 memory allow for more concurrent connections and quicker system response. Offering massive storage, market-leading performance, and excellent flexibility, the N7700SAS is the ultimate NAS device.
For IT departments, the N8800SAS means business. Equipped with eight 3.5" SATA/SAS hard disk bays, the N8800SAS offers massive storage capacity in a 2U rack mount form factor. The N8800SAS supports iSCSI initiators, which allows servers to access it as a direct-attached-storage device over LAN or Internet with excellent transfer speeds. In addition, the N8800SAS is also stackable, enabling users to connect their unit with up to five additional units and manage them via a master system. These advanced features combine to form a powerful yet cost-effective NAS solution that is perfect for medium-to-large organizations.
Both of these devices will offer SAS support, which yield increased performance during multiple client access. Experience the N7700 and N8800 at Computex 2009 and see how Thecus® NAS devices can help your business.
Visit Thecus® Technology at Computex 2009, Nangang Exhibition Hall, Booth Nos. J417a, J419a, J517 and J519.
For more information on Computex 2009, go to: http://www.computex.biz/
---
About Thecus
®
Thecus® Technology Corp. specializes in IP Storage Server solutions, including Network Attached Storage (
NAS
) , DAS, External Storage and Wireless Media
NAS
(Bank ) products. The company was established in 2004 with the mission to make technology as transparent and easy-to-use as possible, and to make products that are not only the best on the market, but are accessible to experts and novices alike. With a best-in-class R&D team highly experienced in storage hardware and Linux software and with a keen customer focus, Thecus® stays close to the market to develop high-quality products to fulfill the storage Server needs of today's world.
For sales inquiries, please contact us via email:
sales@thecus.com
For marketing inquiries, please contact us via email:
marketing@thecus.com