For sales inquiries,
please contact us at:


sales@thecus.com
For marketing inquiries, please contact us at:


marketing@thecus.com
2009-05-18
Enter the "Share it and Win" Contest and Win the World's Tiniest NAS Device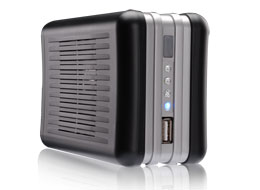 05/18/2009 – People have been clamoring over how to get a hold of the Thecus® N0204 miniNAS – the world's tiniest full-featured NAS device. Well today, Thecus® Technology is pleased to announce that you can win one for FREE by entering the Share it and Win Contest!
From 5/18 to 6/30, Thecus® will be opening the Share it and Win Contest for hardware buffs around the world. All you need to do is help us spread the word about the Thecus® N0204 miniNAS!
Here's how it works:
Head over to http://www.thecus.com/ and download the N0204 miniNAS press release in your language.
Post the press release, pictures and all, on your own personal blog.
Copy and paste the address of your N0204 miniNAS posting to the Share it and Win Contest Page and fill in your contact information.
Congratulations! You've been entered into a random drawing for one of five N0204 miniNAS devices!
On Aug 1st, Thecus® will choose five entered blog postings, and after the posting has been verified, the winners will be posted on the official Thecus® homepage: www.thecus.com.
Here are the contest rules:
You can post the press release and enter as many times as you wish.
The posting can only appear once on the same blog.
Postings must appear on blogs that you personally own.
All entries that do not follow the contest rules will be disqualified from the contest.
All decisions made by Thecus® judges are final.
"We think the N0204 miniNAS is just the handiest NAS unit ever created, and we want our users to help us get the word out," notes Thecus General Manager Florence Shih. "Best of luck to all contestants and thank you to everyone for supporting Thecus!"
Official event page:
http://www.thecus.com/event/index.php
For more information on the N0204, check out: http://www.thecus.com/products_over.php?cid=12&pid=137&set_language=english
---
About Thecus®
Thecus® Technology Corp. specializes in IP Storage Server solutions, including Network Attached Storage (
NAS
) , DAS, External Storage and Wireless Media
NAS
(Bank ) products. The company was established in 2004 with the mission to make technology as transparent and easy-to-use as possible, and to make products that are not only the best on the market, but are accessible to experts and novices alike. With a best-in-class R&D team highly experienced in storage hardware and Linux software and with a keen customer focus, Thecus® stays close to the market to develop high-quality products to fulfill the storage Server needs of today's world.
For sales inquiries, please contact us via email:
sales@thecus.com
For marketing inquiries, please contact us via email:
marketing@thecus.com