For sales inquiries,
please contact us at:


sales@thecus.com
For marketing inquiries, please contact us at:


marketing@thecus.com
2009-05-13
The ultimate NAS Server features competition-crushing performance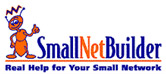 05/13/2009 – When business is on the line, enterprises and SMBs need to be able to access mission-critical data quickly. In its latest version of its NAS Performance Charts, Small Net Builder analyzed the full spectrum of NAS devices and pitted them against each other to find the best performing NAS on the market. In the end, the N7700 from Thecus® Technology stood head and shoulders above the rest, earning top honors for performance in numerous tests!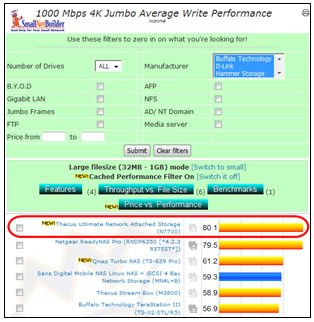 Small Net Builder begins with a quick introduction of the N7700: "The N7700 is Thecus's top-of-line desktop NAS aimed at business users. It's a seven-bay diskful NAS that can take up to 2 TB SATA hot-swappable drives. Supported volume configurations include JBOD, RAID 0, 1, 5, 6, 10 with hot spare capability for RAID 1, 5, 6 and 10. Online RAID expansion and RAID level migration are supported. CIFS/SMB, AFP and NFS network file systems are supported, and files can also be accessed via FTP. HTTPS is also supported for admin and file access. iSCSI initiator with up to five targets can be configured."
When put to the test, the N7700's performance was second-to-none: "The N7700 sits at the top of the RAID 5 Write Performance Chart with an average of 57.7 MB/s for file sizes between 32 MB and 4 GB, with cached behavior not included in the average calculation and a four-drive array. Read performance was higher and also at the top of the RAID 5 chart, measuring 64.5 MB/s with the same conditions. File copy performance using a Vista SP1 client under the same conditions (RAID 5, Gigabit LAN) topped the RAID 5 chart at 80.2 MB/s for write."
To see the full chart, go to:|
http://www.smallnetbuilder.com/component/option,com_nas/Itemid,190/chart,18/
For more information on the Thecus N7700, check out:
http://www.thecus.com/products_over.php?cid=11&pid=82
---
About Thecus
®
Thecus® Technology Corp. specializes in IP Storage Server solutions, including Network Attached Storage (
NAS
) , DAS, External Storage and Wireless Media
NAS
(Bank ) products. The company was established in 2004 with the mission to make technology as transparent and easy-to-use as possible, and to make products that are not only the best on the market, but are accessible to experts and novices alike. With a best-in-class R&D team highly experienced in storage hardware and Linux software and with a keen customer focus, Thecus® stays close to the market to develop high-quality products to fulfill the storage Server needs of today's world.
For sales inquiries, please contact us via email:
sales@thecus.com
For marketing inquiries, please contact us via email:
marketing@thecus.com