For sales inquiries,
please contact us at:


sales@thecus.com
For marketing inquiries, please contact us at:


marketing@thecus.com
2009-04-27
Three-bay NAS powerhouse scores 9/10 on the test bench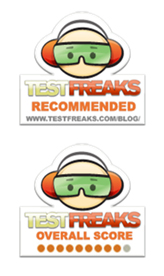 04/27/2009 – Since its introduction, the N3200PRO from Thecus® has shown what clever engineering and advanced technology can bring to the three-bay NAS market. The latest review comes from TestFreaks, who had the opportunity to spend some quality time with the device. In the end, TestFreaks was blown away by the N3200PRO, giving it a final score of 9 out of 10 and the TestFreaks Recommended Award!
Editors begin with a short introduction to the N3200PRO: "Today I've got the Thecus 3200Pro NAS box, and it's a powerhouse in a small package. The N3200Pro is equipped with an AMD Geode processor to insure everything from file transfers to streaming media will run nice and smooth. In the N3200Pro you can put up to three 1 Terabyte hard drives which can give you 3 Terabytes of storage, but you can also choose from several RAID options as well like the main feature, RAID 5, that allows you to have anything you put on the N3200Pro to be nice and secure. So read on to learn about what is probably the most fully featured NAS box on the market today."
TestFreaks loved how east the N3200PRO is to set up: "The N3200Pro is also very easy to use and setup, it will allow you to be up and running in a matter of minutes, depending on what configuration you choose of course, building a RAID array can take quite a long time, but for JBOD it only takes a few minutes and you're all set."
The verdict? "The Thecus N3200Pro includes a plethora of features that anyone can appreciate, it is hands-down one of the most useful storage appliances on the market today… There's really nothing wrong with the product, I could say it's expensive coming in at over $300, but really for what it can provide it's well worth the costs."
For the full review, go to:
http://www.testfreaks.com/blog/review/thecus-n3200pro/
For more information on the N3200PRO, check out:
http://www.thecus.com/products_over.php?cid=12&pid=89&set_language=english
---
About Thecus
®
Thecus® Technology Corp. specializes in IP Storage Server solutions, including Network Attached Storage (
NAS
) , DAS, External Storage and Wireless Media
NAS
(Bank ) products. The company was established in 2004 with the mission to make technology as transparent and easy-to-use as possible, and to make products that are not only the best on the market, but are accessible to experts and novices alike. With a best-in-class R&D team highly experienced in storage hardware and Linux software and with a keen customer focus, Thecus® stays close to the market to develop high-quality products to fulfill the storage Server needs of today's world.
For sales inquiries, please contact us via email:
sales@thecus.com
For marketing inquiries, please contact us via email:
marketing@thecus.com