For sales inquiries,
please contact us at:


sales@thecus.com
For marketing inquiries, please contact us at:


marketing@thecus.com
2009-04-24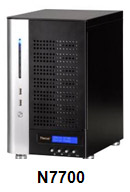 04/24/2009 - Thecus' promise to users is continuous and flawless access to data. Great news for office users. Hottest storage products for enterprises, Thecus® N7700 and N8800, provide 24/7 data access with zero down-time, even during RAID upgrade and capacity expansion. Thecus® offers convenient and accessible process adjusting RAID level and capacity to meet all storage demands. In addition with failover mechanism, connection with system is assured without compromise.
When system administrators would like to raise the degree of data protection by upgrading RAID level or expanding capacity by replacing hard drive disks, which can be long processes, the system is not accessible until processes are completed. It is not a desirable situation for enterprise users. With the features of RAID migration and expansion, users can flawless read from or write into the system under any circumstances. In case of unexpected network connection, Thecus® provides dual Gigabit LAN port design and the function of failover so an additional LAN port is ready for replacement if current LAN connection has problem. Below is how all features work:
online RAID migration – if users want to upgrade the current RAID level, from RAID 1 to RAID 5 for example, simply select the desired RAID level from the web UI. During the process, users can still read or write files on the system.

online RAID expansion – when replacing with bigger capacity hard drive disks, RAID volume will have to be rebuilt in order to maintain existing data. During rebuilding and expansion, regular data tasks are still functional.

failover – with dual Gigabit port design, user can connect both LAN ports at the back of the system. If one LAN port fails, the other one will automatically take over the connection task to ensure continuous transfer.
On top of the unprecedented data protection, ultimate performance and vast fascinating features, Thecus® N7700 and N8800 deliver continues and flawless data access anytime and anywhere. With online RAID migration and expansion plus mechanism of failover, system zero down-time under any circumstances is guaranteed. Perfect and desirable storage fortress is Thecus' guarantee to consumers.
---
About Thecus
®
Thecus® Technology Corp. specializes in IP Storage Server solutions, including Network Attached Storage (
NAS
) , DAS, External Storage and Wireless Media
NAS
(Bank ) products. The company was established in 2004 with the mission to make technology as transparent and easy-to-use as possible, and to make products that are not only the best on the market, but are accessible to experts and novices alike. With a best-in-class R&D team highly experienced in storage hardware and Linux software and with a keen customer focus, Thecus® stays close to the market to develop high-quality products to fulfill the storage Server needs of today's world.
For sales inquiries, please contact us via email:
sales@thecus.com
For marketing inquiries, please contact us via email:
marketing@thecus.com