For sales inquiries,
please contact us at:


sales@thecus.com
For marketing inquiries, please contact us at:


marketing@thecus.com
2009-04-20
"Probably the best 3-bay NAS you can get for your home setup"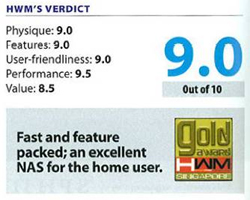 04/20/2009 – The Thecus® N3200PRO has taken the three-bay NAS to a whole new level of performance and flexibility. HWM Singapore recently had the N3200PRO on their test bed, and after running it through a gauntlet of tests, found a whole lot to like about it. In fact, HWM saw it fitting to give it a final score of 9 out of 10 and their prestigious HWM Gold Award!
HWM editors were quick to note the massive performance boost of the N3200PRO: "From the outside, one would be hard pressed to tell the difference between the N3200 and the N3200PRO. That's mostly because Thecus stuck with the external design and upgraded the brains of the N3200 from a 400MHz FreeScale processor to a spiffy AMD Geode LX800 which runs at 500MHz while sucking down just 1.8W (for the CPU alone). Not surprisingly, the faster CPU worked wonders when it came to our read and write tests, with the N3200PRO throwing out an average of 63.17MB/s and 46.95MB/s for the read and write speeds respectively under RAID 0...that's almost a twofold performance improvement."
They also liked how flexible the N3200PRO can be: "Nearly silent during operation, even with all three hard disks going full tilt, the N3200PRo is a quiet worker. A built-in media server allows easy hookups to other DLNA-compatible devices on your home network, while iTunes Music Server and a Photo Web Server bring music streaming and photo sharing. If you'd like to stick the N3200PRO on your wireless network, that can easily be accomplished with an optional USB dongle."
And the HWM Conclusion: "Bottom line, Thecus' improvements on the N3200PRO are certainly worth it. If you already own a N3200, it might be worth considering an upgrade. If you don't yet have one, but are considering the possibilities, this is probably the best 3-bay NAS at the moment you can get for your home setup."
For the full review, check out the April 2009 issue of HWM Singapore.
For more information on the N3200PRO, check out:
http://www.thecus.com/products_over.php?cid=12&pid=89&set_language=english
---
About Thecus
®
Thecus® Technology Corp. specializes in IP Storage Server solutions, including Network Attached Storage (
NAS
) , DAS, External Storage and Wireless Media
NAS
(Bank ) products. The company was established in 2004 with the mission to make technology as transparent and easy-to-use as possible, and to make products that are not only the best on the market, but are accessible to experts and novices alike. With a best-in-class R&D team highly experienced in storage hardware and Linux software and with a keen customer focus, Thecus® stays close to the market to develop high-quality products to fulfill the storage Server needs of today's world.
For sales inquiries, please contact us via email:
sales@thecus.com
For marketing inquiries, please contact us via email:
marketing@thecus.com