For sales inquiries,
please contact us at:


sales@thecus.com
For marketing inquiries, please contact us at:


marketing@thecus.com
2006-01-24
"We like it, and like it a lot"

01/24/2006 – The easy-to-use digital data archive, the YES Box N2100, has been making the rounds in the hardware community, picking up a number of impressive accolades along the way. The latest comes from hardware enthusiast website Hexus, who recently took a look at the YES Box N2100 and subjected it to a battery of tests. In the end, the YES Box N2100 came through with flying colors, and managed to snag the Hexus Media Recommended Award!
Hexus was impressed with the overall design of the Thecus N2100: "Thecus' YES Box N2100 does a lot of things right. It's robust, despite its plastic exterior; it looks good, but keep your grubby hands off; it's easy to setup, both hardware and software; it's easy to use, with multiple ways of getting at your data; and it's fast enough to serve multiple users simultaneously, but a little more performance wouldn't go amiss. The YES Box borrows some nice features from its bigger N4100 brother, including its RAID support, e-mail and buzzer notification, user permissions and admin interface. Weighing in at around £260, it works out at about half the price of the N4100."
The numerous features really wowed Hexus editors, especially the included iTunes server capability: "The last feature to mention is the iTunes server. This works much like the sharing option in iTunes does, giving others the ability to listen to music in your collection. The service can, just like in iTunes, be password protected. Also like iTunes, music can be nicked by any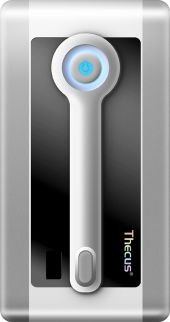 cheeky chappies with something like ourTunes. We think the idea of an iTunes server on the box is fantastic given the YES Box's focus on providing a means of centrally storing media. Of course, you've got to like iTunes to find it useful, but failing that you can always access mp3s through a network share anyway. Overall we were most impressed with the YES Box's features. The multiple access methods are useful, the iTunes service is jazzy (the sort of thing you'll like if you're into iThis and iThat anyway), and the user permissions system - a cut down version of the N4100's - does the job nicely."
Here is the Hexus conclusion: "So, do we say 'yes' to the YES Box? Yes, yes we do, providing that it meets your needs, and that's the case with all products isn't it? It's a network attached storage device that you can setup in a jiffy, then practically forget about. It'll just sit there, serving your files, taking your backups, copying your USB sticks, sharing your iTunes library, without any problems. We like it, and like it a lot. Definitely one for those looking for somewhere to put all that media for their digital home."
For more information on the Thecus YES Box N2100, check out:
http://www.thecus.com/products_over.php?cid=1&pid=1&PHPSESSID=cb08f5cf14bf2f96949f1edf19a47d1c
For more information on Thecus, go to: http://www.thecus.com
---
About Thecus
Thecus® Technology Corp. specializes in IP Storage Server solutions, including Network Attached Storage (NAS) and Wireless Media Bank products. The company was established in 2003 with the mission to make technology as transparent and easy-to-use as possible, and to make products that are not only the best on the market, but are accessible to experts and novices alike. With a best-in-class R&D team highly experienced in storage hardware and software and with a keen customer focus, Thecus® stays close to the market to develop high-quality products to fulfill the storage needs of today's world.
For more information, please visit the Thecus® website at: http://www.thecus.com
For sales and other inquiries, please contact us via email: sales@thecus.com