For sales inquiries,
please contact us at:


sales@thecus.com
For marketing inquiries, please contact us at:


marketing@thecus.com
2006-01-18
The perfect companion for the digital home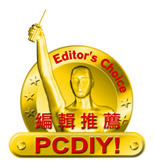 1/18/2006 – Professional PC magazine PCDIY introduced the Thecus YES Box N2100 NAS device in its January 2006 issue. Editors particularly liked its HTTP and iTunes Server capabilities, and also gave high marks for data security. They were so impressed, that they decided to bestow the YES Box N2100 with their Editor's Choice Award!
PCDIY introduces the basic features of the YES Box N2100: "The Thecus YES Box N2100 is a storage device for home use that supports two 3.5" SATA hard disks. Besides using it for data backup, users can use internal RAID 0, 1, or JBOD functions to increase data speed or security...the user interface is extremely simple and clean. The front panel contains a power button, a set of high-speed USB ports, and a USB Quick Copy button. The USB ports not only support other USB storage devices for both storage expansion and backup purposes, but also can instantly transfer all files from said storage device via a simple push of the USB Quick Copy button until it is lit."
Next up is the extremely friendly and powerful interface and operation of the YES Box N2100: "Before using the N2100, users need to use the included installation CD and begin certain initial steps, including network drive setup, networking settings, and password management...from the graphical user interface, users can clearly understand which web server functions are offered. The first is a network hard
disk, the second can directly begin iTunes PC management, the third is web photo settings, and the final one is login function settings."
Here's the conclusion from PCDIY editors: "The YES Box N2100 is truly houses a complete feature set for its small size. After going through a few simple steps, users can immediately can start using it through their network. Add to that a very friendly and powerful interface, and the YES Box N2100 is an essential device for the digital home."

To read the full article, please check out the January 2006 issue of PCDIY Magazine, p.259.
For more information on Thecus Technology, go to: www.thecus.com
---
About Thecus
Thecus® Technology Corp. specializes in IP Storage Server solutions. The company was established in 2004 with the mission to make technology as transparent and easy-to-use as possible, and to make products that are not only the best on the market, but are accessible to experts and novices alike. With a best-in-class R&D team highly experienced in storage hardware and software and with a keen customer focus, Thecus® stays close to the market to develop high-quality products to fulfill the storage needs of today's world.
For more information, please visit the Thecus® website at: http://www.thecus.com
For sales and other inquiries, please contact us via email: sales@thecus.com