For sales inquiries,
please contact us at:


sales@thecus.com
For marketing inquiries, please contact us at:


marketing@thecus.com
2006-01-12
Supports a terabyte of storage and Gigabit Ethernet capabilities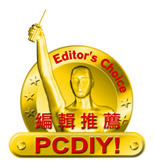 1/12/2006 – When it comes to network attached storage devices, the thing users demand first and foremost is data backup and security. Fast transfer speeds allows multiple users to simultaneously save and retrieve data with enough bandwidth. The January 2006 issue of PCDIY Magazine reviews the Thecus N4100 - an external RAID hard disk device and a network storage device that emphasizes the protection and safety of orginal data. After an extensive battery of tests, PCDIY editors were impressed with the N4100's feature set, and decided to award it with their coveted Editor's Choice Award!
PCDIY begins by introducing the basic features of the N4100: "The Thecus N4100 utilizes the Intel XScale platform with the Intel IOP 80219 chip as the core controller. Networking support is handled by two independent Intel 82541 chips, which provide Gigabit-class transfer speeds for increased data exchange effectiveness. For data security, the N4100 comes with RAID 0, 1, 5 and JBOD, allowing users flexibility when installing multiple hard drives. This ensures that users can not only enjoy fast NAS functions, but also guarantee data safety."
How did editors feel when using the N4100? "When installing the N4100, the screws on the hard drive's casing need to be fastened securely, which help the SATA power and data cables to connect to the N4100's motherboard. Next, connect the Ethernet cable from the PC to the N4100, and select either automatic IP assignment or input a static IP address from the 192.168.1.xx group of IP addresses in your Internet settings. This allows users to conveniently connect to the N4100's 192.168.1.100 preset IP address. This process is extremely simple and easy, which is a boon for beginning users."
The verdict? "Overall, the Thecus N4100 can provide terabyte-class SATA RAID and Gigabit Ethernet capabilities, all while delivering a 30% power savings. Hardware RAID 0, 1, 5, and JBOD deliver both data transfer speed and data security, and these settings can all be done through an easy-to-understand web-based interface. For users who need large capacity data storage and file sharing, or data backup and security functionality, the Thecus N4100 is the top pick among NAS devices."
For the full article, please check out the January 2006 issue of PCDIY Magazine, p.148~150.
For more on Thecus Technology, go to: www.thecus.com
---
About Thecus
Thecus® Technology Corp. specializes in IP Storage Server solutions. The company was established in 2004 with the mission to make technology as transparent and easy-to-use as possible, and to make products that are not only the best on the market, but are accessible to experts and novices alike. With a best-in-class R&D team highly experienced in storage hardware and software and with a keen customer focus, Thecus® stays close to the market to develop high-quality products to fulfill the storage needs of today's world.
For more information, please visit the Thecus® website at: http://www.thecus.com
For sales and other inquiries, please contact us via email: sales@thecus.com