For sales inquiries,
please contact us at:


sales@thecus.com
For marketing inquiries, please contact us at:


marketing@thecus.com
2005-10-15
Say Yes! Experience the YES Box N2100 first hand!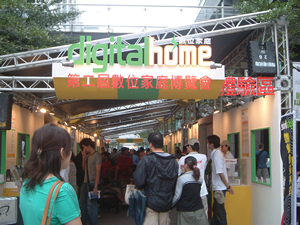 10/15/2005 –On October 15, 2005, the second annual Digital Home Experience Exhibition took place at the Hsin-Yi District's Shin Kong Mitsukoshi. Sponsored by Digital Home Magazine, Intel, Microsoft, and Apple, the Digital Home Experience Exhibition combines product information with live demos, allowing show attendees to experience and enjoy the power and convenience of the digital home. A leader in digital storage solutions, Thecus Technology co-sponsored this exciting event. Its latest NAS storage solution, the YES Box N2100, was there as well, allowing users to enjoy the convenience and power of this versatile multimedia storage device.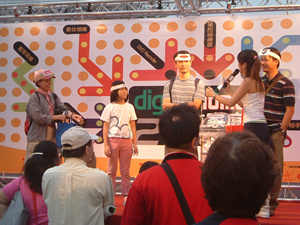 Beside the Digital Home Experience demo area, the main stage area also featured a series of giveaway activities that have showgoers the chance to walk away with some fantastic prizes, including some very cute Thecus stuffed bears. In addition, participants could enter a lucky draw for even greater prizes, including the hot Thecus YES Box N2100!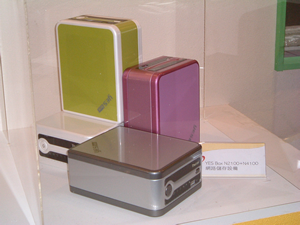 At the Digital Home Experience demo area, users got see how various digital peripherals interacted with one another in both the living room and the study. With the guidance of a knowledgeable host, users saw first hand how the Digital Home can be installed and used. By witnessing how networked digital devices worked in real-life situations, attendees could easily understand the benefits of the Digital Home concept.

"The concept behind the design of the YES Box N2100 was to provide a powerful digital storage solution that was also easy to use," said Thecus CEO Edwin Lin.

"Through events like this, we hope to allow consumers to get to know the YES Box N2100's easy-to-use interface, and thus experience the true enjoyment of the digital lifestyle."
For more information on Thecus Technology, go to: http://www.thecus.com/

---
About Thecus
Thecus® Technology Corp. specializes in IP Storage Server solutions. The company was established in 2004 with the mission to make technology as transparent and easy-to-use as possible, and to make products that are not only the best on the market, but are accessible to experts and novices alike. With a best-in-class R&D team highly experienced in storage hardware and software and with a keen customer focus, Thecus® stays close to the market to develop high-quality products to fulfill the storage needs of today's world.
For more information, please visit the Thecus® website at: http://www.thecus.com
For sales and other inquiries, please contact us via email: sales@thecus.com