For sales inquiries,
please contact us at:


sales@thecus.com
For marketing inquiries, please contact us at:


marketing@thecus.com
2009-03-18
"A very well-equipped NAS device with a high level of functionality"
03/18/2009 – For enterprise users, capacity, flexibility, and performance are paramount when it comes to NAS devices. Engineered for the modern enterprise, the N7700 from Thecus® successfully combines these elements into a single, affordable storage device. Recently, hardware authority Tom's Hardware brought the N7700 into their test labs, and were amazed by how solid it was, saying that the N7700 is "A very well-equipped NAS device with a high level of functionality."
Thecus® is known as a performance leader in the world of NAS, and the N7700 is no exception: "The results of the multimedia benchmarks speak for itself. The Thecus N7700 demonstrates all its skills in the "HD Video Record" benchmark…The transfer rate of small files is good as well…Data backup and recovery works quickly and reliably."
The N7700 is very well equipped: "Using a Celeron M processor with 1.86 GHz clock speed and a gigabyte of memory to make the N7700 a NAS device with very good data rates. The use of seven hard drives, iSCSI support, and the possibility of various RAID configurations to operate at the same time enable administrators, network storage device suitable for various purposes."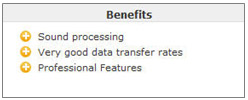 The bottom line: "…you get a very well-equipped NAS device with a high level of functionality and very good data rates. In addition to the professional features such as iSCSI support, you can find built-in features like a media server, and iTunes and a download manager. Thecus even thought of a photo server…The Thecus N7700 is a very well-equipped network storage device, and proper processing of high data rates in the network is guaranteed. A total of seven disks are available, and parallel RAID configurations can be used."
For enterprises, there's no better NAS solution than the N7700 from Thecus®.
For the full review, check out:
http://www.tomshardware.com/de/N7700-Thecus-NAS,testberichte-240243.html
For more information on the N7700, check out:
http://www.thecus.com/products_over.php?cid=11&pid=82
---
About Thecus
®
Thecus® Technology Corp. specializes in IP Storage Server solutions, including Network Attached Storage (
NAS
) , DAS, External Storage and Wireless Media
NAS
(Bank ) products. The company was established in 2004 with the mission to make technology as transparent and easy-to-use as possible, and to make products that are not only the best on the market, but are accessible to experts and novices alike. With a best-in-class R&D team highly experienced in storage hardware and Linux software and with a keen customer focus, Thecus® stays close to the market to develop high-quality products to fulfill the storage Server needs of today's world.
For sales inquiries, please contact us via email:
sales@thecus.com
For marketing inquiries, please contact us via email:
marketing@thecus.com