For sales inquiries,
please contact us at:


sales@thecus.com
For marketing inquiries, please contact us at:


marketing@thecus.com
2009-03-16
Ideal NAS servers for both the home and small office alike

03/16/2009 – In the March 2009 issue, Australian APC Magazine managed to test not just one, but two NAS devices from digital storage leader Thecus® - the four-bay N4100PRO and the small but versatile M3800 Stream Box. In the end, APC editors were smitten with both units, thanks to their versatility, ease-of-use, and killer performance.
APC began looking at the N4100PRO, and was immediately impressed with its speedy performance: "The array we created (RAID 5 using four 1TB disks) was easily seen on our LAN by both Windows and MAC systems. Performance-wise the N4100PRO didn't disappoint. We copied a 350MB video file to the array from our Windows system one to mapped share and it was across in just a few seconds."
The N4100PRO is also great in an office environment: "To top things off, the N4100PRO has a RS232 port, so it can be connected to and operate with a UPS, and there are power management settings that will power the N4100PRO on and off and specific times. Used in a small office, you can schedule the device to turn off outside of work hours and turn on when the workday starts. There's plenty to like about the Thecus N4100PRO. It's easy to set up, it offers plenty of flexibility and performs well."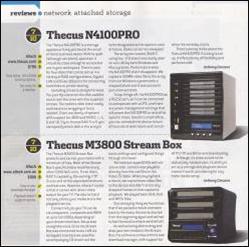 Media enthusiasts are going to fall in love with the M3800 Stream Box: "We tried out ripped DVDs with no conversion: content was playable directly from the vob files in the Video TS folder. While playing back a movie, we copied more video files to the device and didn't notice any dropped frames of interruption to playback. We played back DivX, XviD and MPEG files."
The M3800 is a great addition to any entertainment center: "As well as being able to drag and drop your own media to the Stream Box, the software comes with its own download manager, with support for HTTP, FTP and BitTorrent downloading. Although it's more suited to the technically-minded user, its ability to act as a storage and playback device makes it worth considering for any home media setup."
For the full review, check out the March 2009 issue of APC Magazine.
For more information on the N4100PRO, check out:
http://www.thecus.com/products_over.php?cid=10&pid=77
For more information on the M3800, check out:
http://www.thecus.com/products_over.php?cid=23&pid=55
---
About Thecus
®
Thecus® Technology Corp. specializes in IP Storage Server solutions, including Network Attached Storage (
NAS
) , DAS, External Storage and Wireless Media
NAS
(Bank ) products. The company was established in 2004 with the mission to make technology as transparent and easy-to-use as possible, and to make products that are not only the best on the market, but are accessible to experts and novices alike. With a best-in-class R&D team highly experienced in storage hardware and Linux software and with a keen customer focus, Thecus® stays close to the market to develop high-quality products to fulfill the storage Server needs of today's world.
For sales inquiries, please contact us via email:
sales@thecus.com
For marketing inquiries, please contact us via email:
marketing@thecus.com