For sales inquiries,
please contact us at:


sales@thecus.com
For marketing inquiries, please contact us at:


marketing@thecus.com
2009-03-11
"Brilliant performance and robust features win over editors"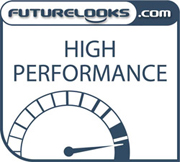 03/11/2009 – It the world of three-bay NAS devices, it doesn't get any better than the Thecus® N3200PRO. In fact, many users are discovering that the N3200PRO is an ideal NAS for the home. The folks over at Futurelooks recently gave the N3200PRO a test drive, and came away thoroughly impressed. So much so, that they decided to bestow it with their High Performance Award!
Futurelooks editors start with a brief overview of the N3200PRO: "The N3200PRO 3-bay NAS enclosure is an upgraded version of the original N3200 and a couple steps down from the N5200B Pro that we reviewed last year. It still retains many of the features that made its predecessor so popular, but ups the ante with faster hardware, better power usage and targeted to home users. That faster hardware comes in the form of an AMD Geode processor, which still drives the same 3 SATA drive bays. This provides for 3TB or more of total storage, giving you a pretty bucket to pour all your data into."
The N3200PRO delivers performance with very low power consumption: "I found video playback quite snappy with the device, and even with 1080p based content I didn't experience any lag due to transfer speed. And when you look at the 5-bay Thecus N5200 we reviewed, you'll note that this little 3-bay unit manages to best it in speed. Power consumption is where the Thecus N3200PRO shows a little more brilliance. This NAS uses very little power under idle conditions, and still sips the juice when playing back video or audio. It was only when the NAS was under full load (RAID creation, multiple large transfers, etc) that I managed to hit a max power usage of 48W. Basically when using this NAS as a simple home server, it shouldn't jack up your power bills to any significant degree."
The conclusion? "In the end the N3200PRO is a good little unit, with a whole host of features that make it endlessly customizable. The RAID 5 support ensures that your data won't be lost, and the large drive support ensures that you have a lot of space to store that data. Thecus still managed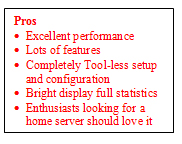 to achieve their goal of bringing RAID 5 home."
For the full review, check out:
http://www.futurelooks.com/thecus-n3200pro-three-bay-raid-5-nas-review/
For more information on the N3200PRO, check out: http://www.thecus.com/products_over.php?cid=12&pid=89
---
About Thecus
®
Thecus® Technology Corp. specializes in IP Storage Server solutions, including Network Attached Storage (
NAS
) , DAS, External Storage and Wireless Media
NAS
(Bank ) products. The company was established in 2004 with the mission to make technology as transparent and easy-to-use as possible, and to make products that are not only the best on the market, but are accessible to experts and novices alike. With a best-in-class R&D team highly experienced in storage hardware and Linux software and with a keen customer focus, Thecus® stays close to the market to develop high-quality products to fulfill the storage Server needs of today's world.
For sales inquiries, please contact us via email:
sales@thecus.com
For marketing inquiries, please contact us via email:
marketing@thecus.com