For sales inquiries,
please contact us at:


sales@thecus.com
For marketing inquiries, please contact us at:


marketing@thecus.com
2009-03-09
Blazing performance and sophisticated features demolish competitors
03/09/2009 – With a wealth of friendly features, large storage capacity, intelligent design, the power of an AMD Geode CPU and RAID5 security, the Thecus® N3200PRO has been finding its way into living rooms and home offices around the world. In Issue 5 of c't Magazine 2009, editors managed to secure an N3200PRO and subject it to a series of rigorous tests. After running it through the gauntlet, c't Magazine discovered that the N3200PRO is an incredibly strong performer, showing the best file transfer performance with blazing fast read operation and good writing speeds among its competitors!
The N3200PRO offers best-in-class performance while remaining incredibly easy to use and operate: "Thanks to its clearly structured web interface the Thecus NAS is easy to use despite its high functionality. It offers a lot of approved and new features, you will mostly see in high end NAS boxes only…The powerful processor allows transfer rates up to 67 MB/sec."
Multiple features adorn the N3200PRO, making it a perfect NAS for both home and SOHO users: "The NAS box includes a media server, web server and BT-client, and supports Active Directory and sophisticated user management."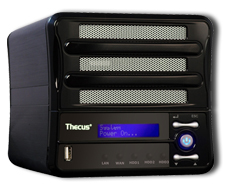 Best of all, the N3200PRO is designed with efficiency in mind, which means greater power savings and lower total cost of ownership: "Despite the powerful hardware the NAS operates very energy-saving. Additionally, there are more energy-saving options: The N3200PRO supports Scheduled Power On/Off and it's the only device that provides Wake-On-LAN in this test."
For the full review, check out Issue 5 of c't Magazine 2009.
For more information on the N3200PRO, check out:
http://www.thecus.com/products_over.php?cid=12&pid=89
---
About Thecus
®
Thecus® Technology Corp. specializes in IP Storage Server solutions, including Network Attached Storage (
NAS
) , DAS, External Storage and Wireless Media
NAS
(Bank ) products. The company was established in 2004 with the mission to make technology as transparent and easy-to-use as possible, and to make products that are not only the best on the market, but are accessible to experts and novices alike. With a best-in-class R&D team highly experienced in storage hardware and Linux software and with a keen customer focus, Thecus® stays close to the market to develop high-quality products to fulfill the storage Server needs of today's world.
For sales inquiries, please contact us via email:
sales@thecus.com
For marketing inquiries, please contact us via email:
marketing@thecus.com