For sales inquiries,
please contact us at:


sales@thecus.com
For marketing inquiries, please contact us at:


marketing@thecus.com
2006-01-16
Two-bay wonder recommended out of 6 other competing products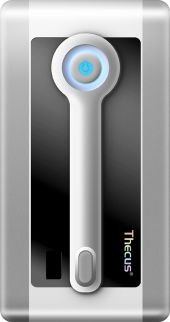 01/16/2006 – In today's digital landscape, digital photos, movies, and music are becoming more and more a part of our daily lives. Storing, sharing, and securing our digital assets is no longer an option, but a necessity. With the number of NAS devices on the market, which offers the best mix of features and performance? Hardware authority Tom's Hardware Guide recently put 7 such devices to the test. In the end, with its powerful features, unmatched ease-of-use, and attractive styling, the YES Box N2100 is recommended by Tom's Hardware editors, proving once again that it is the ultimate digital data archive.
Tom's Hardware looks at some of the basic features of the YES Box N2100: "Thecus YES Box belongs to the higher segment of NAS. It consists of 2x SATA HDDs , 2x Gigabit Ethernet connections, and 3x USB ports. YES box can be purchased without HDDs too. Through firmware update, YES BOX supports a wireless feature. The design of YES BOX is functionally pragmatic. It is not much bigger than 2 HDDS size. Rubber feet prevent the box from falling down from the table. The HDD metal case can be very easily removed. With only 2 screws, the user can lightly open the cover. We are impressed with the friendly software; for some users may even appreciate the German User Interface."
The YES Box N2100 is a boon for multimedia enthusiasts: "It is nice to see the iTunes Streaming function which allows N2100 automatically connects iTunes with all LAN-Users. FTP is also works perfectly. Users can even manage and edit their photos through the menu."
The conclusion? "Especially for home and offices users, we recommend Thecus YES Box and WD Net Center as mature NAS solutions. In terms of multimedia, Thecus' YES Box does bring excellent features. If the users are not urgently requesting NAS products, please keep observing the trend."




To check out the full article, go to: http://www.tomshardware.de/network/20051230/index.html
For more information on Thecus, go to: http://www.thecus.com/
---
About Thecus
Thecus® Technology Corp. specializes in IP Storage Server solutions. The company was established in 2004 with the mission to make technology as transparent and easy-to-use as possible, and to make products that are not only the best on the market, but are accessible to experts and novices alike. With a best-in-class R&D team highly experienced in storage hardware and software and with a keen customer focus, Thecus® stays close to the market to develop high-quality products to fulfill the storage needs of today's world.
For more information, please visit the Thecus® website at: http://www.thecus.com
For sales and other inquiries, please contact us via email: sales@thecus.com