For sales inquiries,
please contact us at:


sales@thecus.com
For marketing inquiries, please contact us at:


marketing@thecus.com
2009-02-24
"The N4100PRO must be on your shortlist – it is value for money"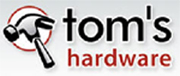 02/24/2009 – Tom's Hardware is one of the oldest and most respected hardware media publications in the world, and recently, they tested the Thecus® N4100PRO – a multi-functional four-bay NAS that has taken the storage world by storm. In their review, they examined the N4100PRO from every conceivable angle. In the end, Tom's Hardware was thoroughly impressed with its performance, low power consumption, and value for money.
Tom's found that not only is the N4100PRO unique in functionality: "Aside from the external comparisons with the Synology DS-408, the N4100PRO has for potential customers an unbeatable feature: its drive bays are hot-swap capable. Even the housing is visually appealing and is of higher value because, apart from the front panel, it is made entirely of metal."
The N4100PRO offers a tremendous value, and Tom's Hardware agrees: "In addition, the N4100PRO with the possibility of four HDDs is relatively cheap to purchase. At 450 euros plus hard drives, the N4100PRO is about 150 euros cheaper than the N5200PRO and about 80 euros cheaper than the Synology DS-408. Should there be any Christmas money left over to buy a NAS, the N4100PRO must be on your shortlist – it is certainly value for money."
Here is the Tom's Hardware verdict: "The Thecus® N4100PRO is a solid NAS device and rates as one of the good ones. The use of an AMD Geode LX800 processor has a positive effect on both the cost and power consumption, without negatively affecting data transmission rates. In addition, the housing has four drive bays with hot-swap capability…we did not detect any major weaknesses during our tests."
Once again, the N4100PRO emerges from critical scrutiny with flying colors. For users looking for a four-bay NAS unit with plenty of punch and features to spare, the N4100PRO is the solution they've been searching for.
For the full review, check out:


http://www.tomshardware.com/de/N4100-Pro-Thecus-NAS,testberichte-240231.html
For more information on the N4100PRO, check out:
http://www.thecus.com/products_over.php?cid=10&pid=77
---
About Thecus
®
Thecus® Technology Corp. specializes in IP Storage Server solutions, including Network Attached Storage (
NAS
) , DAS, External Storage and Wireless Media
NAS
(Bank ) products. The company was established in 2004 with the mission to make technology as transparent and easy-to-use as possible, and to make products that are not only the best on the market, but are accessible to experts and novices alike. With a best-in-class R&D team highly experienced in storage hardware and Linux software and with a keen customer focus, Thecus® stays close to the market to develop high-quality products to fulfill the storage Server needs of today's world.
For sales inquiries, please contact us via email:
sales@thecus.com
For marketing inquiries, please contact us via email:
marketing@thecus.com