For sales inquiries,
please contact us at:


sales@thecus.com
For marketing inquiries, please contact us at:


marketing@thecus.com
2009-02-23
Thecus® NAS trumps competition in both features and performance

02/23/2009 – Users in the know recognize Thecus® NAS devices as the best in the market not only in terms of pure performance, but also robust functionality and ease of use. In their February 2009 issue, PC Professionale Magazine pitted the Thecus® N3200PRO against a competitor's product, and the results were revealing. Not only was the N3200PRO a better performer, but it also packed in more useful features in its diminutive casing. In the end, the N3200PRO emerged victorious, scoring a final score of 7.5!
In the following chart, we can see the performance results. On the left is the competitor's product and on the right, we have the N3200PRO. As you can see, the N3200PRO tops the competition in each and every performance benchmark, proving that users that care about performance should choose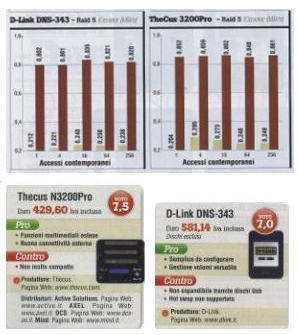 Thecus®.
In terms of features, the N3200PRO beat out the competition once again. PC Professionale cited that the N3200PRO makes a great media extender and offers very good connectivity as well. In addition to that, PC Professionale points out that the N3200PRO also offers hot swap and external USB hard disk support: two useful features that were not offered on the competing unit. In the end, the Thecus® N3200PRO emerged victorious, earning a higher score than the competition.
For the full review, check out the February 2009 issue of PC Professionale Magazine.
For more information on the N3200PRO, check out: http://www.thecus.com/products_over.php?cid=12&pid=89
---
About Thecus
®
Thecus® Technology Corp. specializes in IP Storage Server solutions, including Network Attached Storage (
NAS
) , DAS, External Storage and Wireless Media
NAS
(Bank ) products. The company was established in 2004 with the mission to make technology as transparent and easy-to-use as possible, and to make products that are not only the best on the market, but are accessible to experts and novices alike. With a best-in-class R&D team highly experienced in storage hardware and Linux software and with a keen customer focus, Thecus® stays close to the market to develop high-quality products to fulfill the storage Server needs of today's world.
For sales inquiries, please contact us via email:
sales@thecus.com
For marketing inquiries, please contact us via email:
marketing@thecus.com