For sales inquiries,
please contact us at:


sales@thecus.com
For marketing inquiries, please contact us at:


marketing@thecus.com
2006-01-16
Thecus and Intel ring in the new year together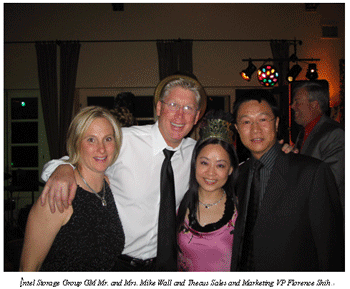 01/16/2005 – On the December 31st weekend, the Intel Storage Group held their annual Intel Storage Summit. The three-day event brought together some of Intel Storage Group's most valued partners for a extended session of strategy sessions, business meetings, networking opportunities, and a little bit of fun as well. This year, Thecus Technology was there to obtain briefings on Intel's future efforts in the rapidly-expanding digital storage market. Not only was the event a tremendous success, but the future between Intel and Thecus is looking brighter than ever!
For more information on Intel, go to: http://www.intel.com
For more information on Thecus, go to: http://www.thecus.com
---
About Thecus
Thecus® Technology Corp. specializes in IP Storage Server solutions. The company was established in 2004 with the mission to make technology as transparent and easy-to-use as possible, and to make products that are not only the best on the market, but are accessible to experts and novices alike. With a best-in-class R&D team highly experienced in storage hardware and software and with a keen customer focus, Thecus® stays close to the market to develop high-quality products to fulfill the storage needs of today's world.
For more information, please visit the Thecus® website at: http://www.thecus.com
For sales and other inquiries, please contact us via email:
sales@thecus.com