For sales inquiries,
please contact us at:


sales@thecus.com
For marketing inquiries, please contact us at:


marketing@thecus.com
2009-02-16
The most advanced NAS devices coming to world's largest tech show

02/16/2009 – The month of March is just around the corner, which means that CeBIT 2009, the world's largest technology trade show, is almost here. The CeBIT exhibition is held every year in Hannover, Germany, and regularly welcomes over 100,000 visitors and features 5,845 exhibitors from 77 countries around the world. This year, Thecus® Technology will be at CeBIT 2009 from March 3rd to 8th to display its latest innovations in digital storage devices.
Leading the charge are the newly-released N7700 and N8800 NAS servers. These NAS powerhouses deliver the performance and functionality demanded by enterprise users. The N7700 houses a total of seven SATA hard disks for massive storage capacity.
"As the demand for storage capacity continues to grow, businesses are requiring greater integration of storage into their environments," said Seth Bobroff, general manager, Intel Server Platforms Group – Storage. "Using Intel® architecture allows Thecus to deliver the performance, features, expandability and reliability to satisfy these increasing customer requirements."
Support for iSCSI initiators makes it easy for users to centrally manage and deploy storage for their entire network. In addition, the N7700 is also stackable, enabling users to connect their unit with up to five additional N7700s and manage them via a master system. The N8800 comes in a 2U form factor, and ups the hard disk count by one for a total of 8 storage bays. Both of these enterprise-class NAS devices will be on display at CeBIT 2009.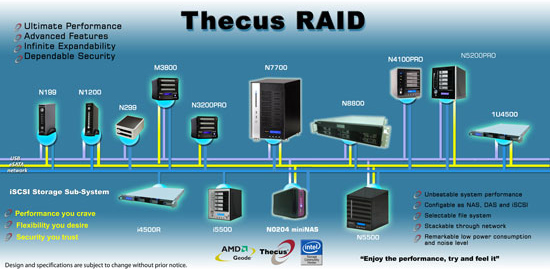 Also at the show, Thecus® will be bringing some new NAS units to the table. First off is the 5-bay N5500. A follow up to the award-winning N5200PRO, the N5500 is the new gold standard in 5-bay NAS systems. The N5500 comes equipped with a genuine Intel® Celeron® CPU and a full gigabyte of DDR2 memory for blazing iSCSI performance, improved system response. IT admins will be thrilled to see that the N5500 supports multiple file systems, including XFS, Ext3 and ZFS. In addition to this, the N5500 does it all with low power consumption and noise, saving money while helping to maintain a quiet work environment.
For home users, the N0204 breaks new ground in the value segment, offering two drive bays, RAID 0, 1, and JBOD, as well as an iTunes® server, media server, and photo server in an incredibly friendly, easy-to-use, and affordable NAS device. What's more, the N0204 also features hot plug and hot swap – advanced features especially in the budget segment.
Finally, to show off its full range of NAS units, Thecus® will also be bringing the multimedia-friendly M3800, the revamped N4100PRO and the AMD® Geode®-powered N3200PRO to the show. These multiple award-winning NAS units have shaken up the world of NAS storage, and all of them will be on display at CeBIT 2009.
"This year's CeBIT is going to be sensational as Thecus® kicks off the New Year with some of our most exciting products," said Thecus® General Manager Florence Shih. "I look forward to meeting some of our most valued partners as well as some Thecus® fans at CeBIT 2009. See you at the show!"
Visit Thecus® at CeBIT 2009, Hall 13, Booth D85
---
About Thecus
®
Thecus® Technology Corp. specializes in IP Storage Server solutions, including Network Attached Storage (
NAS
) , DAS, External Storage and Wireless Media
NAS
(Bank ) products. The company was established in 2004 with the mission to make technology as transparent and easy-to-use as possible, and to make products that are not only the best on the market, but are accessible to experts and novices alike. With a best-in-class R&D team highly experienced in storage hardware and Linux software and with a keen customer focus, Thecus® stays close to the market to develop high-quality products to fulfill the storage Server needs of today's world.
For sales inquiries, please contact us via email:
sales@thecus.com
For marketing inquiries, please contact us via email:
marketing@thecus.com