For sales inquiries,
please contact us at:


sales@thecus.com
For marketing inquiries, please contact us at:


marketing@thecus.com
2009-02-13
Three-bay multimedia dream NAS overpowers all comers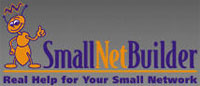 02/13/2009 – When users are after a NAS with superb performance, they invariably choose NAS devices from Thecus® - the performance leader. Recently SmallNetBuilder took the Thecus® M3800 into their labs and tested it for performance. In the end, editors were very impressed as the M3800 shattered previous records, topping the RAID 5 Average Read Performance Chart!
SmallNetBuilder begins with a short introduction of the M3800: "The M3800 is a three-bay BYOD NAS designed for media storage and serving. It also can play up to 1080p HD video when connected via its HDMI or component video outputs. It (and the N3200Pro) use an AMD LX800 CPU. It also has 256 MB of DDR RAM, dual 10/100/1000 Ethernet ports supporting 4000, 8000, 12000, 16000 Byte jumbo frames, two USB 2.0 ports and one eSATA port. Three 3.5" SATA drives are hot-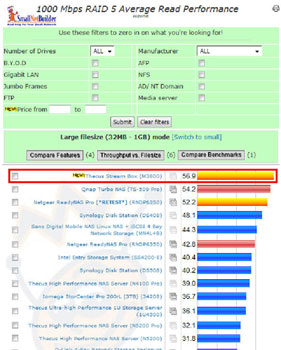 swappable, with drives up to 1 TB supported."
Multimedia buffs are really going to dig the M3800: "Media features include a UPnP AV / DLNA media server that also supports iTunes. There is also a web photo viewing service and download manager for HTTP, FTP and BitTorrent files. Other features include a USB print server and ability to do scheduled captures from selected USB web cameras."
The M3800 blows away the competition when it comes to performance: "RAID 5 write performance using our new benchmark system with a Gigabit LAN connection averaged 38 MB/s for file sizes between 32 MB and 4 GB. Read performance was even more impressive coming in at 56.9 MB/s with the same conditions. File copy performance using a Vista SP1 client under the same conditions (RAID 5, Gigabit LAN) measured 21.9 MB/s for write and 69.2 MB/s for read."
To see the full chart, go to:
http://www.smallnetbuilder.com/component/option,com_nas/Itemid,190/chart,15/
For more information on the M3800, check out:
http://www.thecus.com/products_over.php?cid=23&pid=55
---
About Thecus
®
Thecus® Technology Corp. specializes in IP Storage Server solutions, including Network Attached Storage (
NAS
) , DAS, External Storage and Wireless Media
NAS
(Bank ) products. The company was established in 2004 with the mission to make technology as transparent and easy-to-use as possible, and to make products that are not only the best on the market, but are accessible to experts and novices alike. With a best-in-class R&D team highly experienced in storage hardware and Linux software and with a keen customer focus, Thecus® stays close to the market to develop high-quality products to fulfill the storage Server needs of today's world.
For sales inquiries, please contact us via email:
sales@thecus.com
For marketing inquiries, please contact us via email:
marketing@thecus.com