For sales inquiries,
please contact us at:


sales@thecus.com
For marketing inquiries, please contact us at:


marketing@thecus.com
2009-02-11
Simplicity and performance scores 85 out of 100 with editors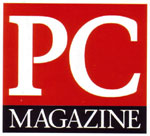 02/11/2009 – The advantages of having a centralized storage system are many, and users around the world are discovering that the N4100PRO from Thecus® is an ideal storage solution. Recently, the editors of PC Magazine Italy put the N4100PRO to the test, and after subjecting it to a number of trials, found out that the N4100PRO truly delivers in terms of simplicity, features, and performance. In fact, PC Magazine Italy saw it fit to give the N4100PRO a very solid score of 85 out of a possible 100!
PC Magazine Italy begins with a summary of the N4100PRO, stating that: "The Thecus® N4100PRO is a NAS designed for fast transfer of a big quantity of data though the network, and includes very useful multimedia support for iTunes, Photo Server, Media Server, and an audio/video streaming protocol, uPnP. The chassis is very compact and elegant, and can use four Serial ATA hard disks for a total of 4TB."
Simplicity and performance really impressed PC Magazine Italy: "The N4100PRO is very simple and fast. We also appreciated the LED display on the front and its flexibility. The server configuration software is very easy to use and allows you to have automatic uploading to an external storage device."
The conclusion: "The total score is very good (85/100)!"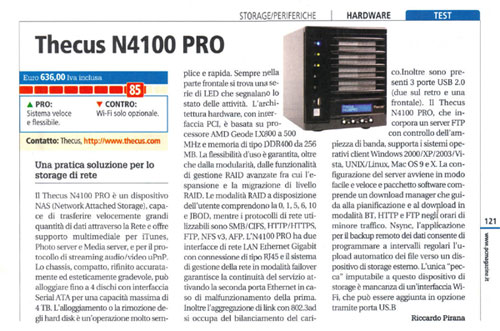 For the full review, check out the February 2009 issue of PC Magazine Italy.
For more information on the N4100PRO, check out:
http://www.thecus.com/products_over.php?cid=10&pid=77&set_language=english
---
About Thecus
®
Thecus® Technology Corp. specializes in IP Storage Server solutions, including Network Attached Storage (
NAS
) , DAS, External Storage and Wireless Media
NAS
(Bank ) products. The company was established in 2004 with the mission to make technology as transparent and easy-to-use as possible, and to make products that are not only the best on the market, but are accessible to experts and novices alike. With a best-in-class R&D team highly experienced in storage hardware and Linux software and with a keen customer focus, Thecus® stays close to the market to develop high-quality products to fulfill the storage Server needs of today's world.
For sales inquiries, please contact us via email:
sales@thecus.com
For marketing inquiries, please contact us via email:
marketing@thecus.com