For sales inquiries,
please contact us at:


sales@thecus.com
For marketing inquiries, please contact us at:


marketing@thecus.com
2009-02-09
Multimedia powerhouse scores 4 out of 5 with editors
02/09/2009 – Users everywhere are looking for ways to not only store their digital media, but enjoy it as well. The Thecus® M3800 is specifically designed for the multimedia enthusiast, and the latest review comes from MacUser Magazine. In the end, editors were very impressed with the unit, giving it a final score of 4 out of 5!
MacUser starts with an overview of the M3800: "When we reviewed Thecus' N3200 multi-bay network attached storage box (see MacUser, 12 September, p25), we were very impressed. It was robust, easy to swap drives, worked very well and had support for Raid 5. Now Thecus has launched a new version, with the ability to playback movies and audio to your TV or home stereo system once you've connected it using the HDMI interface of the back of the case and the included HDMI cable."
Setup is quick and painless: "Setting up the M3800 was quite simple, if a little time-consuming. Removing the drive fascia, attaching the caddies to our hard drives and screwing them into the case was quick enough. And connecting the M3800 to our router, installing the set-up application and using it to locate the drive and configure it, trouble free."
Multiple connections give you multiple options: "There are a number of connection options: two Gigabit Ethernet ports; an eSata port and one USB 2 socket on both the front and rear of the case. The USB ports allow you to connect additional storage in the form of a USB hard drive, and a wifi adaptor to run the M3800 as a wireless Nas. This is particularly important for a box that's designed to be connected to a television, as it's very unlikely you'll want to run an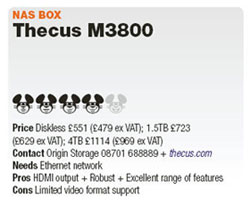 Ethernet cable between wherever your TV is located and your network router."
The conclusion? "The Thecus M3800 won't look out of place in any living room, and the LCD display makes it easy to manage."
For the full review, check out the January 2009 issue of MacUser Magazine.
For more information on the M3800, check out:
http://www.thecus.com/products_over.php?cid=23&pid=55&set_language=english
---
About Thecus
®
Thecus® Technology Corp. specializes in IP Storage Server solutions, including Network Attached Storage (
NAS
) , DAS, External Storage and Wireless Media
NAS
(Bank ) products. The company was established in 2004 with the mission to make technology as transparent and easy-to-use as possible, and to make products that are not only the best on the market, but are accessible to experts and novices alike. With a best-in-class R&D team highly experienced in storage hardware and Linux software and with a keen customer focus, Thecus® stays close to the market to develop high-quality products to fulfill the storage Server needs of today's world.
For sales inquiries, please contact us via email:
sales@thecus.com
For marketing inquiries, please contact us via email:
marketing@thecus.com