For sales inquiries,
please contact us at:


sales@thecus.com
For marketing inquiries, please contact us at:


marketing@thecus.com
2009-02-04
"N4100PRO offers a good deal of value by making data storage easy"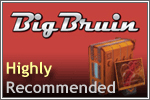 02/04/2009 – Most NAS users are seeking a NAS unit that combines performance, features and convenience in one slick package. For these users, Big Bruin recommends the N4100PRO NAS from Thecus®. In fact, after thoroughly testing the unit, Big Bruin editors decided to give it their Highly Recommended Award!
The N4100PRO is loaded with features: "The USB ports found here and on the front can serve a variety of purposes... Including the addition of external drives, printers, wireless networking adapters, and even cameras. Thecus manages to incorporate far more than storage capabilities into their products, and many of these extras are much easier and more cost effective to manage with something like a NAS than a dedicated computer. The pair of Gigabit LAN connections allow for fail over protection in case one port should die, and you can even configure them to do load balancing if your network happens to be that advanced."
The N4100PRO is very well rounded: "Thecus has focused their business on network attached storage devices, and they definitely know what they are doing. The N4100PRO is well built, attractively styled, fairly easy to configure, and installing drives is simple. Testing shows that it is capable of respectable data transfer rates that easily outshine a less powerful NAS device."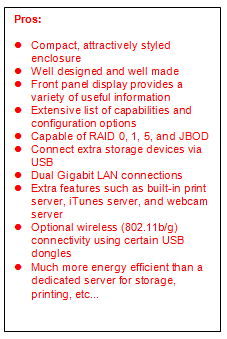 A great storage server with impressive features to boot: "The N4100PRO handles data storage quite well with the flexibility to allow a variety of drive configurations, a few means of accessing the data, and a couple bundled methods of getting data to the device with ease. Thecus takes things beyond local area network data sharing though, as they have incorporated a bunch of extras such as a print server, webcam server, iTunes server, and the ability to share data on the Internet with minimal effort."
The conclusion? "Given the high quality, versatility, and performance, the Thecus N4100PRO 4-Bay network attached storage system earns the Bigbruin.com award of 'Highly Recommended.'"
For the full review, check out:
http://www.bigbruin.com/2009/thecusn4100pro_1
For more information on the N4100PRO, check out:
http://www.thecus.com/products_over.php?cid=10&pid=77
---
About Thecus
®
Thecus® Technology Corp. specializes in IP Storage Server solutions, including Network Attached Storage (
NAS
) , DAS, External Storage and Wireless Media
NAS
(Bank ) products. The company was established in 2004 with the mission to make technology as transparent and easy-to-use as possible, and to make products that are not only the best on the market, but are accessible to experts and novices alike. With a best-in-class R&D team highly experienced in storage hardware and Linux software and with a keen customer focus, Thecus® stays close to the market to develop high-quality products to fulfill the storage Server needs of today's world.
For sales inquiries, please contact us via email:
sales@thecus.com
For marketing inquiries, please contact us via email:
marketing@thecus.com