For sales inquiries,
please contact us at:


sales@thecus.com
For marketing inquiries, please contact us at:


marketing@thecus.com
2009-02-02
"It's fast and reliable. The Thecus N5200 is one hell of a NAS"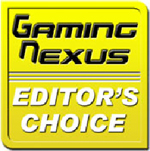 02/02/2009 – Gamers need a storage solution that not only performs well, but is also able to stream media throughout the house, allowing them to enjoy music, movies, and photos from just about anywhere. The editors of Gaming Nexus recently took the Thecus® N5200 for a test drive, and after putting it through a series of tests, discovered that the N5200 is "one hell of a NAS," giving the unit their coveted Editor's Choice Award!
The N5200 is ideal for media streaming: "For sharing media, the Thecus N5200 supports DLNA so devices like the PlayStation 3 can automatically see the media in the folders specified and serve up the media to you. I added a few MP3s and some DIVX movies onto the N5200, enabled media sharing, and turned on my PlayStation 3. Right away, the folders that I marked for media sharing showed up in the XMB and I was able to view the pictures, listen to the music, and watched some movies streaming from the NAS. There was no lag or stuttering even with my largest files being streamed to the PS3. It was pretty impressive to see the integration with DLNA and having media be accessible on DLNA compatible devices."
With modules, the N5200 is infinitely expandable: "Now, one of the most impressive features with the N5200 is the ability to add functionality with modules. Since the core is just a Linux system, adding functionality is as easy as downloading the module, installing it via the web admin, and then setting up the parameters for it to run. There's modules developed by the community that range from running a bit torrent client to turning the device into a web server. I was really interested in the Subversion module that someone developed so that I could use the N5200 as a development repository for my code. I've gotten a few to run and I was amazed at what you can do in expanding the role of the N5200."
In the end, Gaming Nexus was thoroughly impressed: "I have to say the N5200 is a really great, great NAS. I haven't had too much experience with NAS devices before but I've always wanted one. As a developer and a media enthusiast, I wanted something to keep all my files in one place for easy access with some redundancy. So far after a few months I haven't run into any problems what so ever. I made the device shuts off during the late evening and turns on during the morning and it hasn't failed me yet. I even plugged in another eSATA drive while it was running and the N5200 found it without any issues. The Thecus N5200 provides that and more with a very small footprint, quiet operation, expandability through modules, and impressive performance."
For the full review, check out:
http://www.gamingnexus.com/Article/Thecus-N5200/Item2107.aspx
For more information on the N5200, check out:
http://www.thecus.com/products_over.php?cid=10&pid=8&set_language=english
---
About Thecus
®
Thecus® Technology Corp. specializes in IP Storage Server solutions, including Network Attached Storage (
NAS
) , DAS, External Storage and Wireless Media
NAS
(Bank ) products. The company was established in 2004 with the mission to make technology as transparent and easy-to-use as possible, and to make products that are not only the best on the market, but are accessible to experts and novices alike. With a best-in-class R&D team highly experienced in storage hardware and Linux software and with a keen customer focus, Thecus® stays close to the market to develop high-quality products to fulfill the storage Server needs of today's world.
For sales inquiries, please contact us via email:
sales@thecus.com
For marketing inquiries, please contact us via email:
marketing@thecus.com