For sales inquiries,
please contact us at:


sales@thecus.com
For marketing inquiries, please contact us at:


marketing@thecus.com
2009-01-20
"Thecus® took a great NAS and made it even better with the N3200PRO"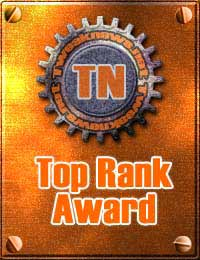 01/20/2009– When looking for a home NAS, you want one that is simple to use, yet with enough features to make it useful. According to the editors of Tweak News, Thecus® has the ideal home NAS, and it is the N3200PRO. Improving on the original N3200, the N3200PRO comes with top-notch performance and a feature set that home users will definitely appreciate. So much so that Tweak News decided to give the N3200PRO their coveted Top Rank Award!
The N3200PRO retains the same great feature set of the N3200, but jacks up the performance a few notches: "Thecus took a great NAS and made it even better with the N3200PRO. It's difficult to tell it apart from the original N3200 just by looking at it, because underneath the hood is where all the upgrades have taken place. During testing, RAID 5 build time was impressive and transferring files with the PRO model is faster when compared to its predecessor. Expect the same feature set, simple setup process and easy to navigate web interface that the original N3200 provided."
If this is your first NAS, the N3200PRO is a great place to start: "What I'm enjoying most about the N3200PRO is that there aren't an excessive amount of features that won't ever get used. For example, the iTunes server, media server, USB copy function, and download manager are all very straightforward to use and will come in handy in a home environment. On the administration side, even someone who has little experience with networking would be able to set up this product by following step by step in the manual. This would be a great introductory
NAS for someone new to the technology."
The conclusion: "…first time buyers in the market for a home NAS should seriously consider the N3200PRO. Simply put, it offers good performance with all the features you need and none that you don't."
For the full review, check out:
http://www.tweaknews.net/
reviews/thecus_n3200_pro_nas_review/
For more information on the N3200PRO, check out:
http://www.thecus.com/products_over.php?cid=12&pid=89
---
About Thecus
®
Thecus® Technology Corp. specializes in IP Storage Server solutions, including Network Attached Storage (
NAS
) , DAS, External Storage and Wireless Media
NAS
(Bank ) products. The company was established in 2004 with the mission to make technology as transparent and easy-to-use as possible, and to make products that are not only the best on the market, but are accessible to experts and novices alike. With a best-in-class R&D team highly experienced in storage hardware and Linux software and with a keen customer focus, Thecus® stays close to the market to develop high-quality products to fulfill the storage Server needs of today's world.
For sales inquiries, please contact us via email:
sales@thecus.com
For marketing inquiries, please contact us via email:
marketing@thecus.com