For sales inquiries,
please contact us at:


sales@thecus.com
For marketing inquiries, please contact us at:


marketing@thecus.com
2009-01-12
The N4100PRO Named Best Value, Scores 90% Overall Rating
01/12/2009 – With the selection of NAS products available, choosing the right one is becoming more of a challenge. For most users, they want a NAS device that offers the best bang for the buck, and according to the editors at Tweaktown, that product is none other than the N4100PRO from Thecus®. Tweaktown editors recently tested the N4100PRO, and in their extensive 16-page review, declared the N4100PRO a "remarkable bargain," giving it their Must Have Award for Best Value and a final score of 90%!
T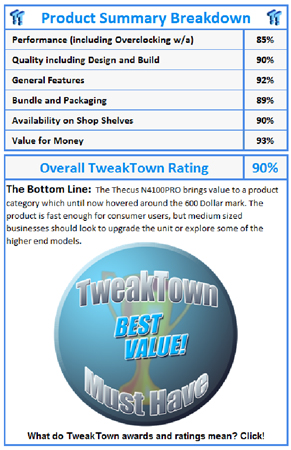 he N4100PRO comes complete with a boatload of useful features: "Thecus hardware has a dedicated following of users that design and program applications that are able to run on the operating system. An example is the Bit Torrent client that can be installed on the N4100PRO. A NAS appliance is not complete without ITunes and other media streaming capabilities. The N4100PRO has you covered. I found this feature very useful for playing music across the network on a Playstation 3."
Thecus® makes technology simple: "After you dive in and start to configure the backup settings you quickly gain respect for the way Thecus implemented their back up configuration. The system is remarkably easy to setup, yet very powerful."
The conclusion: "Out of the retail box, with the latest firmware the N4100PRO shows strong results in consumer tests like HD video playback and recording. The N4100PRO is designed for consumer and SOHO use and delivers strong performance in those activities. Businesses that need daily backup operations will want to upgrade the unit with a larger memory module or look at Thecus' products designed for these types of uses."
For the full review, check out:
http://www.tweaktown.com/reviews/1697/1/thecus_n4100pro_four_drive_nas_server/index.html
For more information on the N4100PRO, check out:
http://www.thecus.com/products_over.php?cid=10&pid=77
---
About Thecus
®
Thecus® Technology Corp. specializes in IP Storage Server solutions, including Network Attached Storage (
NAS
) , DAS, External Storage and Wireless Media
NAS
(Bank ) products. The company was established in 2003 with the mission to make technology as transparent and easy-to-use as possible, and to make products that are not only the best on the market, but are accessible to experts and novices alike. With a best-in-class R&D team highly experienced in storage hardware and Linux software and with a keen customer focus, Thecus® stays close to the market to develop high-quality products to fulfill the storage Server needs of today's world.
For sales inquiries, please contact us via email:
sales@thecus.com
For marketing inquiries, please contact us via email:
marketing@thecus.com