For sales inquiries,
please contact us at:


sales@thecus.com
For marketing inquiries, please contact us at:


marketing@thecus.com
2008-12-29
Great features, silent operation, and attractive price impress editors

12/29/2008 – These days, more and more people are looking for ways to secure and share their digital media in the home. One of the best ways is to centralize your media file storage using a NAS device like the N3200 from Thecus®. Recently, the N3200 was reviewed by none other than The Tech Zone, and after running the N3200 through a gamut of tests, editors found that it was indeed an impressive unit, giving it a very strong 8.5 out of 10 rating!
The included LCD display makes operating the N3200 a breeze: "As I mentioned before, the N3200 has two USB ports and an eSATA port for external expansion support. All the commands you need to add external drives or download everything from an external drive onto the N3200's own drives are accessible from the front panel's buttons and LCDs. A very cool feature."
Designed for home environments, the N3200 runs both cool and quiet: "The drives stay relatively cool due to the heatsink-like design of the chassis and a fan positioned at the rear. While it certainly isn't silent, the N3200 is barely noticeable unless you're really paying attention."
The conclusion? "The N3200 is attractively priced at around $300 (street)...it works very well and is simple to use. While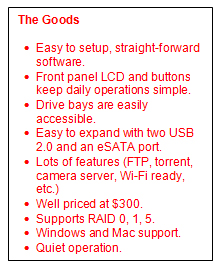 some may say that the Drobo has an extra drive bay at the same price, keep in mind that to use a Drobo as a NAS, you either need a router with USB support or purchase a $200 NAS attachment. The N3200 has NAS capability out of the box. If you're looking for a simple NAS with plenty of features, give the Thecus N3200 a look."
Rating: 8.5 / 10
For the full review, check out: http://www.thetechzone.com/ttz/index.php/thecus-n3200-nas-review/
For more information on the N3200PRO, check out: http://www.thecus.com/products_over.php?cid=12&pid=89
---
About Thecus
®
Thecus® Technology Corp. specializes in IP Storage Server solutions, including Network Attached Storage (
NAS
) , DAS, External Storage and Wireless Media
NAS
(Bank ) products. The company was established in 2003 with the mission to make technology as transparent and easy-to-use as possible, and to make products that are not only the best on the market, but are accessible to experts and novices alike. With a best-in-class R&D team highly experienced in storage hardware and Linux software and with a keen customer focus, Thecus® stays close to the market to develop high-quality products to fulfill the storage Server needs of today's world.
For sales inquiries, please contact us via email:
sales@thecus.com
For marketing inquiries, please contact us via email:
marketing@thecus.com