For sales inquiries,
please contact us at:


sales@thecus.com
For marketing inquiries, please contact us at:


marketing@thecus.com
2008-12-15
An excellent solution for the Small to Medium Business owner

12/15/2008 – The N4100PRO from Thecus® takes all the best qualities of the original N4100 and makes it even better with an AMD® Geode CPU. The result is a NAS device that exudes performance and security. Recently, Bjorn3D had a chance to put the N4100PRO through a series of tests, and when all was said and done, were very impressed with the unit. In fact, Bjorn3D awarded the N4100PRO with their Seal of Approval and a final score of 8.5 out of 10!
The N4100PRO is built for the world: "The box that the Thecus N4100PRO comes packed in is a very bright blue and is very multi-lingual. Thecus has aimed this product towards a very large market as evidenced by their inclusion of support for nine different languages with their Multi-Lingual Web-based Administration. Perhaps the woman pictured on the box is lounging in bed because she knows that the Thecus N4100PRO has unmatched speed and total security."
Nothing beats some good old fashioned peace of mind: "Sleeping worry free can make all the difference in getting a good night's rest. Knowing that your files are well protected and secure can, in some small part, help to make that worry free state a reality to many a small business owner or even the home user who value their stored data. If data is priceless, then it must be worthwhile saving, guarding, and protecting. The N4100PRO is that guardian in a little black box."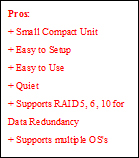 The verdict? "The Thecus N4100PRO is an excellent solution for the Small to Medium Business owner or for the home user that wants or needs a network attached storage solution for file sharing and who wants the security of data redundancy. With RAID expansion and RAID level migration capabilities, it is a near perfect solution because of its flexibility. Its ease of use, fast data throughput, network bonding with failover mode, and solid performance make The Thecus N4100PRO a NAS that would make itself very useful in just about any environment. For its data redundancy, network failover protection, and high data throughput, the Thecus N4100PRO earns the Bjorn3D.com Seal of Approval and a score of 8.5 out of 10 (Very Good).."
For the full review, check out:
http://www.bjorn3d.com/read.php?cID=1413&pageID=5817
For more information on the N4100PRO, check out:
http://www.thecus.com/products_over.php?cid=10&pid=77
---
About Thecus
®
Thecus® Technology Corp. specializes in IP Storage Server solutions, including Network Attached Storage (NAS) , DAS, External Storage and Wireless Media NAS (Bank ) products. The company was established in 2003 with the mission to make technology as transparent and easy-to-use as possible, and to make products that are not only the best on the market, but are accessible to experts and novices alike. With a best-in-class R&D team highly experienced in storage hardware and Linux software and with a keen customer focus, Thecus® stays close to the market to develop high-quality products to fulfill the storage Server needs of today's world.
For sales inquiries, please contact us via email:
sales@thecus.com
For marketing inquiries, please contact us via email:
marketing@thecus.com