For sales inquiries,
please contact us at:


sales@thecus.com
For marketing inquiries, please contact us at:


marketing@thecus.com
2008-12-08
Three products receive praise as most complete digital storage solution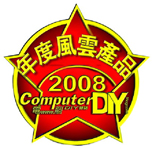 12/08/2008 - Thecus® Technology, a leader in network storage devices, cemented its leading position, as ComputerDIY Magazine named not one, not two, but three Thecus® products as Product of the Year. Every year, ComputerDIY Magazine takes a look at the year's top products according to platform maturity and uniqueness of application and awards them with their Product of the Year award. This year, Thecus®' M3800, N5200PRO and N7700 received top honors from both editors and users alike, making them the proud recipients of the 2008 ComputerDIY Product of the Year designation.
Below is why ComputerDIY editors chose Thecus®:
On the M3800:"The world's first product that combines a full media server with a network storage device – an ideal central multimedia and file server for the home."
On the N5200PRO: "Blazing performance with a multitude of features. The N5200PRO is an innovative, secure, and convenient network storage device without equal."
On the N7700: "A combination of performance, data security, and high-end business-oriented features."
From the minute they were introduced, Thecus® storage products have received accolades from media all over the world with all-in-one functionality, impressive performance, and thoughtful design. With this latest award from ComputerDIY Magazine, Thecus would like to thank all the Thecus® fans around the world for their support, and pledge to continue our pursuit of perfection. Expect bigger and better from Thecus® in 2009!
To read the full article, check out the December 2008 issue of ComputerDIY Magazine.
For more information on the M3800, go to:
http://www.thecus.com/products_over.php?cid=23&pid=55
For more information on the 5200PRO, go to:
http://www.thecus.com/products_over.php?cid=11&pid=32
For more information on the N7700:
http://www.thecus.com/products_over.php?cid=11&pid=82
---
About Thecus
®
Thecus® Technology Corp. specializes in IP Storage Server solutions, including Network Attached Storage (NAS) , DAS, External Storage and Wireless Media NAS (Bank ) products. The company was established in 2003 with the mission to make technology as transparent and easy-to-use as possible, and to make products that are not only the best on the market, but are accessible to experts and novices alike. With a best-in-class R&D team highly experienced in storage hardware and Linux software and with a keen customer focus, Thecus® stays close to the market to develop high-quality products to fulfill the storage Server needs of today's world.
For sales inquiries, please contact us via email:
sales@thecus.com
For marketing inquiries, please contact us via email:
marketing@thecus.com