For sales inquiries,
please contact us at:


sales@thecus.com
For marketing inquiries, please contact us at:


marketing@thecus.com
2008-12-05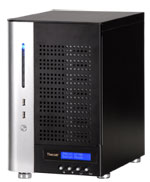 12/05/2008 - Already with an enviable and complete portfolio of network attached storage (NAS) products, Thecus® has once again impressed IT community with the latest enterprise level storage platform, Thecus® N7700. This robust devise not only provides huge storage capacity, but also reliable data protection with RAID mechanism, thus giving MIS professionals absolute peace of mind. In addition, Thecus® technical team has designed a plethora of superior attributes which truly fit into enterprise network environment perfectly.
Thecus
®
N7700 has the following state-of-the-art-applications:
| | |
| --- | --- |
| Feature | Application |
| RAID 0, 1, 5, 6, 10, JBOD | Never have to worry about data loss due to hard disk damage. Now with N7700, even with 2 damaged hard disks, simply replace with new ones and precious data is back at no time. |
| Snapshot | Afraid of doing something wrong with your system and unable to undo it? N7700 allows users to generate copies of sets of files and directories as they are at any particular point of time, undo and return to past status is made easy and convenient. |
| Remote Replication | A great remote data backup application. With Thecus Nsync, users can have the N7700 automatically upload files to an external storage device at a designated time. Complete data security design. |
| Multiple Selectable File System | Not sure if one specific file system is suitable for your environment? Worry no more. N7700 provides the options of ext3 and ZFS file systems and definitely fits all types of applications. |
| iSCSI | What a great and convenient way for storage expansion! With iSCSI support, host server or PCs can connect with N7700 and use it as local drive with superior read and write performance. |
| IP Cam Support | Simply connect N7700 to IP camera. Instantly you have your own surveillance station and it generates an image log of the monitored premises. Users can connect up to 20 IP cameras. |
| Power Management | With disk spin-down setup and schedule power on/off feature, N7700 allows administrator efficiently reduce power usage, avoiding waste of electricity when the system is idle or not being accessed. |
Thecus® N7700 is thoroughly engineered with users' convenience in mind. Performance, security, power-saving and versatility all-in-one, Thecus® N7700 is perfect fit for both advanced users and enterprise environment.
---
About Thecus
®
Thecus® Technology Corp. specializes in IP Storage Server solutions, including Network Attached Storage (NAS) , DAS, External Storage and Wireless Media NAS (Bank ) products. The company was established in 2003 with the mission to make technology as transparent and easy-to-use as possible, and to make products that are not only the best on the market, but are accessible to experts and novices alike. With a best-in-class R&D team highly experienced in storage hardware and Linux software and with a keen customer focus, Thecus® stays close to the market to develop high-quality products to fulfill the storage Server needs of today's world.
For sales inquiries, please contact us via email:
sales@thecus.com
For marketing inquiries, please contact us via email:
marketing@thecus.com