For sales inquiries,
please contact us at:


sales@thecus.com
For marketing inquiries, please contact us at:


marketing@thecus.com
2005-12-14
A multifunction device that's also a terrific value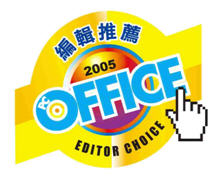 12/14/2005 –Professional computer magazine PC OFFICE reviewed the Thecus YES Box N2100 NAS storage device in their December issue. Editors found that the N2100 could do double duty as an external hard drive or a Gigabit-class network storage device. With two usage modes, PC OFFICE editors awarded the YES Box N2100 their coveted Editor's Choice award, citing 4.5 stars for value!
Here is PC OFFICE introducing the YES Box N2100: "With the YES Box N2100 from Thecus Technology, not only can you use it as an external storage device, but you can also use its supplied 2 Gigabit Ethernet ports or choose the optional Wi-Fi interface to use it as a network hard disk, allowing others to share your data."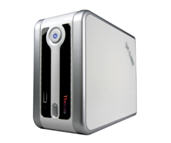 In addition, the YES Box N2100 also comes with the following features and specifications: "The YES Box N2100 can accommodate two 3.5" SATA hard disks, and comes with RAID 0, 1, and JBOD capabilities to satisfy your data storage needs. In addition to the commonly-found network storage and FTP server capabilities, the YES Box N2100 provides Apple iTunes server and photo server functionality, adding even more lifestyle-centric features for multimedia enjoyment."
The conclusion and final rating from PC OFFICE editors: "It's an external hard disk, and a Gigabit-class network storage device. It's an FTP server, an Apple iTunes server, and a network photo server. The fact that both hardware specs and functionality is top notch should put the YES Box N2100 at the top of your list!"
For the full review, check out p.172 of the December issue of PC OFFICE Magazine.
For more information on Thecus, please visit the official website: www.thecus.com
---
About Thecus
Thecus® Technology Corp. specializes in IP Storage Server solutions. The company was established in 2004 with the mission to make technology as transparent and easy-to-use as possible, and to make products that are not only the best on the market, but are accessible to experts and novices alike. With a best-in-class R&D team highly experienced in storage hardware and software and with a keen customer focus, Thecus® stays close to the market to develop high-quality products to fulfill the storage needs of today's world.
For more information, please visit the Thecus® website at: http://www.thecus.com
For sales and other inquiries, please contact us via email: sales@thecus.com