For sales inquiries,
please contact us at:


sales@thecus.com
For marketing inquiries, please contact us at:


marketing@thecus.com
2008-11-24
The revamped classic brings robust functionality with low power usage
11/24/2008 - With a powerful AMD® Geode CPU and a host of software tweaks, Thecus® has completely upgraded the N4100 with the N4100PRO. Recently, Sweclockers.com took a look at several NAS devices including the N4100PRO, and in the end, discovered that there was a lot to love about the Thecus® unit, including complete ease-of-use and incredible functionality.
Installation of the N4100PRO couldn't be easier: "According to the quick start manual should run the supplied CD as we do. A menu appears on the screen directly, where we choose the NAS model we have…After this brief but important process, we can start our browser and enter the IP address of the device and thus get to the control panel. Installation is generally very simple and it is difficult to fail. The Thecus looks to slow administrators at the company change the default password is also very good."
Administering the N4100PRO is also a total breeze: "The device supports connection to an Active Directory server, which can be loosely on a company, for example. Furthermore, we can create users and groups. There is also a batch function for those who will create a larger amount of users or groups. Everything is easily done and there is no problem with creating users or groups."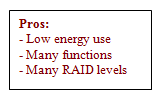 The final word? "Appearance-wise N4100 Pro looks much like little brother N3200, but it definitely feels more robust. Installation of the N4100 Pro was very simple and went very smoothly. We can certainly call the installation completely foolproof. The N4100 Pro supports a lot of features…Via modular system which we praised earlier, you can also add extra features. When this device is based on the x86 architecture via AMD's LX800 processor makes it easier to convert the modules for other devices for the N4100 Pro….Web interface offers many powerful features….RAID management is absolutely impeccable...Generally, however, good performance and fits well for its price range. It also consumes relatively little energy compared with other devices."


For the full review, check out:
http://www.sweclockers.com/articles_show.php?id=6126&page=1

For more information on the N4100PRO, check out:
http://www.thecus.com/products_over.php?cid=10&pid=77

---
About Thecus
®
Thecus® Technology Corp. specializes in IP Storage Server solutions, including Network Attached Storage (NAS) , DAS, External Storage and Wireless Media NAS (Bank ) products. The company was established in 2003 with the mission to make technology as transparent and easy-to-use as possible, and to make products that are not only the best on the market, but are accessible to experts and novices alike. With a best-in-class R&D team highly experienced in storage hardware and Linux software and with a keen customer focus, Thecus® stays close to the market to develop high-quality products to fulfill the storage Server needs of today's world.
For sales inquiries, please contact us via email:
sales@thecus.com
For marketing inquiries, please contact us via email:
marketing@thecus.com