For sales inquiries,
please contact us at:


sales@thecus.com
For marketing inquiries, please contact us at:


marketing@thecus.com
2008-11-14
The N7700 makes a big splash at the German trade show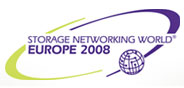 11/14/2008 – From October 27th to 29th, Thecus and Exsys attended Storage Networking World Europe 2008, one of the most prestigious trade shows focusing on data storage, duplication, virtualization, and other storage-related technologies.
This year, 56 companies saw 1,500 visitors come to Congress Frankfurt and take part in this prestigious event. At the show, Thecus and Exsys displayed the recently announced N7700 NAS server, wowing audiences with its stellar performance and robust feature set. The feedback regarding the N7700 was overwhelmingly positive.
The N7700 features seven SATA hard disk bays that accommodate up to a massive 7TB of storage, in addition to an eSATA port where users can install yet another SATA hard disk. To manipulate all of this data quickly, the N7700 packs an Intel® Celeron™ M 1.86GHz processor and a full gigabyte of DDR memory, which allows for more concurrent connections and quicker system response.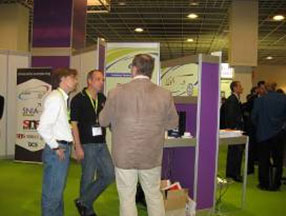 For more information on the N7700, go to:
http://www.thecus.com/products_over.php?cid=11&pid=82
For more information on Storage Networking World Europe, go to:
http://www.snweurope.com/
---
About Thecus
®
Thecus® Technology Corp. specializes in IP Storage Server solutions, including Network Attached Storage (NAS) , DAS, External Storage and Wireless Media NAS (Bank ) products. The company was established in 2003 with the mission to make technology as transparent and easy-to-use as possible, and to make products that are not only the best on the market, but are accessible to experts and novices alike. With a best-in-class R&D team highly experienced in storage hardware and Linux software and with a keen customer focus, Thecus® stays close to the market to develop high-quality products to fulfill the storage Server needs of today's world.
For sales inquiries, please contact us via email:
sales@thecus.com
For marketing inquiries, please contact us via email:
marketing@thecus.com