For sales inquiries,
please contact us at:


sales@thecus.com
For marketing inquiries, please contact us at:


marketing@thecus.com
2008-11-12
Fast stable performance and lots of features impress editors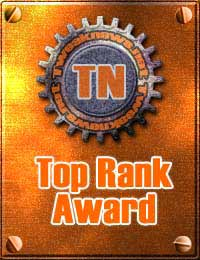 11/12/2008 – The reviews for Thecus' N4100PRO are starting to roll in, and hardware enthusiasts are thoroughly impressed with its performance and feature enhancements. The latest review comes from TweakNews, who had an opportunity to test drive the N4100PRO. The results were impressive as editors loved both its performance and feature set, awarding it with their Top Rank Award!
The N4100PRO is meticulously designed for airflow and ease-of-use: "A glimpse inside the unit shows the four SATA connectors with an exhaust fan behind them. The interior is nice and open to encourage maximum airflow around the drives...Installing drives in the N4100PRO is not a complex process at all. Simply pull the tray out and secure the drive to the tray with the included screws. Slide it back into the bay, and you're done!"
Editors also liked the inclusion of DriveClone5 Pro: "Also included is DriveClone5 Pro backup software. This program not only backs up individual files and folders you specify, but it can also take a complete system snapshot and backup the image to an external device (it does restore functions too). This is a great way to utilize the storage space on the N4100PRO."
The verdict? "Once again, Thecus has shown us an impressive product with the N4100PRO. The setup process from start to finish was easy enough for a novice, but there are many additional features that
advanced users will enjoy tweaking as well. The convenient front LCD panel serves two functions – it provides a quick way to copy files from a USB disk and also works as a display that scrolls status messages. Most importantly, you can feel confident knowing files are protected through the combination of setting up a RAID array and using the included backup software."


For the full review, check out: http://www.tweaknews.net/reviews/thecus_n4100pro_nas/
For more information on the N4100PRO, check out:
http://www.thecus.com/products_over.php?cid=10&pid=77
---
About Thecus®
Thecus® Technology Corp. specializes in IP Storage Server solutions, including Network Attached Storage (NAS) , DAS, External Storage and Wireless Media NAS (Bank ) products. The company was established in 2003 with the mission to make technology as transparent and easy-to-use as possible, and to make products that are not only the best on the market, but are accessible to experts and novices alike. With a best-in-class R&D team highly experienced in storage hardware and Linux software and with a keen customer focus, Thecus® stays close to the market to develop high-quality products to fulfill the storage Server needs of today's world.
For sales inquiries, please contact us via email: sales@thecus.com
For marketing inquiries, please contact us via email: marketing@thecus.com